Mainland Chinese Investors in Hong Kong Protest Securities Fraud
October 7, 2011 9:59 pm Last Updated: October 1, 2015 3:26 pm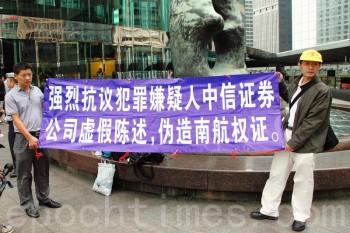 HONG KONG—Accusing a consortium of 26 brokerages of stealing their money via forged securities, Chinese from the mainland protested on Oct. 6 a proposed public offering in Hong Kong.
The syndicate, headed by CITIC Securities, intends to sell Class "H" shares to raise up to US$400 million.
Cao Xiaohai from Kunming City lost over one million yuan (US$156,000) after buying NanHang securities. He said, "26 securities firms in China banded together with the Shanghai Stock Exchange to forge credentials." The investment turned out to be worthless.
When the Shanghai Stock Exchange (SSE) Composite Stock Index dropped from 6,000 to 3,000, Cao said, the securities firms terminated contracts ahead of time and thus caused investors losses of nearly 100 billion yuan (US$15 billion).
In the past three years the victimized investors have been petitioning for their rights. But some were arrested, detained, or even beaten and disabled.
Cao accused the courts of covering up for the securities firms and the SSE, while turning a blind eye to investors' misery.
Other protestors were Xie Xiaorong and Wang Daohai from Shenzhen and Zeng Chaoping from Guizhou. These mainland Chinese investors said they would not only expose the fraud involving securities firms but also seek justice. Intent on alerting Hong Kong's residents to the fraud perpetrated by CITIC Securities, they urged people to demand that immoral and dishonest companies be delisted from the stock exchange.
CITIC Securities and CITIC Pacific are owned by the state-owned CITIC Group in Beijing. In 2008, due to their involvement in unauthorized trades, CITIC Group lost HK $14.7 billion (US $1.889 billion). The Hong Kong police investigated the 2008 losses controversy and CITIC Group was high on the list of 10 struggling state-run companies.
Read the original Chinese article