Tonga was struck by a magnitude 6.2 earthquake on Thursday, the United States Geological Survey (USGS) reported, which came less than two weeks after the Pacific region was ravaged by an underwater volcanic eruption and subsequent tsunami.
The USGS data shows that the earthquake occurred at 6.40 a.m. and was centered 219 kilometers (136 miles) west-northwest of Pangai.
The USGS has revised the quake's depth to 4.2 kilometers (2.6 miles) after first reporting the quake happened at a depth of 14.5 kilometers (9 miles).
There have been no immediate reports of casualties or damage so far.
Tonga was hit by an underwater eruption of the Hunga Tonga-Hunga-Ha'apai volcano and subsequent tsunami on Jan. 15, which wiped out an entire village on one of Tonga's small outer islands and killed at least three people.
The eruption also severed Tonga's sole fiber-optic communication cable connecting the country to the outside world.
Prior to Thursday's earthquake, the government of Tonga permitted the coronavirus-hit Australian navy ship, HMAS Adelaide, to dock in Tonga to deliver humanitarian and medical supplies under a contactless protocol.
A total of 23 personnel on board the ship were tested positive for the Chinese Communist Party (CCP) virus, commonly known as the coronavirus.
"The ship will berth, and no contacts will be made. Australians from the ship will unload their cargoes and sail from port," Tonga's Health Minister Saia Piukala told Broadcom Broadcasting radio.
The authorities have insisted that all foreign aid be delivered without any person-to-person contact and that supplies sent by aid flights be left unpacked for 72 hours to minimize the risk of infection.
The contactless protocol is intended to avert an outbreak in Tonga, one of the few countries free of the virus, with only one case of infection known since the pandemic began.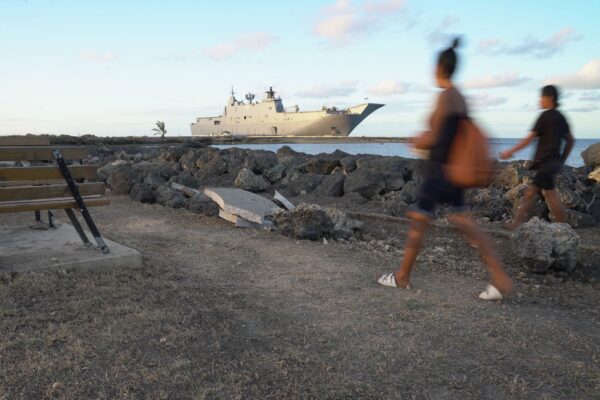 Australia has delivered more than 40 tonnes of emergency relief supplies to Tonga, including shelter materials, water, and sanitation supplies, equipment to restore communications, and personal protective equipment for people clearing ash.
The government of Scott Morrison has committed an additional $2 million (US$1.4 million) in humanitarian funding to assist Tonga, bringing the total commitment to $3 million (US$2.1 million) so far.
The United States said it would also provide an additional $2.5 million in humanitarian assistance to Tonga through the U.S. Agency for International Development. This is on top of the $100,000 initial pledge for immediate assistance.
Tonga also received humanitarian and medical supplies from Japan and New Zealand. The Chinese Embassy in Fiji has also sent drinking water, food, generators, and other goods to assist the people of Tonga.
Epoch Times Sydney Staff contributed to this report.