BOGOTA, Colombia—As Venezuela's crisis continues, all eyes are on Caracas, where Juan Guaidó, the opposition leader who invoked the constitution to declare himself president on Jan. 23, vies to oust Venezuelan regime leader Nicolas Maduro.
Guaidó announced March 2 that he will return to Venezuela after concluding his Latin American tour ending in Ecuador, which, along with the United States and over 50 other nations, recognizes him as the legitimate interim president of Venezuela. Observers are speculating what Guaidó's fate would be once he lands in Venezuela and whether he would be captured by security forces, as Maduro had previously imposed a travel ban on Guaidó, forbidding him to leave the country.
But far from the Maduro-controlled capital city of Caracas, in Venezuela's dense jungles in the south, the Venezuelan army, Colombian leftist guerrilla groups, and crime syndicates are warring for control of the country's mines and their precious deposits of gold, coltan, and diamonds. The region has become a source of revenue for Maduro's regime, which is faced with dwindling oil revenues.
Volatile Region
Exploiting the region south of the Orinoco river was previously outlawed, but in 2016, Maduro legalized the trade in an effort to save the floundering economy. It has become increasingly valuable to the regime as oil revenues—accounting for 98 percent of exports—have crashed to half of what they were in 2014, leaving the economy in ruins and Maduro's rule increasingly unstable.
The demand for illegal gold and other precious minerals is now wreaking havoc for indigenous inhabitants and risks destabilizing the entire region, according to a report released last week by International Crisis Group (ICG).
"Gold and Grief in Venezuela's Violent South" sheds a light on the suffering that armed groups and illegal mining have inflicted on the region as malaria and dangerous levels of contamination plague local communities, deforestation tears through the Amazon, and massacres destroy families.
Conflict in the mining arc has left at least 107 dead since 2016. In the worst case of violence to date, 16 were killed in the mining town of Tumeremo as the Marxist Colombian guerrilla group, the National Liberation Army (ELN), clashed with a local criminal band. Due to the remote location of such incidents and fear of violent repercussions, many murders go unreported, according to the report.
The publication also confirms previous reports that the ELN has quickly expanded its operations in the region, now controlling a corridor in the south of Venezuela, stretching from Colombia in the East to Guyana in the West. The group now reportedly operates in 13 of Venezuela's 24 states and several of its leaders reside in the country.
The Venezuelan military has allowed the group to operate freely in some cases and has been complicit in others, taxing gold, diamond, and coltan, as well as lucrative drug-trafficking operations.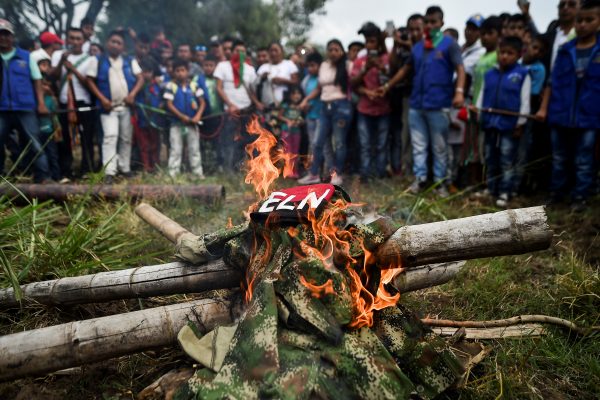 Illicit business has created the most sought-after military postings in the country with miners interviewed by researchers stating that some high-ranking Venezuelan military officers in the Amazon "receive at least 20 kilograms in gold every month (valued at about $800,000)" to permit illegal mining.
Citing issues with reporting abuses and corruption, report author Bram Ebus fears one of the most significant effects of Venezuela's crisis is going largely unnoticed.
"The vast mineral deposits not only aliment illegal armed groups but also provide the Chavista government with a lifeline," Ebus says. "Meanwhile, populations inhabiting these mining regions have very urgent humanitarian needs."
As indigenous communities arm themselves and international tensions over Venezuela grow, Ebus fears the region could become a bloodbath should further violence break out.
On Feb. 22, two members of the indigenous Pemón community at Venezuela's border with Brazil were killed and 14 were injured as Venezuelan soldiers fired upon crowds trying to protect a convoy of aid entering Venezuela against Maduro's wishes.
"In this already tense climate, entrenched financial interests and instability in the south could undermine the prospects of a peaceful change of leadership," the report says. "Illegal mining profits are one of the armed forces' most coveted revenue streams; their desire to protect that income reinforces their loyalty to Maduro and gives the government an economic lifeline."