Department store Macy's announced it will furlough most of its workers as stores remain shut amid the global pandemic.
The department store chain shut down all locations on March 18 but continued its digital operations. It, however, has lost most of its sales amid the closures, the firm said in a statement.
"While these actions have helped, it is not enough," the company said on Monday. "Across Macy's, Bloomingdales, and Bluemercury brands, we will be moving to the absolute minimum workforce needed to maintain basic operations."
State and local officials have implemented measures to close all nonessential businesses to mitigate the spread of the CCP (Chinese Communist Party) virus, a type of coronavirus originating from China that causes the disease COVID-19 and has triggered a global pandemic. Macy's and malls that include the popular clothing store have not been spared.
"This means the majority of our colleagues will go on furlough beginning this week," the company added. "There will be fewer furloughs in our digital business, supporting distribution centers and call centers so we can continue to serve our customers online."
Macy's workers who are enrolled in the firm's health benefits plan will continue to be covered. Macy's will pay 100 percent of the premium until at least May, the statement said.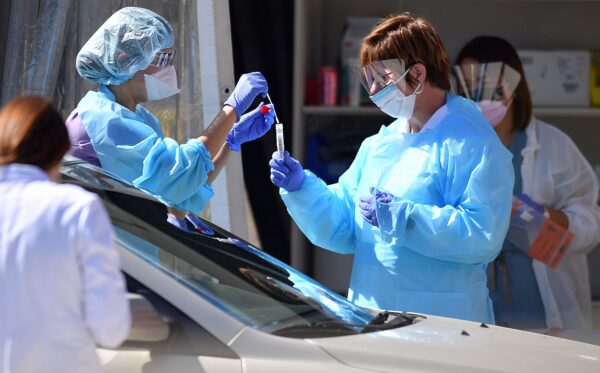 According to the New York Times and Wall Street Journal, Macy's has about 130,000 full-time and part-time employees in the United States.
Other industries have also been affected by closures, similarly announcing layoffs or furloughs, including Hyatt Hotels and Marriott Hotels.
"Given the financial impact on our business, we have had to make difficult decisions that both support the safety and wellbeing of our colleagues and guests, and protect long-term prospects for Hyatt," Hyatt said in a statement last week.
Two weeks ago, Marriott made a similar announcement.
"As travel restrictions and social distancing efforts around the world become more widespread, we are experiencing significant drops in demand at properties globally with an uncertain duration," Marriott said in a statement at the time. "We are adjusting global operations accordingly, which has meant either reduction in hours or a temporary leave for many of our associates at our properties."
Other companies, including the Men's Warehouse, the Cheesecake Factory, SeaWorld Entertainment, have furloughed employees to save money as sales dwindle to nearly nothing. L Brands Inc., which owns Victoria's Secret and Bath & Body Works, also have implemented similar measures, according to the Wall Street Journal.