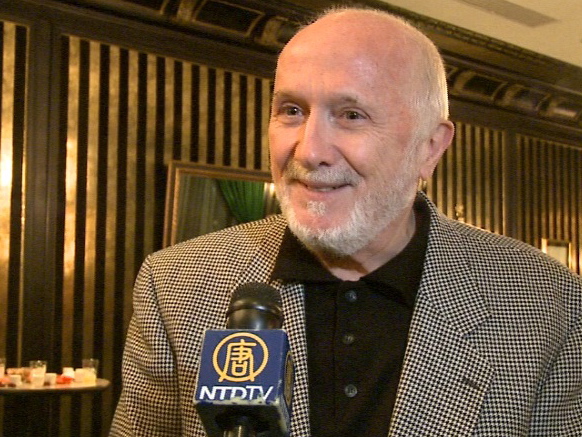 CHICAGO—"I enjoyed it very, very much!" said Mr. Mason. William Mason, general director emeritus of Chicago's Lyric Opera was among the enthusiastic audience welcoming the return of Shen Yun Performing Arts to Chicago, Thursday, April 19. 
Within classical Chinese dance lie China's rich cultural traditions, allowing the artists' movements to be deeply expressive; the personalities and feelings of characters can be portrayed with unparalleled clarity in a strikingly vivid way, according to the company's website.
General director of the Lyric Opera since 1997, Mr. Mason expressed his admiration for the depth of the performances and said, "It is very new to me. I enjoyed it very, very much!" 
His wife, Ms. Diana Davis agreed and said, "I think it is beautifully, beautifully done!"
Having presided over 120 productions as the Lyric Opera's general director before he retired in 2011, Mr. Mason was greatly impressed by various aspects of the New York-based show, and praised, "The color, the costumes, the stories, the dance." 
He elaborated, "It's a different art form. It's also a combination of music, storytelling, and dance. It has universal appeal. This is pure dance."
Ms. Davis explained that she had seen the world-renowned show before and added, "And I think watching the history, the history that has come to life today, the history of the dance is really beautiful."
Ms. Davis explained that she also has a background in opera. "That is how I met my husband. I worked in the opera, as well. I came from London where I worked."
She concluded by saying of Shen Yun, "I think it is beautifully, beautifully done, exquisite costumes, beautiful steps!" 
Mr. William Mason worked with the Lyric Opera of Chicago for more than four decades, joining the administration in 1962. He became general director in 1997. 
Reporting by Stacey Tang and Jeanmarie Lunsford.
Shen Yun Performing Arts, based in New York, has three touring companies that perform simultaneously around the world, with a mission to revive traditional Chinese culture. Shen Yun Performing Arts International Company will perform in Chicago through April 22.
For more information visit ShenYunPerformingArts.org