Swan Park, an exclusive collection of 21 new townhouses by Digreen Homes provides a rare opportunity for home buyers to live in one of Markham's most popular neighbourhoods at an affordable price.
The location at Swan Park Road and Castlemore Avenue is in the middle of an established neighbourhood, surrounded by excellent schools, parks, and recreation facilities, with every needed amenity and convenience within minutes.
Digram Developments, a third-generation family business started three decades ago, has been developing land throughout the GTA, including in Markham for 20 years and knows the local market well. Six years ago, the family also started a building company, Digreen Homes, that believes in providing quality over quantity in creating homes tailored to their neighbourhoods and to the demographic that buys there. Swan Park's luxurious brick and stone townhomes are no exception.
"We love Markham and this is one of the last remaining new home sites in this neighbourhood," says Abubakar Masood, president of Digreen Homes. "It's all about location, location, location. This is a beautiful site with everything close by. Highways 7 and 407 are just south of Swan Park and the Mount Joy GO Station is two minutes away."
Within blocks are numerous shopping, dining and entertainment choices including Markville and Pacific Malls, Main Street heritage district, the Mount Joy Community Centre and Swan Lake Park. Markham-Stouffville Hospital is just south of Swan Park and York University's future Glendon Markham campus will be within walking distance.
Masood says the company loves to build townhouses as they offer a choice in between single-family detached homes and mid-rise condos, and are more affordable than single homes yet with many of the same benefits. Swan Park is primarily geared to first-time buyers or buyers who may have purchased a condo previously but need more space, either because they have coupled up or want to have a family.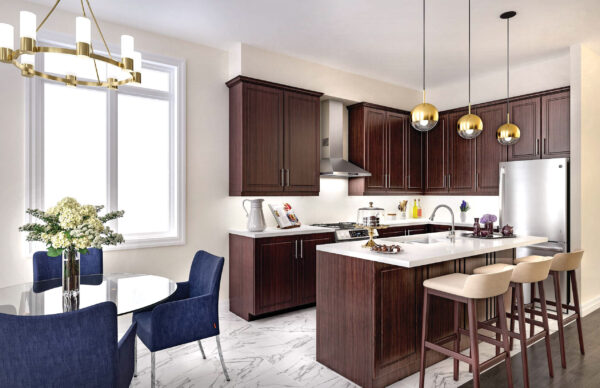 Chinese buyers have represented a noteworthy percentage of buyers at Digreen's other Markham projects and Masood also expects a significant number of Chinese purchasers at Swan Park, due to the proximity of amenities such as Chinese grocery stores and the Pacific Mall, and because they will appreciate the homes' quality construction, design and attention to detail.
Swan Park's three-storey townhouses start in the $800,000s and are approximately 2,000 to 2,300 square feet in size, ranging from three to five bedrooms with single and double-car garages. All the towns have front and rear yards and some have decks.
"In our years of working in Markham, we know that this is a premium market that likes a higher-end product and these are beautiful townhouses," says Masood. "We've gone for a design that's a bit traditional with sloped roofs as it's an infill site in an existing neighbourhood."
To eliminate too many exterior steps at the front door, Digreen designed the townhomes so residents will step into a light-filled foyer with soaring ceiling and can take a few steps up to the main-floor family room, kitchen and eating area or down a few steps into the finished lower level leading to the rear yard.
Ceilings on the lower level will be 9-feet in height, 10-feet on the main level and 8-feet on the third floor where the bedrooms are situated.
Standard features include 1-by-12 inch or 13-by-13 ceramic tile floors in washrooms, kitchen and foyer, breakfast bars and island, Corian or quartz countertops, kitchen undermount double-bowl stainless steel sink with single-level faucet.
"We're of the opinion that we are building homes that will be people's safe havens when they come in the door," says Masood. "We want to get it spot-on so the people who live there love their homes. We really listen to people so we can give them what they want."
Digreen Homes has a commitment to philanthropy and believes in giving back to the communities it builds in across the GTA. At Swan Park, Digreen will be partnering with a nearby public school (Sam Chapman Public School) to develop curriculum about bats.


"We know Markham has a large bat population and they are beautiful creatures," says Masood. "Swan Park has a field at the rear of the site and there are protected natural lands on the street. We will also be educating about bird species in the neighbourhood and will be building nesting boxes and are working with Toronto Region Conservation Authority on both the bat and bird projects."
To learn more about Swan Park, call 647-467-2872 or visit the website https://digreenhomes.com/swan-park/
Tracy Hanes is a GTA real estate writer.