Luxury SUVs Have Become Chinese Officials' New Pursuit
October 5, 2006 12:00 am Last Updated: October 5, 2006 12:00 am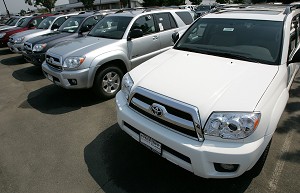 TAIPEI—The number of sports utility vehicles (SUVs) imported in China have been on the rise according to statistics from January to June this year,while all other types of imported cars have been decreasing.
Within only half a year, up to 25,000 SUVs have been imported. Among the imported SUVs, a significant portion are luxury SUVs that belong to departments of the Chinese communist regime. Luxury SUVs have become the private transportation tools of high-rank officials.
One official from Inner Mongolia told Beijing's Weekly News Outlook that Audi is no longer the most popular choice for government officials because it has become a typical symbol of corruption. However, the Chinese regime offers great flexibility in purchasing imported SUVs. Most officials prefer Toyota SUVs, but would also settle for a Mitsubishi SUV. Some officials even have two vehicles: one sedan for inner-city transportation, and one SUV for traveling long distance or driving in the countryside.
High-ranking officials from poor cities and counties also wish to be part of the trend and take every opportunity to purchase a SUV, even without first considering their financial situation. According to the report, a local county official in a poor southwest area of China drives a luxury SUV that cost more than 600,000 yuan (US$75,000). Another local government even purchased six Toyota 2700 Series at a time, each costing 420,000 yuan ($52,500).
The report stated that many government offices and bureaus are now equipped with luxury SUVs. The 600,000 yuan ($75,000) used to purchase a luxury SUV for a county official would use up the budget for building three Hope Primary School under Project Hope [1] , each school only needs 200,000 yuan ($25,000).