Luxury Product Sales Slow in China
August 3, 2012 3:31 pm Last Updated: October 1, 2015 12:42 pm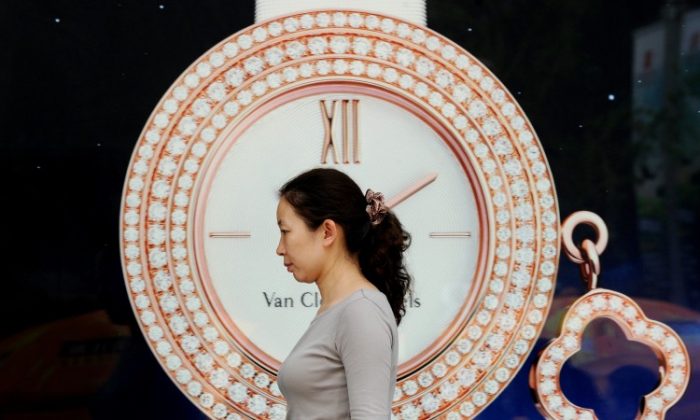 Sales of luxury goods in China have slowed dramatically compared to last year. According to different sources, clothes, jewelry, watches and cars were all affected.
Burberry's sales growth in China decreased from 67 percent in the first quarter of 2011 to 16 percent in the first quarter of this year.
According to a Citigroup report, Prada Same Store Sales Growth—revenue generated by stores already open in the previous fiscal period—for the first quarter ending in June 2012 slowed to 24 percent compared to 40 percent in the fiscal year that ended January 2012.
Sina News quoted Huang Wenjie, deputy chief of Chamber of Commerce in Guangdong Province, who claimed that "slowing sales of luxury goods in China are a result of the global financial crisis." 
At least in the case of Prada, this is not the case, as even in crisis-stricken Europe revenue was up over the same period.
Jewelry Segment Hit
According to its interim report, the world's largest jewellery retailer Chow Tai Fook reported a slowdown in sales growth from 61 percent in 2011 to 16 percent for the quarter ending in June 2012. 
The company, which generates 57 percent of revenue in the Mainland and 43 percent in Hong Kong and Macao saw a sharp deceleration of growth in Hong Kong to 9 percent. The important SSSG figure to gauge real demand increase from the consumer was even negative at –1 percent. 
Watching the Hong Kong market is key, as in China's elite circles, most purchase luxury goods outside of China. For products made in China, they dislike "a lack of product safety, poor management, a lack of credibility, high prices and high taxes," says The Chinese Luxury Consumer White Paper 2012. The paper reported that 73 percent of individuals purchase luxury goods in Hong Kong and only 28 percent purchase goods in the Mainland due to these concerns. The report was jointly published by the Industrial Bank and Hurun Report. 
Used Luxury Car Sales 
A recent report by Bloomberg Businessweek says that another key indicator for luxury demand is crashing. The price for a used yellow, 2011 Lamborghini Gallardo 550 in Hong Kong is now HK$2.88 million ($371,000) according to an online listing at 28car.com, compared to $1.2 million for a new model.
"The more expensive the car, the more dry the business," said Tommy Siu at the Causeway Bay showroom of Vin's Motors Co., the used-car dealership he founded two decades ago. Sales of ultra-luxury cars have halved in the past two or three months," he told Businessweek. 
The report also says sales of brand new cars are still doing well—up 47 percent in the first half of 2012 in Hong Kong—but it is the divergence of used prices that is worrying. Used car prices are an important indicator of marginal demand, as they are usually purchased by people who just started making big money compared to "established" rich people who are not as price sensitive. 
"Used-car buyers are more price sensitive and economic cycles will affect these shoppers more. They are paying for the cars with their income as opposed to their savings," says Bill Russo, a Beijing-based senior adviser at Booz & Co in an interview with Businessweek. 
High End Watches Decline 
A report by Citigroup shows that Emperor Watch and Hengdeli watch retailers both expect a market slowdown in revenue and Same Store Sales Growth. Emperor Watch saw its sales growth decline from 43 percent in 2011 to 28 percent in 2012. Hengdeli saw its growth decline from 30 percent in China and 25.7 in Macao to a range of 15-20 percent so far in 2012.
The Citigroup analysts come to the following conclusions: "The market has begun factoring in some expectations of slower sales momentum and margin erosion … into earnings for 2012. Specifically, jewelry/watch retailers are guiding for lower SSS growth in 2012 (lower sales growth) and have unanimously suggested rents and staff costs pressures could be higher during the year." 
This is corroborated by feedback from investors. According to the Citigroup China Consumer Team, many investors are concerned about the watch-sector in particular: "Investors were concerned about the inventories built up in China following the strength of Swiss watch exports into China [into April] … amid anecdotes on-the-ground of a slowdown in higher-end watches."
The research note furthermore indicates that many investors are staying away from Chinese consumer discretionary stocks: "The China consumer team met with investors in Singapore, the U.S., and Europe recently. Investors are concerned with risks of slower than expected economic growth, and have underweighted / shorted discretionary stocks."
The Epoch Times publishes in 35 countries and in 19 languages. Subscribe to our e-newsletter.