Despite shifting conditions on the Toronto area real estate scene, the luxury market remains strong and will continue to be a sound investment, according to Richard Silver, senior vice president sales at Sotheby's International Realty Canada.
"It's been a great year so far and we've all had increases in our office," says Silver, who leads the seven-person Torontoism Team at Sotheby's.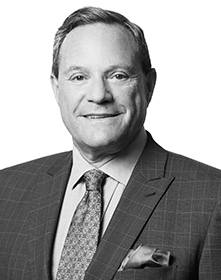 According to Silver, luxury homes in the Greater Toronto Area market can be defined as those priced at $2.5 million or more. About one third of Silver's office's deals fit that luxury criteria. Rosedale and Forest Hill remain two of the most desirable neighbourhoods for luxury buyers, although Bloor West Village, Edenbrook towards the Humber River and Scarborough Bluffs—if a home has lake views—have also come on wealthy purchasers' radar.
Year to year, July real estate prices are up 5 percent over July 2016. Between July, 2016 and April, 2017 prices ramped up by 20 percent, but have dropped by 10 to 15 percent since then. Silver says the Foreign Buyers Sales Tax, which took effect in April, has some buyers holding back to see what will happen.
It's more a psychological pause than related to the financial ramifications of the tax, which imposes a 15 percent fee on foreign buyers, he says. "These buyers are used to buying in U.S. dollars and 15 percent in Canadian dollars is not much to them," says Silver. "And they also have four years to be able to get a rebate." The rebate applies to foreign nationals who become permanent residents of Canada, international students who are enrolled fulltime for two continuous years at an approved educational institution; or foreign nationals who are working fulltime in Ontario for at least a year.
What Silver has noticed since the tax was imposed is that foreign buyers are shifting away from communities such as Richmond Hill and others just north of the city; but interest remains strong in the downtown market.
"They want to be close to education hubs," says Silver. "When I go to China, the first question I am always asked is 'where are the good schools?' They also want access to transit. Toronto is not an easy city to get around and the closer to transit, the better."
Foreign buyers represent a relatively small portion of the market—just less than 5 percent of purchasers, according to the Toronto Real Estate Board.
For all luxury buyers, Silver is confident the market will continue to be a solid investment.
Immigration is a major driver of the Toronto area real estate market and will continue to be, as 100,000 people a year are immigrating to the GTA. It's not just people from foreign countries who are interested in moving here, Silver says; people from other parts of Canada are coming to Toronto because of strong job growth. Immigration from other countries to Canada could also increase should the United States impose a policy that would drastically cut the number of immigrants it takes and give preference to English-speakers.
Buyers from China are very influential in the Toronto market, says Silver. Many pay cash and are coming to Toronto for their children to attend school. Many live here at least part of the year and they appreciate that they can own property in Canada, unlike in mainland China where their property is leased to them by the government.
Silver says Chinese buyers prefer new construction homes or houses that have been extensively renovated so appear like new. He'd like to see more builders incorporate Feng Shui into their new homes as that's also important to many Chinese buyers.


Torontoism members make frequent trips to China to connect with potential buyers and to hold events for them. For the local Chinese market, the office advertises in Chinese publications and has staff members who speak Mandarin and Cantonese.
The other factor that indicates prices will continue to increase is a lack of supply, says Silver. The current absorption rate is 28 to 30 days—that's the time it would take to sell all current listings if no others came on the market. In a normal balanced market, the absorption rate is three months.
"Part of what's stalling the market is that people couldn't find what they were looking for so didn't sell their current home," says Silver. "I've been through every kind of market and you just adjust. It is a wonderful time as buyers can negotiate. But you have to know the marketplace and there are still neighbourhoods where properties are going over list price."
Silver says regardless of home prices, "I've never seen anyone over pay. Eventually, the market catches up."


Tracy Hanes is a Toronto area freelance real estate writer.