Actor Luke Perry, before his death earlier this week, had health scares over the past several years, it has been reported.
Perry had a colorectal cancer scare in 2015 when doctors found and removed precancerous growths from the actor.
"If I had waited [to be screened], it could have been a whole different scenario," the "Beverly Hills, 90210″ actor told Fox News in 2017.
Perry, who died after having a stroke, said he was forced to mostly give up eating red meat.
"I have significantly cut down on the amount of red meat that I eat," he said. "I used to be like a steak-and-potatoes-every-night kinda guy, now it's just for special occasions."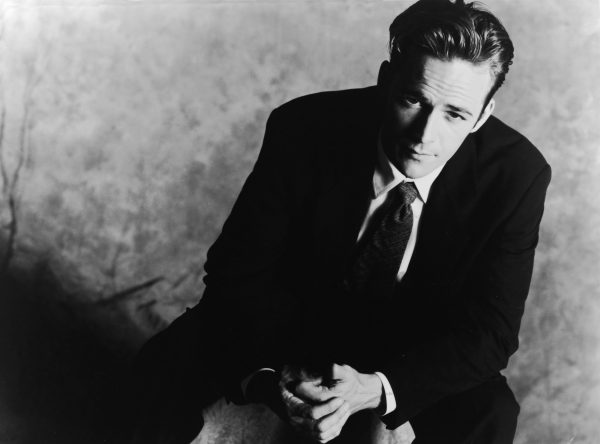 The actor said he also smoked cigarettes when he was younger, and his character was known for smoking on "90210."
According to a 1991 profile in the Florida Sun-Sentinel, "He's smoking a cigarette." A 1992 article in Rolling Stone said he was smoking a cigarette while doing the interview.
It's not clear if Perry was a smoker when he had the stroke, described as massive by several news outlets, in his Los Angeles-area home.
In our 1992 cover story, we spoke to the cast of Beverly Hills 90210 about dealing with the success of the show and rabid fans.

Posted by Rolling Stone on Monday, 4 March 2019
He is survived by fiancé Wendy Madison Bauer, ex-wife Minnie Sharp, and his two children: Jake, 21, and Sophie, 18.
Sophie Perry on March 5 released a statement on social media about her father's death.
"A lot has happened in this past week for me," she wrote on the social media website. "Everything is happening so fast. I made it back from Malawi just in time to be here with my family, And in the past 24 hours I have received an overwhelming amount of love and support."
View this post on Instagram
Perry said she appreciates the outpouring of support.
"I cannot individually respond to the hundreds of beautiful and heartfelt messages, but I see them, and appreciate you all for sending positivity to my family and I," she added. "I'm not really sure what to say or do in this situation, it's something you aren't ever given a lesson on how to handle, especially when it's all happening in the public eye. So [bear] with me and know that I am grateful for all the love. Just, being grateful quietly."
Perry's spokesman confirmed his death to a number of news outlets on March 4, saying he was surrounded by friends and family.
"The family appreciates the outpouring of support and prayers that have been extended to Luke from around the world, and respectfully request privacy in this time of great mourning," the representative told the media. "No further details will be released at this time."
"Luke was one of the kindest and most humble human beings I've ever known. I'm grateful for the years of friendship we had." ❤️

Posted by People on Monday, 4 March 2019
Meanwhile, former "90210" cast members Tori Spelling and Shannen Doherty issued statements about Perry's death.
"I am in shock. Heartbroken. Devastated by the loss of my friend. I have so many memories with Luke that make me smile and that are forever imprinted on my heart and mind," Doherty, 47, told People magazine this week. "Luke was a smart, quiet, humble, and complex man with a heart of gold and never-ending well of integrity and love. Luke reached out to me during my cancer journey and we picked right back up, albeit older and wiser, but that connection remained intact," she added.
Spelling added that she is heartbroken for his two children.
"Luke loved his family. He raved about his kids and how proud he was of them… They were his heart." ❤️

Posted by People on Monday, 4 March 2019
"I'm saddened for his kids whom he adored beyond words. He was so proud of Jack and Sophie," she said to People.
"Luke was one of the kindest and most humble human beings I've ever known. I'm grateful for the years of friendship we had. He truly was family to me, a protector and a brother. I'm so sorry for the loss that everyone is experiencing."
Ian Ziering was the first star on "90210″ to pay tribute, writing on Twitter: "Dearest Luke, I will forever bask in the loving memories we've shared over the last thirty years. May your journey forward be enriched by the magnificent souls who have passed before you, just like you have done here, for those you leave behind."