Hong Kong—Lui Chin Hong from Craigengower Cricket Club finished the year on a high by winning his second major competition this year, after lifting the National Knock-out Singles title on a freezing evening last Sunday, Dec 17, at Kowloon Cricket Club.
Lui's best result before this year was a runners-up medal at the National Pairs back in 2014, but he has been in his best form this year. He won the National Fours and the Premier League title with his CCC teammates earlier this year and was full of confidence entering the KO Singles competition.
This year 206 local bowlers braved the coldest weather of this winter, with the thermometer at 12 degrees Celsius in the morning, to participate in the competition.  They played the early rounds at six greens around Hong Kong, with KCC being used as the venue from the quarter-finals onward.
Lui entered the quarter-finals to face clubmate and good friend Jordi Lo, "He has been in good form recently so it was a very difficult game for me. We played up to 12:12 and I am glad to win the last point to progress to the semi-final.  This win boasted my confidence and with the support of my clubmates I vowed to achieve something in this competition."
He defeated youngster Anthony Yip from Hong Kong Football Club in the semi-final and faced another HKFC player Tony Cheung in the final.
The final started evenly when both players displayed high quality of drawing. Lui gradually opened up a lead of 9:3 after seven ends but lost a full house in the following end. He also made a mistake in the ninth end when his last bowl was so heavy that he pushed the jack to Cheung.
The score was tied at 9:9 after the tenth end. Lui maintained his composure and kept drawing close. In the 16th end when he was leading 15:13, he drew an inch-perfect second shot with his last bowl to win the game.
Lui was very happy to win his second title this year, "My performance has been very stable this year and today I maintained the high standard throughout. In the final match both Tony and myself played well but I think my good touch allowed me to gradually take the lead and win it with my final bowl.
"This was my sixth time to participate in this competition and my best results was quarter-finalist for two times. I am very happy to win this," said a delighted Lui.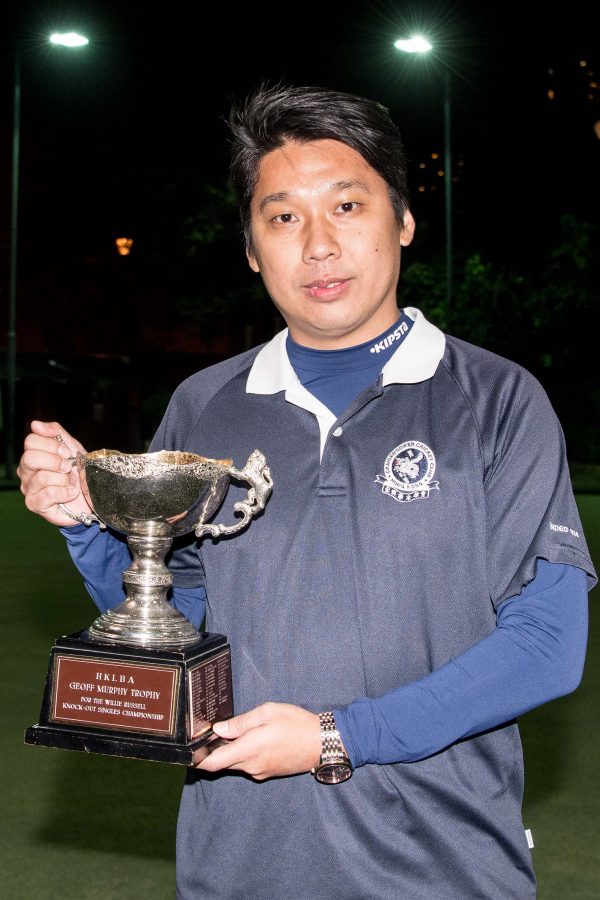 For Cheung, who has already won the Mixed Fours this year and still has the National Singles and National Fours finals to play in January, said that he is a bit nervous in the final and this affected his performance, "The green was heavier in the evening and he (Lui) adjusted better to it. He was always leading the pace of the game and it was really difficult for me to get over it in a singles game."
The National Knockout Singles has a tradition of playing all games within one day, representing a tough test on physical fitness, mental toughness and stamina of the competitors. The game on Sunday evening finished at 10:45 pm.
This week in Lawn Bowls
The Triples League continues this Saturday Dec 23 at all greens in Hong Kong with matches starting at 2,30pm.
Claudius Lam is an officer of the Hong Kong Lawn Bowls Association