A man who filmed himself licking a tub of Blue Bell ice cream before putting it back in a viral video has spoken out.
Lenise Martin III told WVLA that it was a joke and a misunderstanding.
"It was a joke with no criminal intent or activity … but I was locked up with murderers and real criminals on maxim security," said Martin in an interview with the news outlet, which showed him smiling and holding the ice cream.
The local news report didn't offer any further details about the incident, but based on his statement and the station's photo, it appears he bailed out of jail after his arrest.
Martin, described as a "copycat" by police, was arrested by the Assumption Parish Sheriff's Office on July 6, reported WAFB.
Investigators said that management asked Martin to return to the store when they became aware of the clip, according to the report.
Louisiana man faces charges after licking Blue Bell ice cream, putting it back in freezer (seriously) 👇
https://t.co/kIwlsO7idh

— NOLA.com (@NOLAnews) July 8, 2019
Assumption Parish Sheriff's Office Commander Lonny Cavalier told CNN that Martin, who showed officials receipts to suggest that he had purchased the ice cream after licking it, wasn't absolved of his crimes.
"Taking into consideration that he eventually purchased the same container is one thing," Cavalier said. "However, he puts it on Facebook to gain this notoriety and at the end of the day, it gives other people ideas that are not the best interest of public health," he added.
LOUISIANA LICKER: He was seen licking the top of the ice cream tub, moving his finger around the top, licking it again, and putting it back in the freezer. https://t.co/qXFjUKNnzT

— KTAL NBC 6 News (@NBC6News) July 8, 2019
Authorities later questioned Martin, and he was charged with unlawful posting of criminal activity for notoriety and publicity and tampering with property.
"We discourage anyone from copying this atrocious act," a sheriff's office spokesperson also told WAFB.
"It is illegal. It's a health risk to others. We will pursue anyone we see do this. You will be charged," the official said.
The spokesman said that other law enforcement agencies have sent out notices to investigators about copycat cases after a Texas juvenile's video went viral, showing her doing the same to a tub of Blue Bell ice cream at a Walmart. She was later identified by police, but her name wasn't released by officials.
Texas police identify ice cream licker as juvenile girl #news3now https://t.co/1oz5b2dPEu

— News 3 Now / Channel 3000 (@WISCTV_News3) July 6, 2019
Of Martin, police "believe it's a copycat incident," Cavalier said. "He did it and he did want to create some notoriety for himself by posting it on Facebook and that's exactly what he did."
Blue Bell, in a statement, suggested that it might have more protections on its products following the two incidents.
"We are always looking for ways to improve, including looking at methods within our manufacturing process to add additional protection to the carton," a Blue Bell spokesperson said, reported the Houston Chronicle.
Teen Identified
Police in East Texas said that a teenager from San Antonio was identified as the suspect who took a container of Blue Bell ice cream, licked it, put the lid back on, and then placed it back in the shelf at an area Walmart.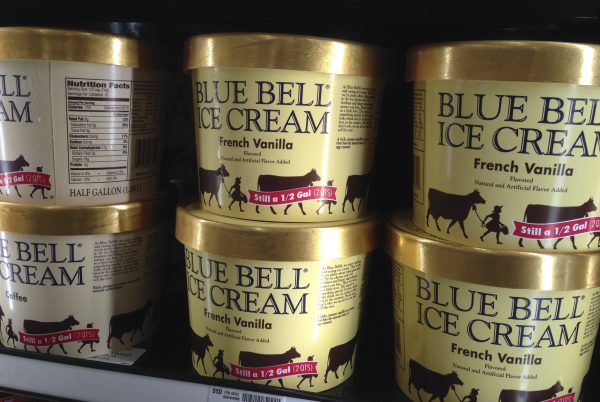 A video of the incident has gone viral, drawing horror from people on social media.
"You foul," says a voice off-camera in the clip.
CBS News reported that detectives have spoken with the suspect.