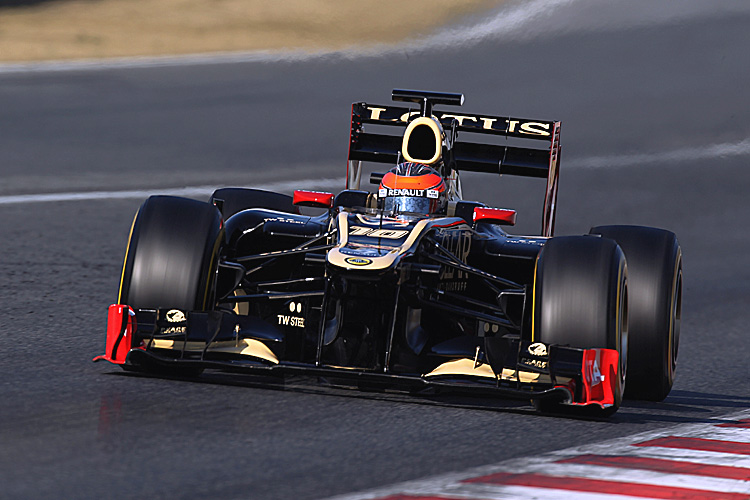 Lotus driver Romain Grosjean set the best lap at Formula One's final pre-season test at the Circuit de Catalunya in Barcelona, Spain, on Thursday with the time of 1:23.252, beating McLaren's Jenson Button by .258 seconds.
Grosjean was pleased with the results, especially since Lotus had to abandon the last test due to mechanical problems.
"The car was feeling very good, and it's great to bounce back from our dramas to set the fastest time of the day. It's clear we have solved the problem we encountered, and now we have to complete a very full test program this week," the French driver said on the Lotus website.
McLaren's manager David Redding was equally pleased with the day's outcome.
"Having completed more than 2,000 km at Barcelona last week, today was always going to be more about quality than quantity," he said in a press release. "We wanted to drill a little deeper into our understanding of the car, and that meant undertaking some bigger setup changes that wouldn't ordinarily be available to us during a grand prix weekend."
"We made good progress, and we're satisfied with today's results," summed up Redding.
Sergio Perez turned 118 laps in the Sauber C31, setting the third-fastest time. Head of track engineering Giampaolo Dall'Ara told Formula1.com: "We are quite happy with how the day went. We ticked off everything that had been on today's job list without any noteworthy issues. It was also good for Sergio to cover a good amount of mileage. Test conditions here in Barcelona have been ideal."
Red Bull's Mark Webber set fourth-fastest time, with Nico Rosberg in the Mercedes coming in fifth. Force India, which was surprisingly fast at last week's test, turned in the seventh-fastest time, coming in after Toro Rosso rookie Jean-Eric Vergne.
"It was a good day, and I completed more laps than on any of my other times in the car so far," Vergne told Formula1.com. "I am feeling more confident and comfortable, and I think we are also making steady progress on car development. The pit stops are also getting better and were an improvement on last week here."
Paul di Resta was testing the second Force India chassis for the first time. "Another busy day and we managed to tick off all the objectives once again," he told Formula1.com. "The final test is all about adding new parts to the car, seeing how they perform, and getting our setup sorted for Melbourne. I think we have a good idea of where we need to be, based on the performance of the car today."
The final test continues through Sunday. The season-opening Australian Grand Prix takes the green flag at 5 p.m. (local) on March 18.