The Los Angeles Chargers announced Nov. 1 they will be constructing a new headquarters and training facility in El Segundo, moving away from Costa Mesa where they have been since 2017.
Located off of Nash Street and around 3 miles from Los Angeles International Airport (LAX), the new 14-acre facility designed by Gensler Sports will feature three football fields, a building that spans 145,000 square feet, and a 7,600 square-foot elevated terrace that will overlook the fields.
The new complex will also be just 7 miles from the new SoFi Stadium, where games are played.
With construction estimated to begin in 2022 after approval by the city planning commission and finish in Spring 2024, the team will move out of their current training facility located at the Jack Hammett Sports Complex in Costa Mesa, where they have been paying $150,000 per year to use.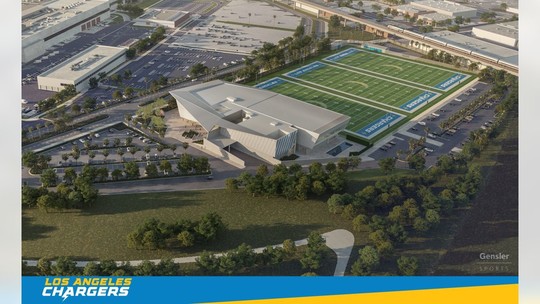 Chargers owner Dean Spanos said the team has been searching for years for a spot to settle down in, but took a while to find what the team needed to maintain their competitive edge.
"When searching for a location to establish our hub of football and business operations, we didn't leave a single stone unturned," Spanos said in a statement. "This process played out for more than four years because we weren't willing to settle. Good enough wasn't going to cut it. We wanted great, and we finally found it."
"To be able to develop 14 acres of prime real estate—with the proximity to LAX, SoFi Stadium, Silicon Beach, more Fortune 500 companies in the state than anywhere except San Francisco and, of course, neighbors like the Los Angeles Lakers and Los Angeles Kings—it's another major step toward building a perennial contender and further rooting ourselves in the community we serve."
In addition to the already named features, the center will boast a 3,400 square-foot elevated outdoor turf area and a two-lane lap pool that will enhance player rehabilitation, and also have a roof-top hospitality club, full e-sports gaming and content studios, and a 3,100 square-foot media center inside the headquarters.
The field area will also have seating for 5,000 audience members, as well as 348 parking spaces and other off-site parking available.
"When our staff and I first started here, we talked a lot about possibility," Head Coach Brandon Staley said in a statement. "You could just see it coming. The possibility of this team. The possibility of LA.
"The goal is for the Chargers to become the standard of excellence in the NFL. This new facility demonstrates our organization's commitment to that standard."
The facility is set to be constructed by Continental Development Corp. and Mar Ventures, Inc.
"Everyone knows the margin between wins and losses in the NFL is razor-thin," General Manager Tom Telesco said. "Any advantage you can create for your coaches and players, you'll take it. Having a world-class training facility definitely falls into that category."