One of Lori Loughlin's daughters, Isabella "Bella" Giannulli, has decided to delete her Instagram account days after her parents pleaded not guilty in the college admissions bribery scandal.
The 20-year-old University of Southern California student, whose status at the college may have been put on hold, deactivated her account about a month after her mother Loughlin did the same.
Loughlin and her fashion designer husband Mossimo Giannulli pleaded not guilty to the charges of money laundering and mail fraud on April 15. They are among 50 people accused of participating in a massive scheme that allowed wealthy parents to cheat and use bribes to help secure spots for their children at well-known universities like Yale, Georgetown, and USC.
The couple allegedly paid a fraudulent nonprofit run by William "Rick" Singer $500,000 to get their daughters, YouTube star Olivia Jade, 19, and Isabella into USC, while allegedly lying about the athletic ability of their children.
Updates regarding all of the defendants charged in the #CollegeAdmissionsScandal available here: https://t.co/gkLihTY7ep

— U.S. Attorney MA (@DMAnews1) April 8, 2019
The couple was each charged with conspiracy to commit money laundering and conspiracy to commit fraud and honest services mail fraud. Each charge carries a possible sentence of up to 20 years in prison in addition to a combined total of up to $750,000 in fines.
Isabella's younger sister, Olivia Jade, who is a popular YouTube star and Instagram influencer, has not followed in the steps of her family members. Her social media accounts are still active as of April 17, but she has not posted on Instagram since February.
Olivia Jade's Instagram has 1.4 million followers, while her Twitter account has 195,000 followers.
Prior to the guilty plea, a source that is close to Loughlin told People magazine that the "Full House" star was struggling to fully grasp the gravity of the charges and was concerned about what a guilty plea would do to her daughters' reputations, along with their feelings for their mother.
"She is very concerned about what a guilty plea would do to her daughters, who may not have grasped everything that was going on."

Posted by People on Saturday, April 13, 2019
"She is very concerned about what a guilty plea would do to her daughters, who may not have grasped everything that was going on," the source told People.
The source said the public's perception of her is "nothing compared to what her daughters think of her" and that has "understandably made her less likely to enter a plea."
"It's just taking some time for it to sink in that what she was allegedly doing could be considered illegal. To her, it wasn't egregious behavior. Was it entitled and perhaps selfish? Perhaps. But she didn't see it as being a legal violation," the source said.
The source continued, "From the beginning, she didn't want to take a deal, because she felt that she hadn't done anything that any mom wouldn't have done if they had the means to do so."
"So this wasn't her being obstinate; this was her truly not understanding the seriousness of the allegations," they added.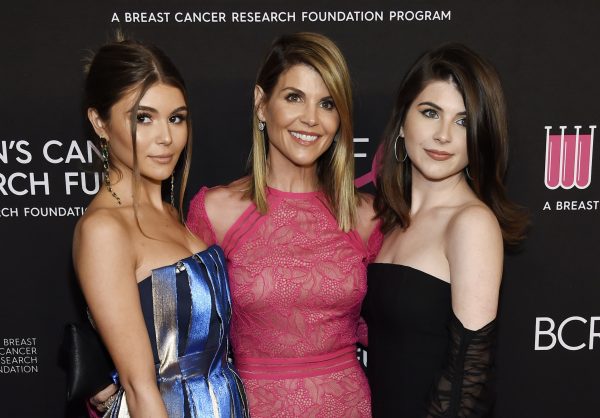 Isabella and Olivia Jade have not been charged in the scheme and it is unclear whether they were aware of it.
After the scandal became public, USC wrote on its website in a statement that it will review the current students on a case-by-case basis to see who may have been connected to the alleged scheme.
"We will make informed decisions about those cases as the reviews are completed," the college wrote.
The college added that it has "placed holds on the accounts of students who may be associated with the alleged admissions scheme."
"This prevents the students from registering for classes (until they have agreed to participate in the review of their case), withdrawing from the university, or acquiring transcripts while their cases are under review," the statement said.
Reuters contributed to this report.