Members of the upper house of the British parliament have questioned the government over the planned Chinese takeover of one of the UK's biggest microchip factories, warning that the deal could threaten the UK's "national resilience."
Newport Wafer Fab (NWF), based in Wales, specialises in manufacturing the more advanced compound semiconductors, which is the key technology used in 5G networks and facial recognition software.
In July 2021, Nexperia, a Dutch firm wholly owned by China's Wingtech Technology, said it had obtained 100 percent ownership of NWF. Wingtech, whose shareholders include Chinese state-funded investors, supplies chips to Chinese smartphone makers, including Huawei.
In a House of Lords session on April 7, Liberal Democrat peer Lord Fox called on the government to outline its position on the takeover.
He told peers: "The minister has said in the past that there are no specialist technologies at Newport Wafer Fab but that ignores the need for capacity, industrial capacity, to build technology."
Lord Fox added: "There is a crippling shortage of microprocessors around the world that is hampering manufacturing. To combat that the EU and the U.S. have strategies. We seem to be waiting and seeing."
Business minister Lord Callanan replied that Department for Digital, Culture, Media and Sport (DCMS) is working on a semiconductor strategy which will be published "shortly."
Lord West of Spithead, a Labour member, said: "There is absolutely no doubt—it is known across all our intelligence communities, Five Eyes, and everywhere—that this factory has strategic significance and is strategically important to our nation."
He urged ministers to "understand how important this is in strategic terms," and warned them not to "let this go through by some sort of error."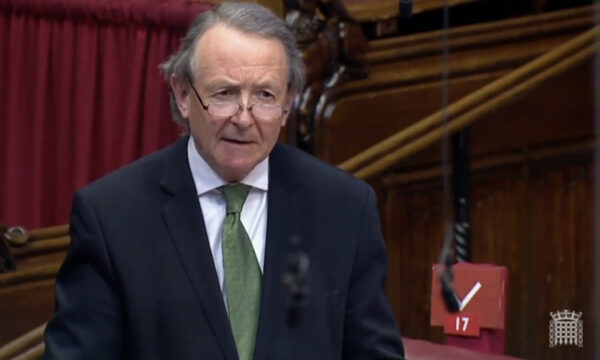 Lord Alton of Liverpool, a cross-bench peer, told the House that the factory was "the United Kingdom's biggest producer of microchips and semiconductors."
He said: "It is about national resilience and it is about whether or not we wish to become a wholly owned subsidiary of the People's Republic of China which has been accused of genocide by Elizabeth Truss, our Foreign Secretary."
Lord Callanan replied: "I totally share his frustration about this and totally align with his remarks about the People's Republic of China, the awful human rights abuses that are going on there, and particularly the treatment of the Uyghur people. There is no difference between us on that."
But he said this is a "quasi-judicial decision" that will be taken by Business Secretary Kwasi Kwarteng under the powers under the National Security and Investment Act.
Shortly after the planned takeover was announced in July 2021, Prime Minister Boris Johnson ordered national security adviser Sir Stephen Lovegrove to investigate the purchase.
But the Foreign Affairs Committee of the House of Commons said on April 5 that the promised investigation does not appear to have begun.
Questioned on the status of the review, Lord Callanan said: "I can confirm that the review is taking place."
PA Media contributed to this report.