WASHINGTON—To help solve the illegal immigration crisis, the United States is working south of the border to curtail the drivers in Central America—namely poverty, high crime, and weak governance.
About half of Central America's population—located in El Salvador, Guatemala, and Honduras—lives in poverty, according to State Department estimates.
In 2015, El Salvador and Honduras had the highest global rates of intentional homicides, respectively, according to data from the United Nations. And although the homicide rates in both countries dramatically declined in 2017, according to State Department data, they still exceed those of most countries in the region.
Department of Homeland Security leadership hopes to work closely with the president-elect of Mexico, Andrés Manuel López Obrador, to align immigration policies—especially in regard to asylum-seekers—and to crack down on transnational violence.
"I think if we can come up with an approach to protect asylum-seekers in a shared vision with Mexico, with Canada, with other regional partners, that's something we could do near-term," said Kevin McAleenan, Customs and Border Protection (CBP) commissioner, at an event in Washington on July 27.
"If you look at El Salvador, the migration from El Salvador has reduced 65 percent this year," said McAleenan. "What they're doing is working—both on the security front and on the economic opportunity front. We want to achieve those same successes in Honduras and Guatemala, as well."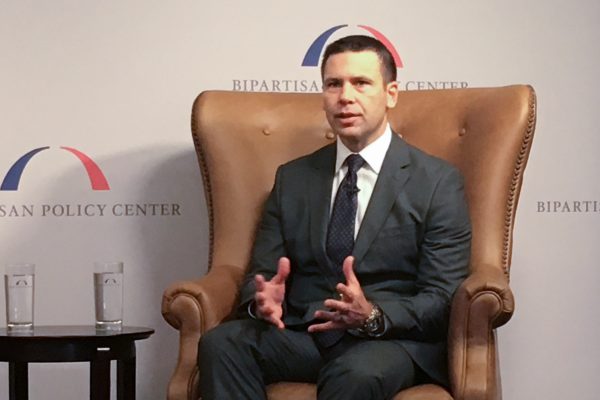 Changing Demographics
The demographics of illegal immigrants entering the United States have changed over the years, but the past five years have seen the most significant shift, McAleenan said.
From the 1930s through to 2009, more than 90 percent of illegal immigrants were single male Mexican nationals who were crossing for seasonal work, he said. The first year that the proportion of Mexican nationals crossing illegally dropped below 90 percent was 2009.
"Three of the last five years have been more than 50 percent non-Mexican nationals," McAleenan said. The change has been driven by Central Americans.
"Now we see, this year, a full 40 percent of those crossing our border are either children unaccompanied, that's 15 percent, or families, that's 25 percent," McAleenan said. Most family units consist of an adult female and one child.
Another phenomenon is the number of illegal immigrants claiming asylum, which has skyrocketed to about 20 percent of all illegal border crossers, from fewer than 1 percent in 2013.
In 2009, the Department of Homeland Security conducted more than 5,000 credible-fear reviews for asylum claims, according to Department of Justice numbers. By 2016, that number had increased to 94,000.
About 20 percent of all asylum claims are approved by immigration judges.
The Journey
The U.S. government also is working to try to mitigate the crime and abuse perpetrated against Central Americans while they travel north through Mexico.
Two-thirds of migrants traveling through Mexico report experiencing violence along their journey, including abduction, theft, extortion, torture, and rape, according to Doctors Without Borders (MSF), which has been been providing medical and mental health care for migrants and refugees in Mexico since 2012.
"People in those countries are no longer able to sustain a decent quality of life, and they're forced to flee. They're leaving because they have no choice," said Rachel Kiddell-Monroe, a MSF international board member, in a video published on July 19. "We have no idea of the numbers of people that are disappearing [on the route north]."
Almost 1 in 3 women surveyed by MSF said they had been sexually abused during their journey—60 percent through rape.
McAleenan said CBP's intelligence and interviews put the numbers even higher.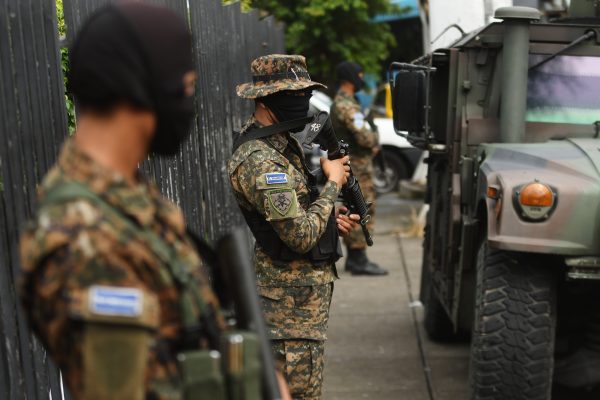 He said the multibillion-dollar industry of human and drug smuggling by transnational criminal organizations has caused significant issues for Mexican nationals who live along smuggling routes and near the southwest border.
"This process of smugglers controlling the access is really a phenomenon of only the last five to 10 years," he said. "Previously, if you wanted to migrate to the United States, you could kind of chart your own path, get transportation up to the Mexican border, see where other people were gathering, and try to cross together with a group."
Now, he said, it's impossible to get across without paying a smuggler—usually around $500 just to cross the actual border line.
"That's why that violence is so intense right now in Tamaulipas. They're fighting over every inch of access to that river," he said. Tamaulipas is the state directly south of Rio Grande Valley in southeast Texas, which is the busiest illegal crossing point along the southern border.
The murder rate in Tamaulipas has more than doubled in the past 18 months alone, McAleenan said. In the last election cycle, 122 candidates for political office in Mexico were murdered at the federal, state, and local level. Several hundred candidates had to quit or drop out due to threats, he said.
"That's the result of our legal framework," McAleenan said. He blames the loopholes in the United States' immigration system for fueling the violence across the border and "inviting people to take this dangerous journey."
"We've got to be cognizant of what our system is doing both to Central America and in Mexico," he said. Partnering with those countries is essential to both addressing the economic push factor from Central America and dismantling the transnational criminal organizations that are victimizing the most vulnerable people en route to the United States, he said.
"We have talked with these leaders. They don't want to lose their youth and energy to this migration flow. They don't want to put their vulnerable families and children in the hands of smugglers," McAleenan said.
Prosperity and Security
He said Homeland Security is launching a messaging campaign in Central America this month, in Spanish and indigenous dialects, to explain the dangers of the journey and also to promote the future economic opportunity in their home country.
McAleenan said although most of the talk is about gang violence, the migration flow is driven by economic concerns and lack of economic opportunity.
"That's really fundamental to understand—there's a lot of discussion about gang violence, a lot of discussion about coercion, but economics is the fundamental core of this."
He said the Trump administration is expanding on the scope of the Alliance for Prosperity plan that was begunat the end of 2014. It was started by Guatemala, Honduras, and El Salvador and has been supported each year since by a U.S. congressional allocation of $460 million to $750 million.
The plan was based off a similar one in Colombia that helped to dismantle drug cartels, increase security, and foster economic activity.
In Central America, U.S. programs contributed to $92.2 million in exports and domestic sales and the creation of more than 29,000 jobs in 2017, according to the State Department.
During a June 2017 conference to discuss prosperity and security in Central America, the Central American governments committed to enact reforms to improve their business climates, including eliminating red tape, improving transparency, and streamlining business formalization processes.