Long Beach city officials on May 25 brought up old talks of making the city a new home for the Angels baseball team, one day after the City of Anaheim walked away from three years of negotiating the sale of the Angel Stadium to the baseball team's owner.
Long Beach had considered building a waterfront stadium for the Angels in 2019, but those discussions ended when the baseball team entered exclusive negotiations with Anaheim.
"If the Angels are interested in continuing those initial discussions, Long Beach would reengage in those discussions and seek direction from the City Council," reads a Wednesday statement from the Long Beach City Manager's office.
Long Beach officials originally planned to build the proposed stadium on a 13-acre "Elephant Lot," where circus elephants used to gather, next to the Convention Center.
It was not immediately clear if SRB Management—a company owned by Arte Moreno, the owner of the Angels baseball team—is interested in negotiating with the City of Long Beach.
Allan Abshez, an attorney for SRB Management, was not immediately available for comment.
The letter follows the Anaheim City Council voting unanimously on May 24 to void the sale of Angel Stadium to SRB Management.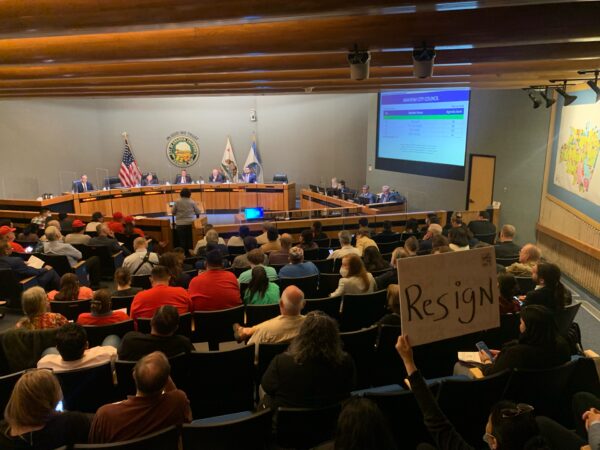 Anaheim City Councilman Trevor O'Neil told The Epoch Times the Angels are still leasing the stadium from Anaheim and will remain in the city through 2029. Only the land development component has been voided, he said.
"My hope is that we can continue to discuss plans that will ensure the Angels remain in Anaheim well beyond 2029," O'Neil said.
Anaheim officials approved the sale of the 150-acre stadium site to SRB Management in December 2019 for $320 million.
But an FBI affidavit surfaced on May 16 accusing Mayor Harry Sidhu of sharing confidential information with representatives from the baseball team regarding the sale in exchange for campaign contributions for his reelection.
After much public scrutiny, Sidhu resigned on May 24.
The stadium deal hit snags in the past three years, including a lawsuit by homeless advocates and a state violation issued by the Department of Housing and Community Development.
The lawsuit—originally filed in February 2020—claimed Anaheim violated the state's open meeting law, or the Brown Act. A superior court judge ruled, however, it had not. That lawsuit has been appealed this week.
The sale was also found to be in violation of a state law known as the Surplus Land Act, which requires that public land put up for sale must be made available for affordable housing developers to place a bid before others.
The city settled the lawsuit on April 26 by agreeing to allocate $96 million for new affordable housing.
Brad Jones contributed to this report.