Truckers heading into the Port of Long Beach will be hit with more fees next year.
Harbor commissioners voted Nov. 8 to charge trucks $10 per 20-foot equivalent unit, a standard measure for one 20-foot-long cargo container, if they don't meet a zero-emissions standard.
The new Clean Truck Fund Rate will start April 1, 2022.
"As cargo volume continues to break records, it's critical that we transition to a zero-emissions fleet," Long Beach Mayor Robert Garcia said in a statement. "Our Clean Truck Fund is a bold step forward towards cleaner air and addressing our climate crisis."
The fee was decided by the twin ports of Long Beach and Los Angeles in March 2020.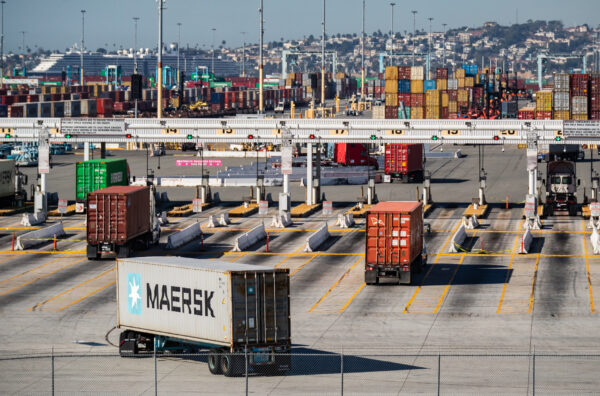 Both ports are seeing record numbers of cargo ships and containers this year—and record numbers of trucks and trains needed to process the overabundance of goods.
The Los Angeles and Long Beach ports are the largest in the nation, handling about 40 percent of the country's shipping.
South Coast Air Quality Management District estimates the two ports are responsible for more than 100 tons per day of smog- and particulate-forming nitrogen oxides—"more than the daily emissions from all 6 million cars in the region," according to the district's website.
"In addition, the California Air Resources Board estimates that port air pollution creates cancer risks exceeding 500 in 1 million for tens of thousands of residents," according to the district.
Zero-emissions trucks are exempt from the new fee. The Port of Long Beach has approved an expiring exemption for the cleanest natural gas-powered trucks as a transitional step to a future when zero-emissions cargo trucks are widely available, according to a statement issued by the port.
The Clean Truck Fund rate is expected to generate $90 million in the first year, or $45 million per port.
Harbor commissioners also approved funding for low-nitrogen oxides and zero-emissions trucks, with at least 10 percent of the funds to be provided to zero-emissions trucks.
"We are the Green Port," Harbor Commission President Steven Neal said in a statement. "Speeding progress toward the zero-emissions trucks goal is important, in spite of the business uncertainties created by the pandemic."
San Pedro Ports launched the Clean Truck Program in 2008. Diesel emissions from trucks have been cut by as much as 97 percent compared to 2005 levels, according to the ports.
The Clean Air Action Plan has established a goal of zero-emissions trucks by 2035.
The Los Angeles Board of Harbor Commissioners unanimously approved a similar program on Nov. 4. The port will begin collecting fines on April 1, 2022, at $10 per container hauled by a nonexempt truck.
"As we continue to move record-breaking cargo through the busiest port in the Western Hemisphere, it is vital that we implement the Clean Truck Fund Rate to expedite the transition of trucks servicing the Port to zero-emissions," Mayor Eric Garcetti said in a statement.