UPDATE: Lone Seafood Restaurant Refuses to Leave Pier 17 Building
September 30, 2013 10:53 pm Last Updated: October 7, 2013 11:27 am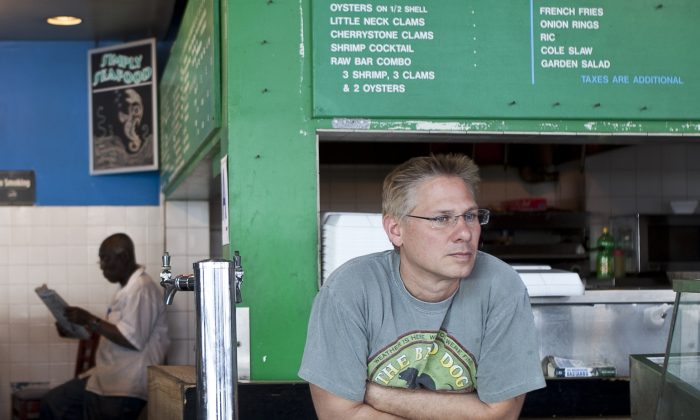 UPDATE: New information about Simply Seafood's lease, and a long-running court case against developer, Howard Hughes Corporation (HHC), in New York County Supreme Court has been added. The parties are expected in court Oct. 8.
NEW YORK—A high-profile construction project in Lower Manhattan that's already begun preliminary demolition work has a little problem: one business refuses to leave the building.
A Texas-based landlord, the Howard Hughes Corporation (HHC), plans to replace the mall with a modern glass structure. Invitations for the groundbreaking ceremony on Oct. 17 have already been sent out.
Formerly filled with three floors of small shops, restaurants, and a food court, as of Oct. 1, every storefront was vacant, except for one.
In the corner of the top floor is Simply Seafood, a food court restaurant owned and run for three generations by the Demane family. They sell fare that includes lobster, fish and chips, seafood salads, and cold beer. As HHC's plans for the demolition and rebuilding to move forward, Simply Seafood's surrounding tenants have vacated.
The escalators are still running, the bathrooms are still open, and the lights are still on, but the dozens of glass doors leading to outer decks on every level are locked. Several large sections of the building, including a former public atrium space, are cordoned off with metal fencing, barriers, and signs warning that trespassers will be asked to leave. The atrium area was used during New York Fashion Week and as late as Sept. 26 for large private events, though.
At the lone door on the ground level that's unlocked, a security guard waits outside behind a barrier to tell people the building is closed.
"It's kind of eerie that only [this place] is left," said Jim Harding, a long-time, repeat customer since 1999 who works in the insurance industry. His comments came as he sat eating his lunch from Simply Seafood. "You feel sad because they've been here so long. I'm going to miss it."
But if Simply Seafood's owners have their way, they won't leave. Despite HHC's plans for demolition, the restaurant said they have a lease that lasts through 2020.
"It's really quite simple," said Joe Demane, who runs the restaurant with his father, John Demane, "They need the building, we have the lease."
If they only had one or two years left on their lease, Demane said maybe they would not hold out. With the new building expected to reopen in 2015, "we would have five more years," said Demane, who would be glad to have a spot in the new building.
Demane said they have "survived" a series of landlords over the years and have no plans to give in now. He added that their lease includes protection against being forcibly relocated. So far HHC hasn't given them any other options.
It's that lease, which has afforded them the ability to continue operating seven days a week, even after other tenants vacated by an HHC-set deadline earlier in September.
The validity of that lease is in dispute. A spokesman for HHC said the lease was terminated in 2005.
Simply Seafood and several other former tenants have a long-running court case against HHC in New York County Supreme Court that dates back several years. They have been in trial for almost two months, with another court date set for Oct. 8.
The New York County Supreme Court has yet to decide if that 2005 termination was valid. If not, the court may uphold the validity of Simply Seafood's lease through 2020.
Both parties anticipate a judgment in the case by sometime in mid-October, around the time of the planned groundbreaking ceremony.
For now, though, they are still getting a steady trickle of customers.
"Gorgeous view!" exclaimed one woman who had wandered up to the restaurant and saw the facing public atrium with views of Brooklyn, the East River, and Brooklyn Bridge. "This place should be packed!"