London's COVID-19 restrictions will move up to Tier 2 from midnight on Friday, Health Secretary Matt Hancock has announced.
Under the UK's new three-tiered system of COVID-19 restrictions, this means the capital's alert level will move from "medium" to "high".
"Working closely with the mayor, with cross-party council leadership, with local public health officials, and the national team, we've together agreed that London needs to move to local COVID alert level 'high'," he said in a statement to Parliament on Thursday.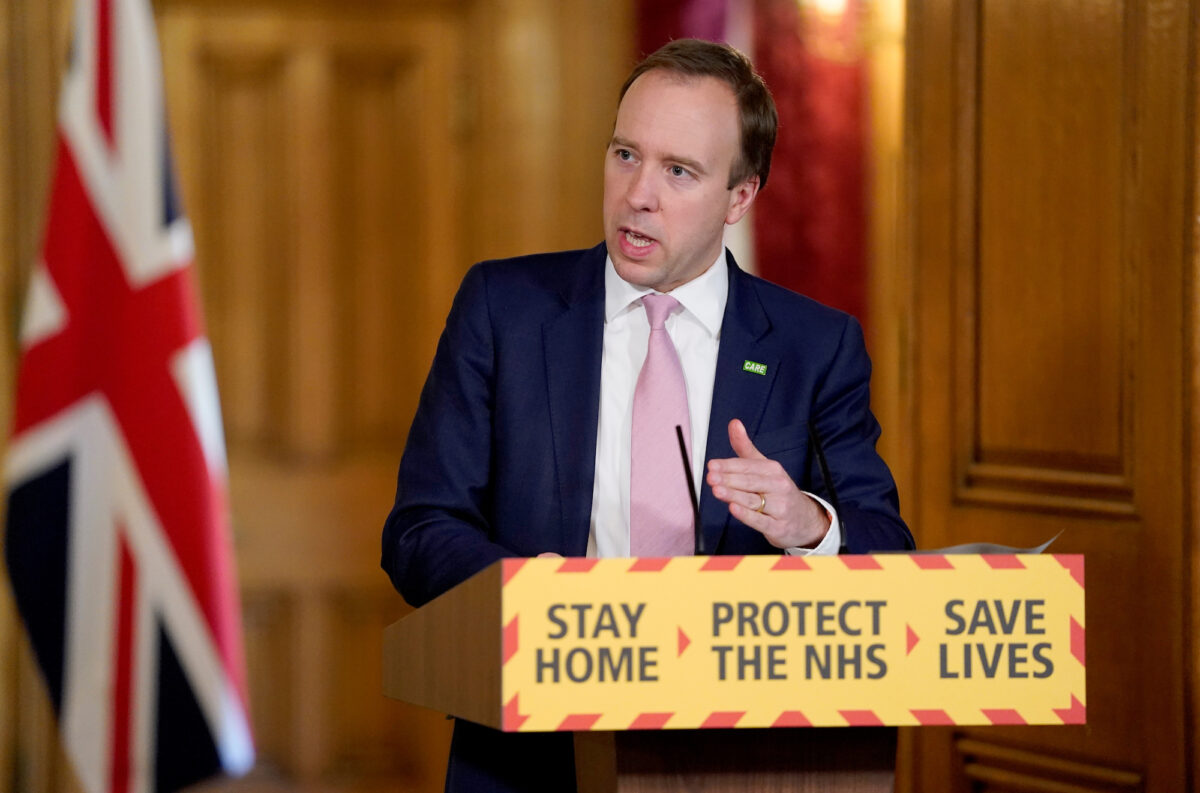 Under the new alert level, which will come into effect at 1 minute past midnight on Saturday morning, "the central change is that people cannot now meet other households socially indoors," Hancock said. "This applies in any setting at home, or in a restaurant, or in any other venue."
"The rule of six still applies in any outdoor setting. And although you may continue to travel to open venues, you should reduce the number of journeys where possible."
Prime Minister Boris Johnson announced the three-tiered system on Monday in an effort to simplify the patchwork of often complicated and confusing restrictions imposed across England to combat the pandemic, which is caused by the CCP (Chinese Communist Party) virus, also known as the novel coronavirus.

The three tiers are medium, high, and very high, categorized by the infection rates of the areas.
Hancock said the heightened alert level is necessary because "in London, infection rates are on a steep upward path, with the number of cases doubling every 10 days."
"We know from the first peak that the infection can spread fast and put huge pressures on the NHS. So we must act now to prevent the need for tougher measures later on," he said.
The health secretary paid tribute to Londoners for their sacrifice.
"To Londoners, and to all who work in our great capital, I want to say thank you for what you've done to suppress the virus once. We now all need to play our part in getting the virus under control once again," he said.
Earlier today, the Mayor of London Sadiq Khan said nobody wanted the measures but action had to come fast.
"I must warn Londoners: We've got a difficult winter ahead," Khan said.
In the capital, 11 boroughs are seeing more than 100 new cases a week per 100,000 people. The worst hit areas are Richmond, Hackney, the City of London, Ealing, Redbridge, and Harrow.
Other areas in England that will move into Tier 2 are Essex, Elmbridge in Surrey, Barrow-in-Furness, York, North East Derbyshire, Chesterfield, and Erewash in Derbyshire.
A final decision has yet to be made on whether Greater Manchester will move into the highest tier of restrictions.
Lily Zhou and Reuters contributed to this report.