Prime Minister Scott Morrison has condemned the future use of lockdowns to manage the spread of the CCP virus, while praising Victorians for enduring almost four months of harsh restrictions.
Speaking in parliament house on Oct. 27 Morrison took the opportunity to thank the people of Victoria for their "extraordinary resilience" and the sacrifices of public service workers. In particular, he noted that Victoria's lockdown was necessary once it became apparent that there were inadequacies in the state's contact tracing system and breaches in the hotel quarantine system.
"But I say this, borders and lockdowns are not demonstration or evidence of success. They are not evidence of success; they are evidence of outbreaks that have got out of control. They are evidence of things that have not gone as they should," Morrison said.
Lockdowns have come under increasing scrutiny recently with the World Health Organisation's COVID-19 Special Envoy David Nabarro explaining that the World Health Organisation was now advising to stop using lockdowns as the primary control method.
"Develop better systems for doing it," he said.
In Australia, 500 doctors also wrote an open letter calling for the Melbourne lockdown to end, with a spokesperson saying it was "disproportionate and unscientific."
Concurring with the prime minister, Victorian resident and federal treasurer Josh Frydenburg agreed that the situation had gotten out of control.
"The Victorian people have suffered so much—the pain, the cost, and the loss of Victorian people. It should never ever have come to this," he said.
Morrison and Frydenberg have previously both been highly critical of the Andrews government's delays in lifting restrictions.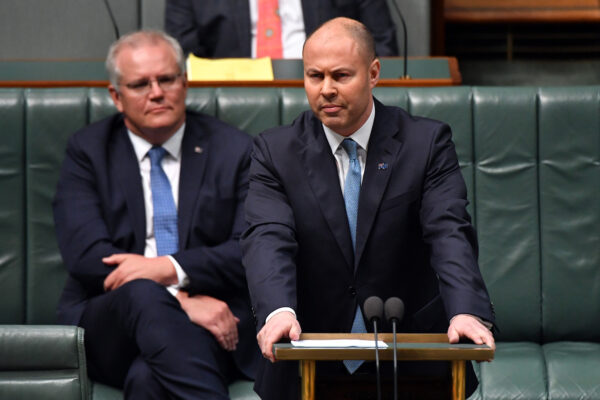 Victoria's Recovery From June CCP Virus Outbreak
A second wave of infections originated from a breach in Melbourne's hotel quarantine system in June. By July cases were exceeding 700 a day, a sign control measures had got out of control.
Deputy Labor leader Richard Marles—also a Victorian—highlighted that 12 weeks ago Victoria a population of 6.4 million and Britain, a population of 66.6 million, were recording similar COVID-19 cases, but have gone opposite directions.
He said, on July 30, Victoria recorded 723 CCP virus cases, and Great Britain registered 846. On Tuesday Victoria recorded zero infections, and the UK's has swelled to 20,890.
Marles heralded the "crystal-clear decisions" of the Victorian government, guided by the best medical advice.
"Yes, there have been mistakes, and the Victorian government immediately established a judicial inquiry which is working through those issues as we speak," he said.
The Hotel Quarantine Inquiry led by Jennifer Coate was established in July to investigate the events leading up to the Victorian outbreak that has been linked to failed hotel quarantine. The inquiry is probing who in the Victorian government decided to use private security guards instead of police or Australian Defence Forces for the quarantine security.
Victoria announced eases to the lockdowns for businesses on Oct. 26, followed by household lifts on Oct. 27. Further restrictions are scheduled to ease on Nov. 8.
Follow Alex on Twitter: @alexcjoseph1.