With an exceptionally high vaccine takeup rate in the UK's adult population, blanket CCP (Chinese Communist Party) virus policies can no longer be justified, a government adviser said on Wednesday.
Professor Andrew Hayward, a member of the government's Scientific Advisory Group for Emergencies (SAGE), made the remarks when asked if the UK should follow Germany and stop providing free tests for asymptomatic people.
"I think as we generally move into an endemic rather than pandemic situation the potential harm that a virus can cause at a population level is much less," Hayward told BBC Radio 4's "Today" programme.
"So you can't really justify such broad population-wide control measures and we tend to target the control measures more to those who are most vulnerable," he said.
"And so I think, not only in testing but in all sorts of forms of control, as we move into a situation where we're coming to live with this virus forever, then we target the measures to the most vulnerable rather than having the more disruptive measures."
The strategy Hayward suggested was proposed last year by three medical professors.
The Great Barrington Declaration, published on Oct. 4, 2020, called for a "focused protection" approach—protect the vulnerable and let others build up natural immunity—instead of an arbitrary blanket lockdown that can cause other harms.
But the UK as well as most other countries dismissed the proposal and chose to hold out for a vaccine. Prime Minister Boris Johnson said he would not let the CCP virus spread through the population unhindered.
After an unprecedented large-scale vaccination programme, most legal restrictions have been lifted across the UK.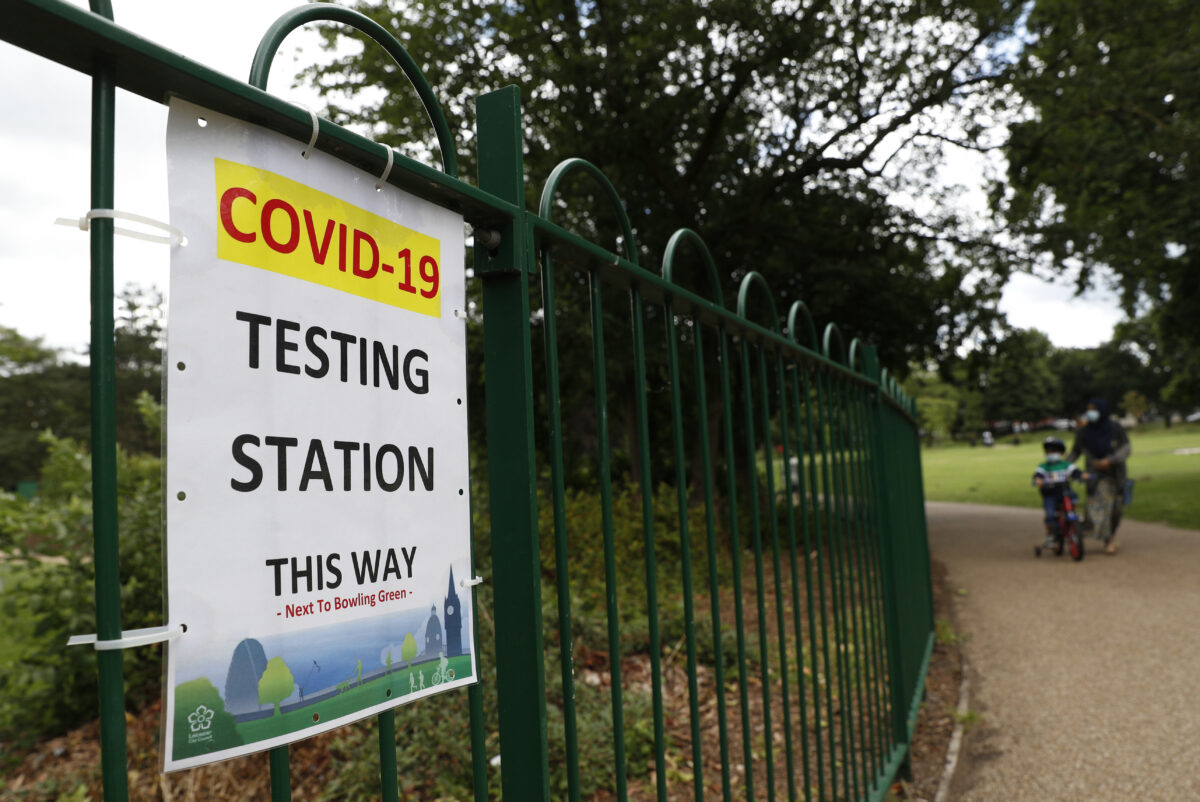 Herd Immunity 'Mythical'
It is still unclear just how harmful the lockdowns were, and on whether or not lockdowns were effective in reducing the mortality rate of COVID-19, but scientists are now saying the concept of reaching herd immunity against COVID-19 is a myth.
Speaking virtually on Tuesday at an All-Party Parliamentary Group on Coronavirus evidence hearing, Professor Paul Hunter, an infectious disease expert from the University of East Anglia, said that herd immunity, when defined as "indirect protection of people who haven't been immunized," is unachievable "because we know that the infection can spread in vaccinated populations."
Recent data from England suggest that the estimated vaccine effectiveness against infection among 18–64-year-olds is between 49 and 58 percent. Regarding whether the vaccines can reduce the chance of passing the virus to others, various results have been observed, with some suggesting there's no difference in infectiousness between vaccinated and unvaccinated people, and some saying that vaccinated people who caught COVID-19 are less likely to pass the virus on.
Speaking at the same hearing, Professor Sir Andrew Pollard, director of the Oxford Vaccine Group, concurred with Hunter's assessment.
"About this sort of mythical herd immunity … I absolutely agree with the points made," Pollard said.
"This virus is not measles. If you have 95 percent of people vaccinated against measles, the virus cannot transmit in the population. We know very clearly with the coronavirus that this current variant, Delta variant, will still infect people who have been vaccinated."
Pollard said that this means herd immunity "is not a possibility."
He said that another more important reason not to make a vaccination programme around herd immunity is that he suspects "what the virus will throw out next is a variant which is perhaps even better at transmitting in vaccinated populations."
Hunter believes that like other types of coronaviruses, the emergence of vaccine-evading CCP virus variants is "absolutely inevitable."
He said that repeated infections of coronaviruses would normally keep people's immune systems up to date.
Therefore, "the issue is how do we get from where we are now to where are we with the other coronaviruses without substantial morbidity and mortality," Hunter said.
But he's optimistic because most CCP virus mutations observed so far are on the spike protein, meaning the variants are more transmissible but are not causing more severe disease.
Hunter suggested that as the correlation between the number of cases, serious disease, and death are "diminishing," the data collection method should change as well.
"We need to be moving towards reporting hospital admissions that are admitted because of COVID, not because they just happen to be positive and they're being admitted for something else," Hunter said.
"Sometimes that distinction is not easy to make, even for the admitting clinician," he added. "But I think we've got to start moving to that" as the pandemic becomes endemic, he said.