After a CCP virus outbreak quickly spread to different parts of Heilongjiang, the provincial government announced a state of emergency this week and ordered all 38 million residents to stay at home.
In recent days, cities and towns issued more strict regulations in an attempt to stop the spread.
From Wangkui county, Suihua city, the outbreak has swiftly spread to three neighboring provinces, covering eight cities.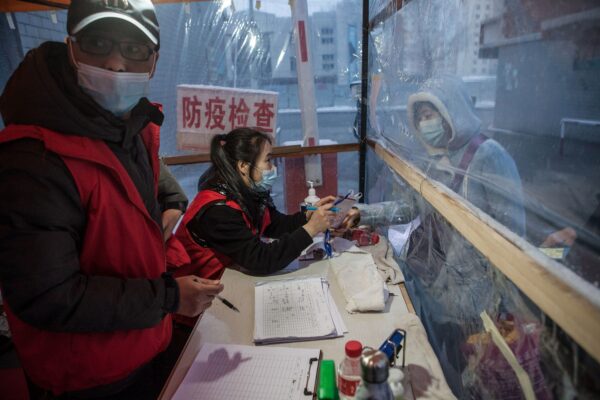 Suihua City
A resident surnamed Li of Lanxi county, Suihua city, told Radio Free Asia on Jan. 14 that local authorities have declared an indefinite stay-at-home order.
He added that lockdowns were mandated in every village, town, and county in Suihua, regardless of whether confirmed COVID-19 patients were detected in those locales.
Li Hui, a resident of Wangkui county, told Radio Free Asia that 56 asymptomatic cases had already been detected in the county, but authorities have not yet announced them.
She added that more than 60 residential compounds were completely sealed off.
Linkou County
In Linkou, which is under the jurisdiction of Mudanjiang city, locals shot videos detailing the current situation.
One local said that the Linkou County Traditional Chinese Medicine Hospital was cleared out overnight and transformed into a makeshift quarantine center. The Epoch Times could not independently verify the information.
Local supermarkets and shops were closed down, while trains were out of service.
Harbin City
In the provincial capital of Harbin, authorities on Jan. 14 closed off highway routes that led to other cities and the city airport.
Residents of the Minsheng and Xiangzhong residential compounds expressed their concerns that they could be exposed to the virus while taking mandatory nucleic acid tests, as they received instructions from authorities to go to enclosed spaces. One such location was an underground parking lot attached to the Hengxiang Zhongshan community, which accepted people from nearby neighborhoods for testing as well.
A 74-second video uploaded online on Jan. 12 shows that in several residential compounds where confirmed patients lived, authorities welded shut the gates, in order to prevent people from traveling outside and potentially spreading the virus.
Qiqihar City
Residents in the second-largest city of the province said that vegetable prices have skyrocketed after the recent virus outbreak.
Squashes cost 10 yuan (about $1.5) per kilogram; green peppers 18 yuan (about $2.8) per kg; and eggs 12 yuan (about $1.9) per kg.
In a video that circulated widely online, a supermarket staff could be seen replacing tags to show higher prices, right as shoppers watched on.
Elderly citizens also queued up in long lines in front of supermarkets, worried that food products would go up further.
Tracing the Infected
In neighboring Jilin Province, the health commission issued a notice, seeking information on people who took the same train as five travelers who recently tested positive. The train, which took off on Jan. 5, had passed Heilongjiang, Jilin, Liaoning, and Hebei provinces, and the metropolises of Tianjin and Beijing, with 20 stops along the journey.
According to Chinese business magazine Caixin, the train consisted of 17 carriages, with a total passenger capacity of 346.  All its windows were closed, and its circulation system was operated via air conditioners.
Li Jing, Li Shanshan, Hu Yuanzhen, Annie Wu, Yilia Wang contributed to this report.