Over 1,000 people gathered outside Kaiser Permanente in Roseville, California, to protest the state's COVID-19 vaccine mandates and to call for "freedom, not force."
Organizers said the protest had an unprecedented turnout, with healthcare workers, law enforcement officials, and families standing all along Rocky Ridge Drive and Douglas Boulevard. Attendees could be seen holding American flags as well as banners and signs calling for freedom of choice regarding vaccines.
According to the California Department of Public Health's Aug. 5 mandate, all California healthcare workers are required to "have their first dose of a one-dose regimen or their second dose of a two-dose regimen by September 30, 2021."
Sella, protest organizer and co-founder of Healthcare Workers for Freedom, said during the protest: "Coercion is not consent; force is not freedom. Every human deserves the freedom to choose. Every human deserves the right to informed consent."

Healthcare workers attending the protest argued that a mandate requiring people to choose between vaccination and termination violates their rights.
"We demand employment to be free from coercion and discrimination to decline the COVID vaccine and testing for healthcare workers, patients, and patient visitors. Nursing has always been about family-centered care," said Sella.
Sara, co-founder of Heathcare Workers for Freedom, told NTD News: "We just wanted to show that not everybody is for this force that they are trying to push; that we all want freedom of choice. Doesn't matter what it is. Choice is needed, especially in the healthcare field. Bodily autonomy, that's what it comes down to. Whether you choose to do something or not, it should be our choice."
During the interview, Sara explained that while the protest was held outside a Kaiser Permanente hospital, the purpose and message of the protest is about opposing the state mandates, not about Kaiser Permanente or the vaccines.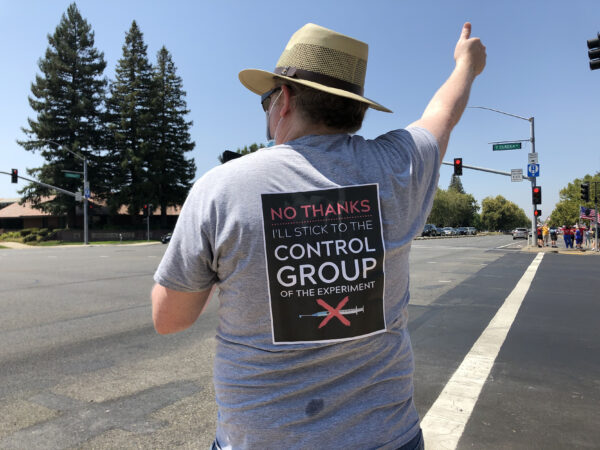 When asked what the next steps are, Sara explained that the fight against the mandates will continue. If there are no changes, "I foresee a lot of people leaving the industry," she said.
As of now, the three available vaccines are still under emergency use authorization.
According to an article published by Harvard Law School, under the Federal Food, Drug, and Cosmetic Act—21 U.S. Code, a required condition of authorizing medical products for emergency use is that individuals receiving the product must be informed of "the option to accept or refuse administration of the product, of the consequences, if any, of refusing administration of the product, and of the alternatives to the product that are available and of their benefits and risks."
Kaiser Permanente did not respond to NTD's request for comment.