Pro-democracy lawmakers and members of the human rights group spoke up after police stepped up their campaign against anti-extradition protesters during the latest mass protest, filling streets and subway stations with gas smoke.
For the first time since protests erupted in June, police used blue-dyed water in their newly deployed water cannon to disperse and identify crowds. Round after round of tear gas was fired on Aug. 31 toward protesters, who responded by flashing blue and green laser pens and hurling bricks.
Reporter @JeremyJSandberg is on the ground in #HongKong.#HongKongPolice are firing #TearGas and #WaterCannons in an attempt to quell #HongKongProtests. pic.twitter.com/7dSf8fbfBp

— The Epoch Times – China Insider (@EpochTimesChina) August 31, 2019
Late into the night, police charged into subway stations, deploying pepper spray and batons toward passengers in the train cars. At least 40 people were arrested at the Prince Edward metro station. At Chai Wan station, police also arrested local district councilor Andy Chui Chi-kin.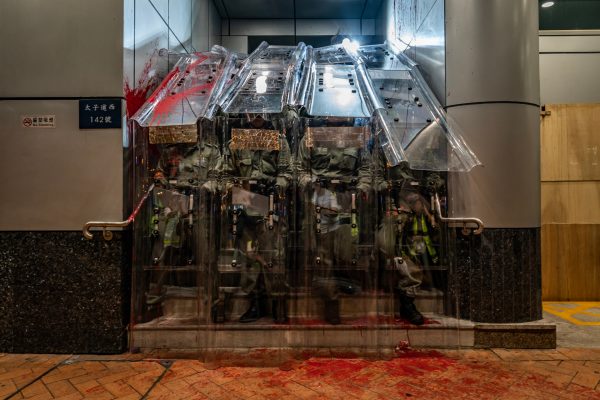 Local lawmakers and civil rights groups reacted to the new rounds of violence by police force with outrage and likened the police conduct with that of the terrorists.
"Blue violence," Avery Ng, chair of the local party League of Social Democrats, wrote on Twitter. "831 terrorist attacks, Hong Kong police are terrorists," he wrote in another a few hours later, noting that the police were beating up people in the train cars indiscriminately.
Vice chairman of the Democratic Party Lo Kin-hei also shared an anonymous statement signed by "Hongkongers," calling the entire episode was "a terrorist attack planned and executed by the Hong Kong Police Force."
Some other folks were trying to attack the crowd of protesters and press as we were in the train towards Prince Edward, resulted in fight breakout and smoke device used#standwithhongkong pic.twitter.com/PUrKJXaqdX

— Joel Christian (@2legit2trip) August 31, 2019
"They [the police] ignored the weapon guidelines and fired tear gas indoor in the carriage which is in fact lethal. Also, they beat up innocent people causing them seriously wounded. Some passengers kneeled before them asking them to stop but the response they got was beaten ever harder.
"We Hongkongers are experiencing a humanitarian crisis," the statement said, appealing for the international community to help.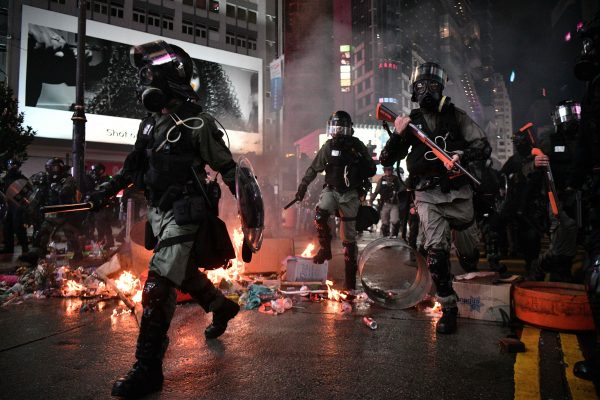 Ray Chan, a member of the city's unicameral legislature, praised protesters for their bravery in standing up to power.
"Even when Hong Kong Government [and] MTR subway system become terrorist organizations, Hongkongers don't lose hope. We fight on," he said.
Civil Human Rights Front, the organizer that originally planned the event but canceled it over police objections, said that the police were "carrying out triad-like violence using public power." It also expressed concerns for the injured passengers, citing local media reports that said that at least eight ambulances waited at the Prince Edward station for over an hour without seeing the injured being allowed out to receive aid.
Young first-aid volunteer begging police to open MTR Station gate, so he can help the wounded, English Translations:

Video via Telegram#AntiELAB #HongKongProtests #HongKong #HK #policeBrutality #HumanitarianCrisis pic.twitter.com/TGoFZHvks4

— #AntiELAB Fight for Hong Kong (@Fight4HongKong) August 31, 2019
Government Responses
The Hong Kong government issued a statement around midnight, blaming the protesters for paralyzing traffic and endangering public safety, it stressed that the police will "strictly follow up" on the acts of the protesters.
Hours later, the police held a late-night press briefing, saying that they had vetoed the application for the event "in anticipation of violence."
The police said that they had received reports of fights at the subway station and discovered some protesters changing attire "pretending to be civilians," and used "appropriate force" to make arrests "based on their professional experience."
Protesters had raised suspicions that some police officers impersonated them. Many especially pointed to a photo that became widely circulated over the internet, where the person suspected to be an undercover police with full black gear hurled a molotov cocktail while carrying some kind of gun on his waist. The gun, which could have been a handgun or airgun, resembles the Glock 19 semi-automatic pistol that is typically used by Hong Kong police, according to protesters. Several black-clad men were also seen helping police make arrests at the scene.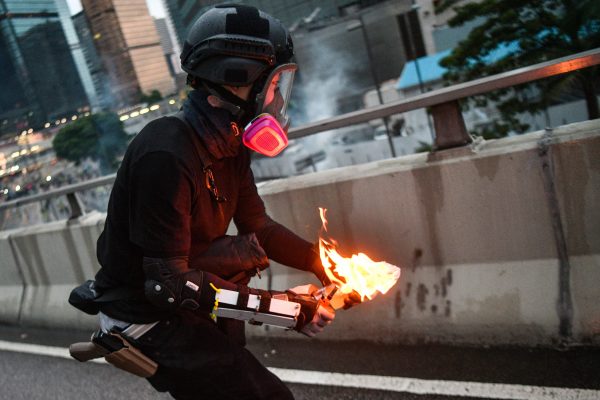 In the press conference, the police spokesperson Yolanda Yu denied that the individual caught on camera throwing a petrol-bomb was a police officer. However, Yu admitted that two of their members had disguised as protesters in Causeway Bay and fired live ammunition. She defended the officers' actions saying that they acted out of self-defense.
But the responses did not appease pro-democracy activists. "Many citizens were beaten to the point that their heads bled … how is this being professional?" Civil Human Rights Front said after the conference.
another video by @StandNewsHK surfaced, and showed even more clearly what the Hong Kong police was doing inside the metro station and train, that is beating up civilians randomly

original post on Facebook: https://t.co/LvQXuLdeGs pic.twitter.com/PzY52yDNSt

— LO Kin-hei 羅健熙 (@lokinhei) August 31, 2019
At least 26 solidarity rallies were scheduled in different parts of the world on Aug. 31, with several more in the coming week.
"References how 30 years ago, people took the bullet for our freedoms at Tiananmen. Now Hong Kong is playing that role at the front lines of democracy and freedoms," Kevin Huang, executive director of the Vancouver-based NGO Hua Foundation, wrote on an Aug. 31 tweet after taking part in a pro-Hong Kong rally in Vancouver.