Trucks with billboard ads featuring the slogan "women's sport is not for men" and the response "that's transphobic" by Independent MP Zali Steggall have been spotted on the streets of Sydney as part of a campaign targeting "woke" politicians.
The ad also includes pictures of Australia's most decorated Olympian Emma McKeon, four-time Olympic backstroker Emily Seebohm and swimming icon Dawn Fraser, all of whom last week spoke up against transgender athletes' participation in elite women's sports.
Another billboard ad shows Steggall, a strong supporter of the climate change movement, in a pose akin to a "superman" unbuttoning her white shirt to reveal a T-shirt underneath with "The Greens" logo on it.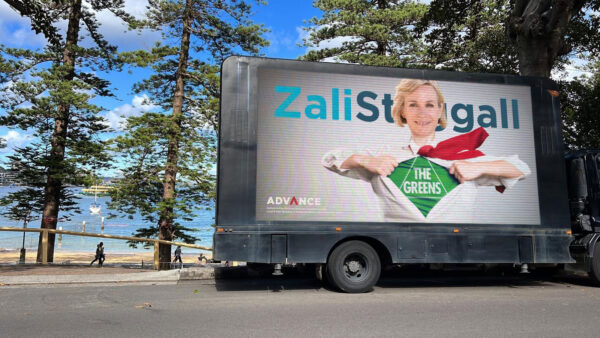 It comes days after the progressive Independent MP argued it is a "repeating" and "transphobia line" to assume that parents will be worried about the inclusion of biological males in the female categories. She believed "picking out" this topic is "amplifying an issue that's simply just not there."
"We are talking about a minority of the population that is already incredibly vulnerable," she told Sky News on April 18,  "At elite levels, it is so rare you have not got these events where it happened, and at community levels, sporting codes are focusing on making sports inclusive, fair and welcoming for all."
Last week, top Olympian McKeon said she doesn't want to see females racing against swimmers who are biologically male "because it's just not fair."
This sentiment was echoed by Seebohm, who noted she "wouldn't have got a medal in Tokyo" if racing against trans athletes, adding that "a male who came eighth in Tokyo in the same event as me would have won the [women's] event by about five or six seconds."
Freestyle champion swimmer Fraser also weighed in the debate, suggesting transgender people should "compete against each other."
However, Steggall asked whether Advance Australia, the party behind the ad campaign, has sought consent or approval from the Australian Olympic Committee, Swimming Australia and Fraser. Responding to the truck ads, she called it "usual misleading dirt."
Meanwhile, Swimming Australia said that it "condemns the use of imagery of our athletes, past and present" by the ad campaign's organiser.
"Consent to use the imagery was never sought prior to its publication, neither from Swimming Australia nor the individuals involved," Swimming Australia said.
"For clarity, if it was sought, it would have been categorically denied."
But Advance Australia, a conservative political lobbying group, wrote on April 24 that its supporters "have had it with these woke, green, fake independents like Zali Steggall in Warringah," and described the trucks carrying the billboards as "truth trucks."
A spokesperson for Advance Australia has told The Epoch Times in a statement that they are shocked that the media is focusing on who is allowed to use an image rather than calling out sports bodies and politicians over the issue.
"They should be protecting women and girls who love competitive swimming, rather than running for cover for radical woke politicians like ZLai Steggal, who is more concerned about being politically correct that protecting little girls," the spokesperson said.
"The statements by Dawn Fraser, Emma McKeon and Emily Seebohm are all on the public record and make the compelling argument that allowing biological males to compete in girls and women's sport just insist fair."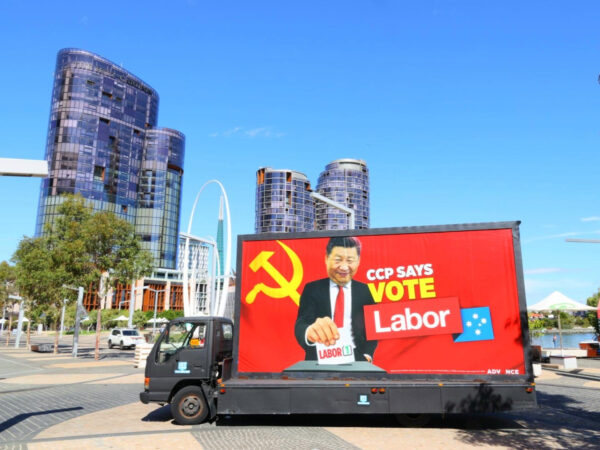 Launched in 2018 to counter the left-leaning activist group GetUp, Advance Australia has also run a similar campaign in early April where large trucks were seen carrying billboards of Chinese Communist Party leader (CCP) Xi Jinping casting a vote for the Labor party and the words "CCP says vote Labor."
The truck advertising campaign came after the Chinese state-run media outlet The Global Times praised Opposition leader Anthony Albanese as a "better leader" who "positively shines compared to Morrison" in February, 2022.