UK Conservative Party leadership contender Liz Truss has vowed to clamp down on "unfair protests" after she was heckled by a group of climate activists during a meeting with party members.
Truss' speech at a party leadership hustings in Eastbourne, East Sussex, was disrupted when five protesters shouted "shame on you" and called for a "Green New Deal."
Tory party members in the audience could be heard chanting "out, out, out" before the activists were led out of the venue.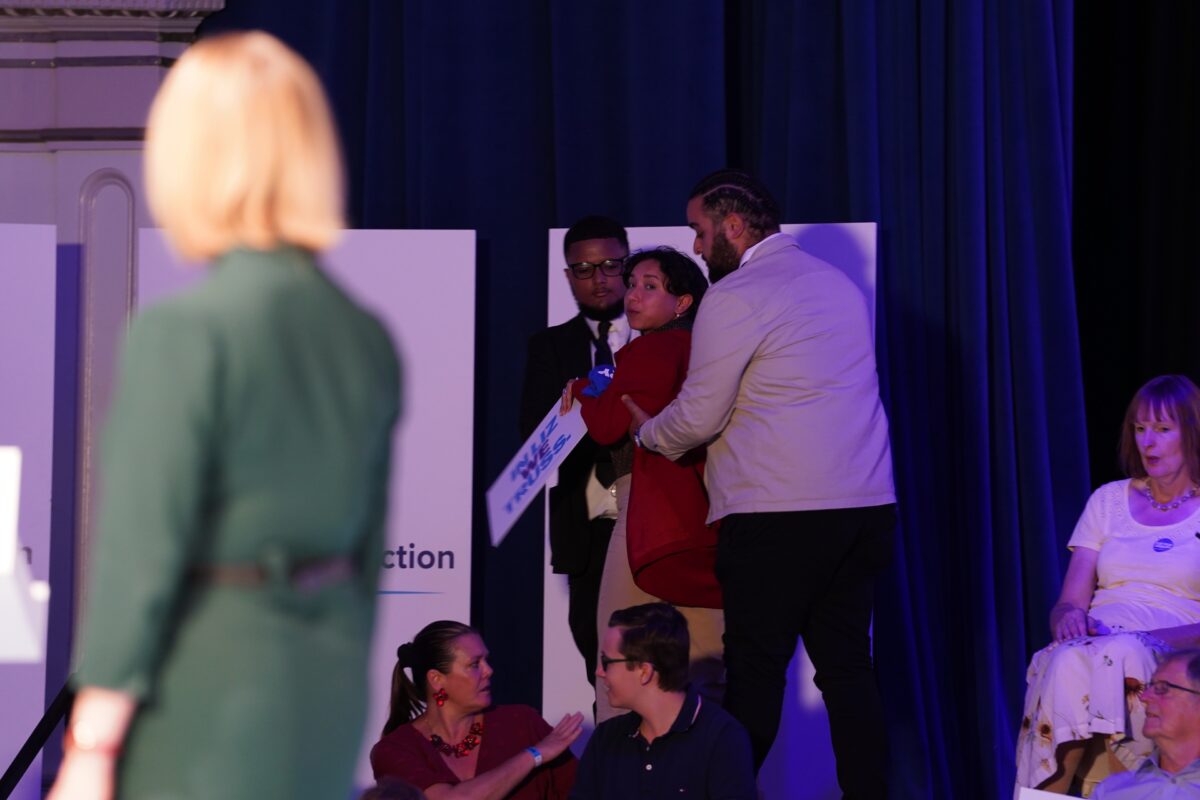 Calling them "infiltrators," the foreign secretary said, if she becomes party leader and prime minister, she will take action against the "militant people" who she said are trying to disrupt Britain's democratic process and essential services.
She said: "I would legislate immediately to make sure that we are standing up to militant trade unions who stop ordinary commuters getting into work. And I would legislate to protect our essential services.
"And I will make sure that militant activists such as Extinction Rebellion are not able to disrupt ordinary people who work hard and do the right thing and go into work."
"I will never ever, ever allow our democracy to be disrupted by unfair protests," she added.
When another protester was later escorted out during the question and answer session, Truss said: "I take it as a compliment that I'm so popular with Extinction Rebellion."
Disruptive Protests
In recent years, climate activists in the UK have staged increasingly disruptive protests around the country.
Members of Insulate Britain, an offshoot of Extinction Rebellion, have repeatedly blocked traffic on the UK's motorways and busy streets, demanding the government insulate all British homes by 2030 to help decarbonise the economy.
Just Stop Oil, another group linked to Extinction Rebellion, has disrupted traffic on motorways and blockaded oil terminals in England and Scotland.
A group which calls itself "Tyre Extinguishers" claims to have deflated tyres of SUVs in cities including Bristol, Edinburgh, and Dundee.
The activists have cited last month's heatwave as evidence of worsening climate change and have vowed to escalate their protest actions.
Protest groups claimed they will band together on Oct. 1 to bring Westminster to a standstill and drive the police to a "breaking point."
Groups including Insulate Britain, Stop the War, Just Stop Oil, and former Labour leader Jeremy Corbyn's Peace and Justice Project want to force the government to reduce energy bills while banning the extraction of fossil fuels.
PA Media contributed to this report.