Australian households should be prepared for further hikes in living costs as the economy showed the first signs of slowing growth in the first quarter of 2022.
According to a survey by the Australian Bureau of Statistics in May, over one-third of local businesses (38 percent) were expected to raise prices by more than usual.
Among those businesses, 92 percent cited increases in costs of products or services used as the reason for lifting prices, followed by rising fuel or energy prices (78 percent) and other business overhead costs (50 percent).
Notably, over half of all businesses in manufacturing, construction, wholesale trade, and accommodation and food services intended to push up their goods and services prices in the next three months.
At the same time, 43 percent of Australian businesses saw their operating expenses rise in May 2022 to the highest level since July 2020. Additionally, one in three businesses expected their expenses to go up over the next month.
Meanwhile, economic figures released in the week commencing May 23 suggested that the Australian economy barely grew in the first quarter of 2022.
Household spending, an important component that makes up the national accounts, rose by 1.9 percent in March, up 6.6 percent from 2021.
However, construction work declined in the March quarter as the total value of construction work done in the March quarter dropped 0.9 percent to $53.7 billion. This was expected to put downside risks on economic growth.
Furthermore, there was a decrease in new private capital expenditure. The total amount of capital used by businesses dropped 0.3 percent to $33.6 billion in the March quarter, which was a far cry from the 1.3 percent increase predicted by economists.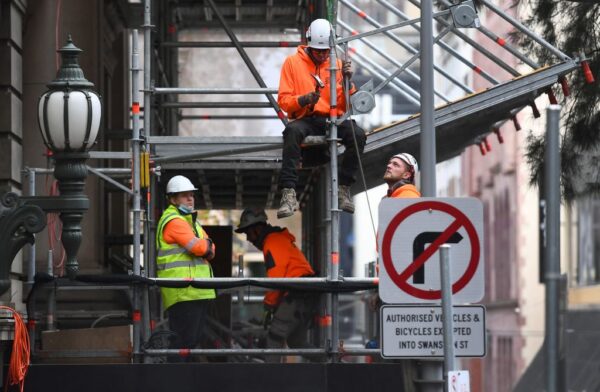 BIS Oxford Economics head of macroeconomic forecasting Sean Langcake said the March quarter was not a good period for businesses to make investments.
"The rapid spread of Omicron cases left many firms short-handed as staff were forced to isolate or take sick leave," he said.
"Flooding in New South Wales and Queensland at the end of the quarter will have also weighed on construction activity."
ANZ Bank economists have forecast that GDP would only grow by 0.6 percent in the March quarter. Similarly, AMP economist Diana Mousina predicted a flat growth result for the period, which was expected to bring the annual growth rate down to 2.3 percent from 4.2 percent previously.
It is noteworthy that the possible weak growth results in the March quarter come before the impact of a steady increase in interest rates by the Reserve Bank of Australia materialises.
Commonwealth Bank senior economist Belinda Allen has forecast that the central bank would lift the cash rate by 0.25 percent at the June 7 board meeting.
She is also expecting similar rate hikes in July, August, November and the following February.
"This will take the cash rate to 1.60 percent," she said.