UPDATE: June 18, 07:28 a.m. HKT
British Prime Minister Theresa May discussed the ongoing protests in Hong Kong against a controversial extradition bill while meeting with Chinese vice premier Hu Chunhua in the United Kingdom on June 17, Reuters reported.
"The prime minister raised the recent protests in Hong Kong, stressing the need to respect the rights and freedoms set out in the legally binding Sino-British joint declaration," May's spokesman said.
China and Britain signed the Sino-British Joint Declaration as an international bilateral treaty in 1984. Hong Kong, a former British colony, returned to Chinese rule in 1997 under the Declaration. Its autonomy and essential freedoms are guaranteed by the treaty until at least 2047.
"Last week's protests in Hong Kong were a clear sign of public opposition to the proposed changes, and we're pleased the Hong Kong government has heeded their concerns," May's spokesman said on Monday.
Despite Hong Kong Chief Executive Carrie Lam announcing over the weekend that the bill would be suspended indefinitely, public resentment continued to mount, with protesters returning to the streets on June 17, to demand the bill's full retraction and Lam to step down.
—
UPDATE: June 17, 07:10 p.m. HKT
Thousands of protesters gathered near the Hong Kong government headquarters and the Legislative Council (LegCo) in the evening of June 17, Hong Kong media RTHK reported, demanding to meet with leader Carrie Lam.
These same protesters were initially at Harcourt Road in the morning of June 17, before moving to areas near LegCo and Tamar Park, which is right next to the council building.
Later, they marched to the Office of the Chief Executive, which is located at Tim Wa Avenue.
According to RTHK, they demanded that Hong Kong leader Carrie Lam meet with them personally. They also chanted slogans calling for the resignation of security minister John Lee and police chief Stephen Lo.
In a separate RTHK report, the protesters were led by pan-democratic lawmakers Au Nok-hin and Eddie Chu. They demanded that Lam withdraw the extradition bill and take back her previous remarks on how the protests on June 12 were "organized riots."
Meanwhile, Hong Kong lawmaker Pierre Chan said he had obtained evidence that local police officers could access patient information at public hospitals through a backdoor without the need for a password, according to RTHK.
The patient information includes ID card numbers, names, and phone numbers.
"The doctors and nurses in the accident and emergency departments tried to find out why the patients attending A&E got caught. And we didn't understand. And that's why they tried to figure it out. And accidentally they found this link, found this backdoor," Chan said.
A few protesters have been arrested by the police at the hospital.
Chan demanded that Hong Kong authorities stop using the link, while urging hospital staff not to write down on their medical reports that the patients might be injured because of taking part in a protest.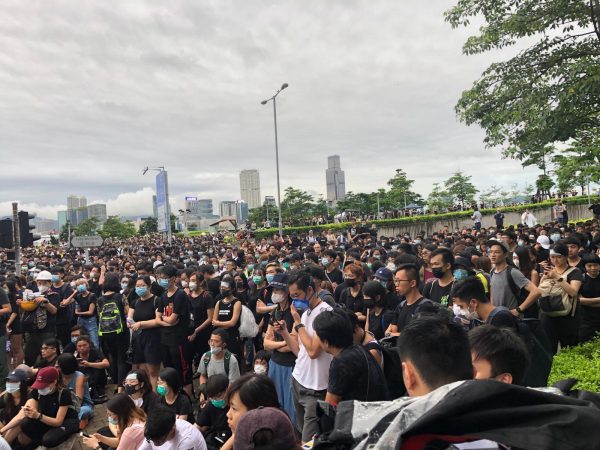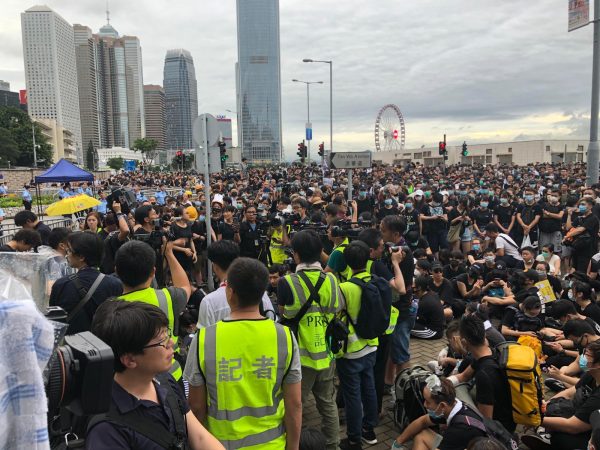 —
UPDATE: June 17, 05:13 p.m. HKT
Protests in Hong Kong Continue a Day After 2 Million Take to Streets
Around 250 social workers took part in a protest organized by the Hong Kong Social Workers General Union (HKSWGU) in Wan Chai on June 17, according to Hong Kong outlet RTHK. 
The protest was one of the rallies held in support of the call by the Civil Human Rights Front's to halt work, classes, and markets, together known as "three suspensions." 
Labour Party lawmaker Fernando Cheung also took part in the Wan Chai rally, which called on Hong Kong leader Carrie Lam to withdraw the proposed extradition bill. 
The debate of the bill has been suspended following Lam's press conference on June 15. 
Cheung added that workers from the welfare sector would continue to boycott their jobs if local police again resorted to the use of force to disperse protesters. 
Hong Kong political party Reclaiming Social Work Movement (RSWM) also took part in the rally in Wan Chai. According to RTHK, members of the party have been patrolling outside the Hong Kong government headquarters, assisting people who are stopped and searched by the police. 
"We heard on the news that when some young people were stopped and searched, it's quite different from the usual practice of the police. We worry that the rights of those young people are being harmed," the group's spokesperson Lemon Fok said. 
At Citic Tower, which is right across from Hong Kong's Legislative Council (LegCo), people took part in a rally held by the Hong Kong Confederation of Trade Unions. The rally was also part of the "three suspensions."
Prior to the beginning of the rally at Citic Tower, people held a moment of silence for a protester who died on June 15 after falling off scaffolding while putting up a banner at the side of a shopping mall in Admiralty.
—
UPDATE: June 17, 11:46 a.m. HKT
Hong Kong Activist Joshua Wong Vows to Join Extradition Bill Protest After Ending Prison Term
Hong Kong activist Joshua Wong walked out of prison in Hong Kong on the morning of June 17, having served roughly a month of his two-month sentence for his role in the 2014 Umbrella Movement. It is not unusual for prisoners to be released early for good behavior, according to local media.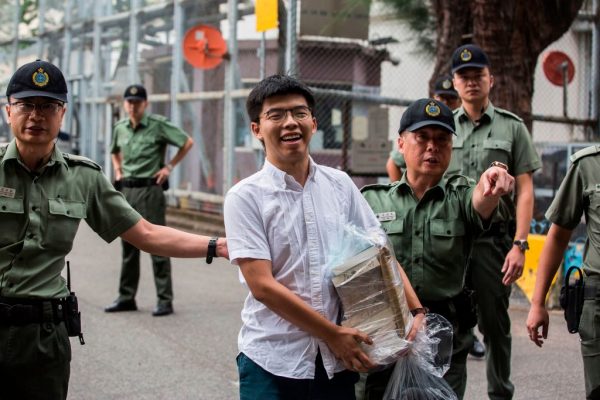 "I will join the fight against the evil law," Wong told media gathered outside Lai Chi Kok Correctional Institute where he served his sentence. "I believe this is the time for her, [Hong Kong leader] Carrie Lam, the liar, to step down."
In 2014, protesters calling for universal suffrage camped out on the streets of Hong Kong's main business district in Central for almost 3 months. The movement ended without the protesters' demands being met, while several of its main organizers were eventually jailed, including Wong.
Members of Hong Kong political party Demosisto greeted Wong by chanting "Oppose China extradition! Oppose the evil law," according to Time. Wong is currently Demosisto's secretary general.
Hello world and hello freedom. I have just been released from prison. GO HONG KONG!! Withdraw the extradition bill. Carrie Lam step down. Drop all political prosecutions!

— Joshua Wong 黃之鋒 (@joshuawongcf) June 17, 2019
Currently, debate of the extradition bill has been suspended indefinitely, following an announcement by Lam in a press conference on June 15. Protesters want Lam to withdraw the bill completely out of concern that any form of extradition with the communist mainland would erode rule of law in Hong Kong.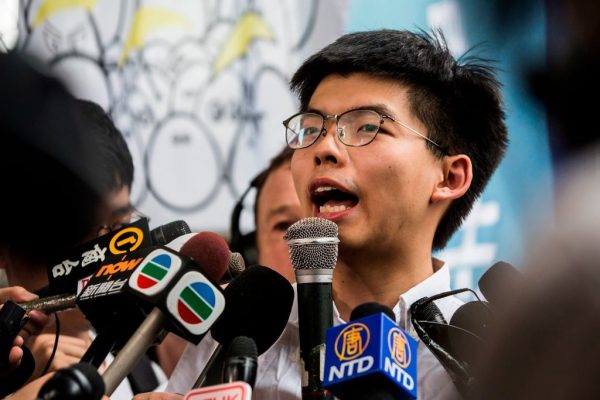 —
UPDATE: June 17, 9:17 a.m. HKT
'Three Suspensions' Rally Gets Underway in Hong Kong
In Hong Kong, the protest against the government's controversial extradition bill continues a day after around 2 million people joined a march to show their discontent at the leadership of Chief Executive Carrie Lam. It was the largest protest in the city ever.
According to the official Facebook page of Civil Human Rights Front, the organizer of two recent marches on June 9 and June 16, three separate rallies will be held throughout the day on June 17, in a call to encourage people to halt work, classes, and markets to demand a full withdrawal of the bill.
From 8 to 9 a.m. local time, the Hong Kong Social Workers General Union (HKSWGU) held a rally at the basketball courts at Lockhart Road Playground.
On its Facebook page, HKSWGU wrote that it has chosen to support the "three suspensions" because Lam continued to be oblivious to the demands of Hong Kongers, while defaming protesters as rioters. It stated that its rally would "safeguard both Hong Kong and local youth."
Beginning at 11 a.m. local time, the political party Demosisto will stage a rally at Edinburgh Place, a public square in Central. On its Facebook page, the party called on students from secondary schools to boycott class and join the rally.
The Hong Kong Confederation of Trade Unions "HKCTU," an independent union representing over 190,000 members in sectors such as construction, retail, education, social welfare, and property management, has called for another rally from 2 to 4:30 p.m. local time outside of the Citic Tower on Lung Wui Road.
HKCTU called on both employers and employees to join the rally.
—
UPDATE: June 17, 3:22 a.m. HKT
Nearly 2 Million March Against Extradition Bill in Hong Kong's Largest Ever Protest, Organizers Say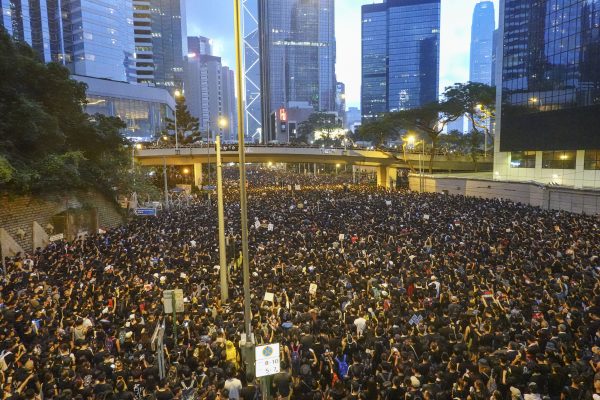 Nearly two million Hong Kong people joined a parade on June 16 to demand the government scrap a contentious extradition bill and the resignation of the city's leader, according to organizers.
Human Rights Civil Front (HRCF) announced around 11 p.m. local time on June 16  that the "Black March" during the day drew nearly two million citizens, making it the largest ever demonstration in the city's history.
This would mean that almost 30 percent of the city's population attended the rally.
Hong Kong police, meanwhile, said there was 338,000 on the designated protest route during the parade's peak.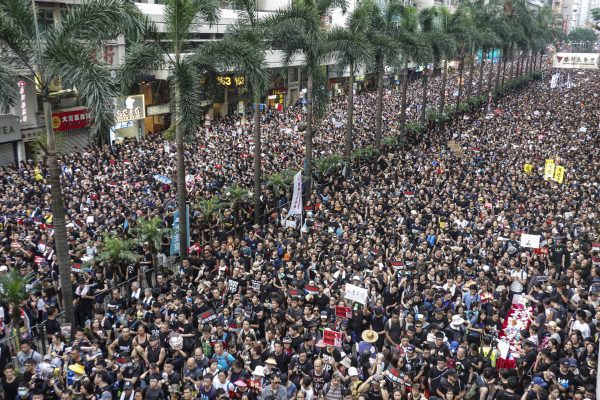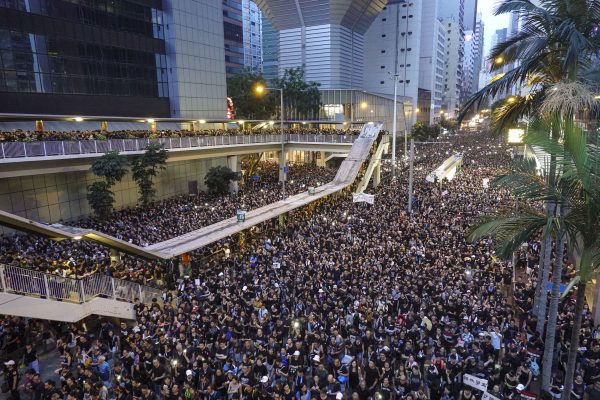 Last week's mass march on June 6 against the bill saw 1.03 million people taking to the streets, according to HRCF. This week's turnout nearly doubled the previous protest.
On June 15, Hong Kong Chief Executive Carrie Lam announced the extradition bill would be suspended indefinitely, but not withdrawn entirely. She also defended the police use of tear gas and rubber bullets during the mass protest on June 16, which resulted in over 80 civilian injuries.
Opponents of the bill, unsatisfied with the decision and dismayed at Lam's failure to address public concerns, continued to push for the bill's full retraction and Lam's resignation.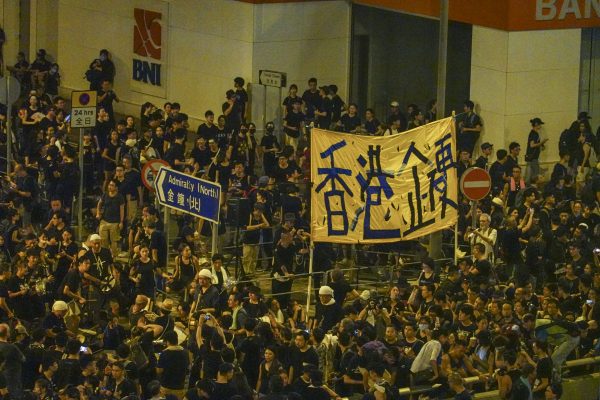 After an unexpectedly large crowd of protesters poured onto the streets and converged outside the city's Legislative Council, Lam had made a rare public apology on Sunday, saying she will accept criticism for the controversial extradition bill.
HRCF continues to condemn the lack of actions by Lam's administration, saying in a statement on Sunday night that Lam's promise to continue serving the citizens is a "total insult" and an attempt to "[fool] the people who took to the street."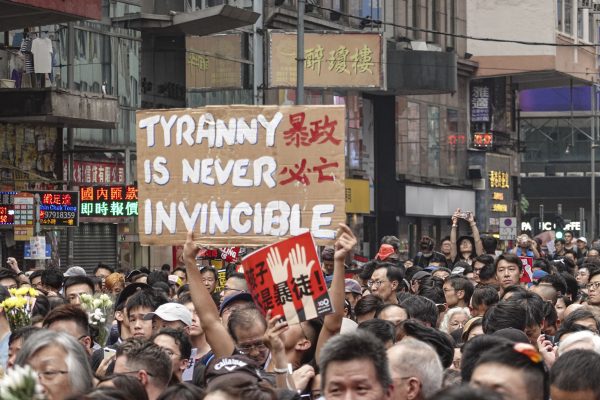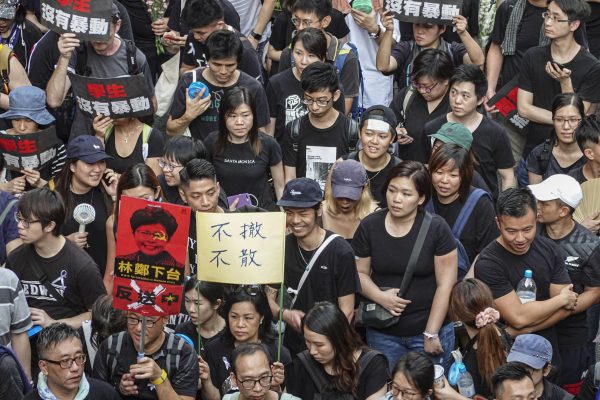 HRCF also announced another "three suspensions" rally slated for June 17, encouraging people to halt work, classes, and markets to demand a full withdrawal of the bill.
HRCF also called for the release of arrested protesters, for police and Lam to retract their description of the June 12 protest as a "riot", and for Lam's resignation.
"Should the government refuse to respond, only more Hong Kongers will strike tomorrow," HRCF wrote in the statement. "2 million + 1 citizens will take to the street, until their voices are heard."