Update: Sept. 2, 6:00 p.m. ET
Bahamas Prime Minister Hubert Minnis says at least five people have died in the Abaco Islands as Hurricane Dorian continues to pound the region as a Category 4 storm.
Minnis said Monday that there are also people in nearby Great Bahama island who are in serious distress. He said rescue crews will respond to calls for help as soon as weather conditions allow.
He said many homes and buildings have been severely damaged or destroyed.
He said: "We are in the midst of a historic tragedy."
The storm remained stationary over Grand Bahama late Monday afternoon with maximum sustained winds of 145 mph.
Here's the 6 pm EDT Tropical Cyclone Update: Extremely dangerous #Dorian continues to bring life-threatening conditions to Grand Bahama Island. The next intermediate advisory will be released by 8 pm. https://t.co/tW4KeFW0gB pic.twitter.com/x3cdXGzrsB

— National Hurricane Center (@NHC_Atlantic) September 2, 2019
The National Hurricane Center has updated the most likely times of arrival of tropical storm force winds from Dorian in the next 3 days.
Here are the most likely times of arrival of tropical storm force winds from #Dorian in the next 3 days:
-Central Florida Coast Tuesday Morning
-North Florida Coast Tuesday Afternoon
-Georgia Coast Tuesday Night
-South Carolina Coast Early Wednesday pic.twitter.com/Qoq0iFCMlG

— National Hurricane Center (@NHC_Atlantic) September 2, 2019
Update: Sept. 2, 5:30 p.m. ET
American Airlines says it has canceled 375 flights through Wednesday due to Hurricane Dorian.
The Fort Worth, Texas-based carrier said flights were canceled because operations have been suspended at seven airports it flies to in Florida and the Bahamas. It said there could be additional issues and delays throughout the week at other East Coast airports.
To help people evacuate, American is capping single-leg, main cabin fares at $499 from all cities covered by travel alerts in Florida, Georgia, North Carolina and South Carolina. It's also waiving fees for bags and pets.
Update: Sept. 2, 5:00 p.m. ET
Walt Disney World announced late Monday that its theme parks in Florida will be shutting down early on Tuesday afternoon.
Disney World's The Magic Kingdom and Epcot will close at 3 p.m. on Tuesday.
Disney's Hollywood Studios and Disney's Animal Kingdom will shut down at 2 p.m., officials said. The resort's miniature golf courses and Disney's Typhoon Lagoon will close at 3 p.m.
"Based on the most recent forecasts for Hurricane Dorian and in keeping with our longstanding commitment to safety, Walt Disney World Resort operating hours have been adjusted for Sep 3," Disney World tweeted.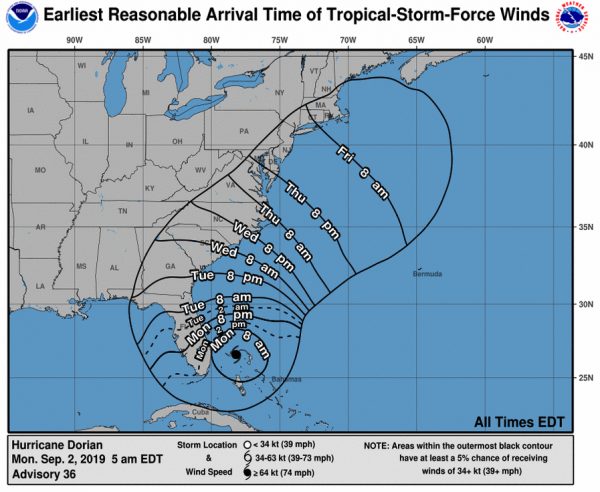 Visitors will be relocated to other properties, including Disney's Fort Wilderness Resort & Campground, Copper Creek Cabins at Disney's Wilderness Lodge, Treehouse Villas at Disney's Saratoga Springs Resort, and Bungalows at Disney's Polynesian Village Resort, Local10 reported.
Update: Sept. 2, 3:00 p.m. ET
A 61-year-old Virginia man died in rough surf near a beach along the Outer Banks, North Carolina, amid rough surf churned by Hurricane Dorian, as it positioned over the northwestern Bahamas.
The National Park Service said that a medical examination would need to be completed to determine the man's cause of death. His identity was not disclosed.
The man died on Sept. 1 in waters off Cape Hatteras National Seashore. The incident took place at 5:25 p.m. local time off Flambu Road near Hatteras Village, the agency said.
"A bystander observed the swimmer in apparent distress and attempted rescue," park officials said. "The bystander brought the 61-year-old male… closer to shore where he was met by rescue personnel… CPR efforts were unsuccessful."
He was in the water without a flotation device, said park officials.
"A high risk of rip currents was forecast for most of the beaches along the Seashore today, and rip currents were observed in the area," officials stated.
The man was from Oak Hills, Virginia, located near Washington, D.C., they added.
Update: Sept. 2, 2:00 p.m. ET
Georgia's governor is urging coastal residents to flee ahead of Hurricane Dorian, citing the storm's powerful winds and uncertain path.
Republican Gov. Brian Kemp told reporters Monday in Savannah: "This is not one to play with."
It was Kemp's first news conference since late Sunday when he ordered mandatory evacuations in all six counties that make up Georgia's 100-mile coastline.
Kemp said those living on Georgia's barrier islands especially ought to flee, warning that emergency responders may not be able to reach them if causeways are underwater or blocked by debris.
Georgia officials plan to turn Interstate 16 linking Savannah and Macon into a one-way evacuation route Tuesday. The state Department of Transportation is asking motorists to consider alternate routes in anticipation of additional evacuation traffic from Florida and South Carolina.
Update: Sept. 2, 1:15 p.m. ET
Palm Beach International Airport is closed as Hurricane Dorian approaches the Florida coast, and Fort Lauderdale-Hollywood International Airport is closed at noon.
The Palm Beach airport closed Monday morning and the Fort Lauderdale airport announced it would do the same at noon. They are two of the three major airports serving South Florida.
Miami International Airport remained open, but warned travelers that it was expecting higher than normal traffic and to arrive early for their flights.
Delta Air Lines says a flight from Atlanta to Nassau, Bahamas, was forced to turn back because of high crosswind speeds.
Delta says Flight 337, which had 42 customers on board, took off just before 10 a.m. ET Monday because forecasts showed crosswinds within limits and Nassau's airport was open. But wind speeds increased while the flight was en route, so it returned to Atlanta.
Delta said it would offer hotel rooms for those customers and rebook them on a Tuesday flight. The airline also said that all remaining Delta flights to or from the Bahamas on Monday have been cancelled.
Update: Sept. 2, 12:15 p.m. ET
President Donald Trump has approved emergency declarations for Georgia and South Carolina due to Hurricane Dorian.
Trump approved the declarations on Sunday. The White House announced them Monday.
The declarations authorize the Federal Emergency Management Agency to coordinate disaster relief efforts.
Trump was briefed on the hurricane during a visit to FEMA headquarters in Washington on Sunday.
The president urged everyone in Dorian's path to obey warnings and evacuation orders issued by local authorities, saying public safety "must always come first."
Trump approved an emergency declaration for Florida on Friday.
Update: Sept. 2, 11:15 a.m. ET
Hurricane Dorian, while continuing to batter the Bahamas with life-threatening winds and storm surge, has weakened very slightly to a Category 4 storm.
The National Hurricane Center in Miami said in an advisory at 11 a.m. EDT that Dorian's maximum sustained winds are 155 mph, which takes the extremely dangerous storm down one notch, from Category 5.
The storm was expected to continue inflicting devastation on Grand Bahama Island throughout Monday.
The center said the storm will move "dangerously close" to the Florida East Coast late Monday through Wednesday evening.
A hurricane warning along Florida's east coast has been extended northward to the Flagler-Volusia county line. A hurricane watch has been extended northward to Altamaha Sound in Georgia.
The storm's center was located about 30 miles northeast of Freeport, Grand Bahama Island, and about 110 miles (180 miles) east of West Palm Beach, Florida.
Update: Sept. 2, 10:15 a.m. ET
Category 5 Hurricane Dorian has effectively stalled over Grand Bahama Island in the Bahamas, hammering it with 160 mph winds, said U.S. forecasters in a 10 a.m. update.
According to the U.S. National Hurricane Center (NHC), the storm is moving extremely slowly—at 1 mph—to the west and is about 115 miles east of West Palm Beach, Florida. It is still 30 miles east-northeast of Freeport, the largest city in the Grand Bahamas.
"This is a life-threatening situation. Residents on Grand Bahama Island should not leave their shelter when the eye passes over, as winds will rapidly increase on the other side of the eye. Residents in the Abacos should continue to stay in their shelter until conditions subside later today," the agency wrote in its latest update, adding, "These hazards will continue over Grand Bahama Island during most of the day, causing extreme destruction on the island."
The latest cone of probability shows Dorian moving precariously close to Florida's east coast by Tuesday morning before moving north along the southeastern coast of the United States.
Storm surge warnings have been issued for north of Deerfield Beach to south of Lantana in Florida as well as from the Volusia-Brevard County line to the mouth of the St. Mary's River in Florida, the NHC said.
Hurricane warnings were issued for Jupiter Inlet to the Volusia-Brevard County line in Florida, the agency said. Hurricane warnings are also still in effect for Grand Bahama Island and the Abacos Islands in the Bahamas.
A tropical storm warning was issued for north of Deerfield Beach to Jupiter Inlet, Florida.
Update: Sept. 2, 8:15 a.m. ET
In an 8 a.m. update, the NHC said a "slow westward to west-northwestward motion is forecast during the next day or so, followed by a gradual turn toward the northwest and north."
"On this track," it added, "the core of extremely dangerous Hurricane Dorian will continue to pound Grand Bahama Island through much of today and tonight. The hurricane will move dangerously close to the Florida east coast tonight through Wednesday evening."
Mandatory evacuations have been issued for a number of coastal areas in Florida, Georgia, and South Carolina.
South Carolina Gov. Henry McMaster issued an order Sunday for an evacuation of the entire coast, where about 830,000 people live. The order was to take effect on Monday, reported The Associated Press.
"We can't make everybody happy, but we believe we can keep everyone alive," McMaster said.
Georgia Gov. Brian Kemp ordered mandatory evacuations for his state's entire coastline several hours later, AP reported.
The Associated Press contributed to this article