Update: July 2, 2:18 p.m. HKT
Civil Human Rights Front (CHRF), the organizer of the march on July 1, has issued a statement on its Facebook page in response to the violence used by young protesters at the Legislative Council (LegCo) yesterday.
The statement titled "Family Letter, To Advance and Retreat Together" urged Hong Kongers to stand on the side of "eggs" if they have to choose between "eggs and the high wall."
The phrase "eggs and the high wall" is part of a speech given by internationally acclaimed Japanese novelist Haruki Murakami, when he traveled to Jerusalem to claim a literary award in 2009, according to The Guardian.
"Between a high, solid wall and an egg that breaks against it, I will always stand on the side of the egg," Murakami stated at the time, according to Israeli newspaper Haaretz. "Yes, no matter how right the wall may be and how wrong the egg, I will stand with the egg. Someone else will have to decide what is right and what is wrong; perhaps time or history will decide."
Eggs and walls are metaphors for power versus weakness, such as bombs and tanks versus unarmed civilians.
In 2014, while accepting a literary prize in Germany, Murakami spoke about "walls" as a barrier to support Hong Kong protesters taking part in the Umbrella Movement.
Inspired by Murakami's "eggs and the high wall," protesters in 2014 set up an artwork to show their determination to have universal suffrage.
On July 1, over half a million people marched from Victoria Park to Central, demanding the local government withdraw a controversial extradition bill. The peaceful march has since been overshadowed by a group of young protesters who stormed the city's Legislative Council (LegCo) after breaking into the building by shattering glass doors with a metal trolley and poles.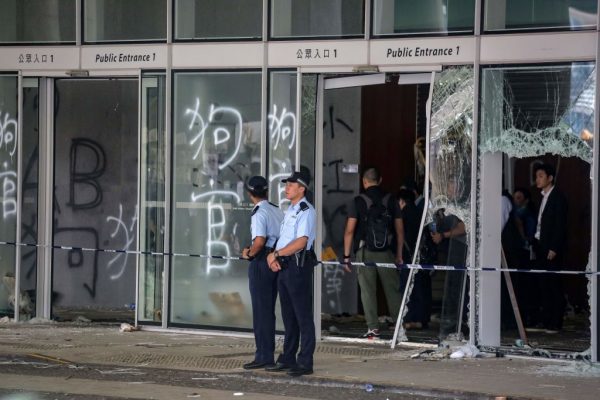 Protesters did not empty LegCo's premises until around 12:30 a.m. local time on July 2. Police then fired multiple rounds of tear gas to disperse crowds outside of the building.
"Even though we do not want to see people take certain actions under a totalitarian rule, we absolutely understand the choice made by those protesters [at LegCo]. Last night, a group of students put aside their personal safety and gave their best shot. In fact, these protesters simply took one extra courageous step than all of us," the statement said.
CHRF called on people not to blame these protesters or choose sides, since everyone is "in the same boat."
CHRF, which already organized two major marches in June drawing millions of participants, stated that it has been thinking about taking "upgraded actions," but has not come to any conclusion in the face of a Hong Kong government that remains "arrogant."
At around 4 a.m. local time on July 2, Hong Kong leader Carrie Lam held a press conference, condemning protesters' actions for storming LegCo and breaking the law. Lam stated that she would communicate with young people and lawmakers.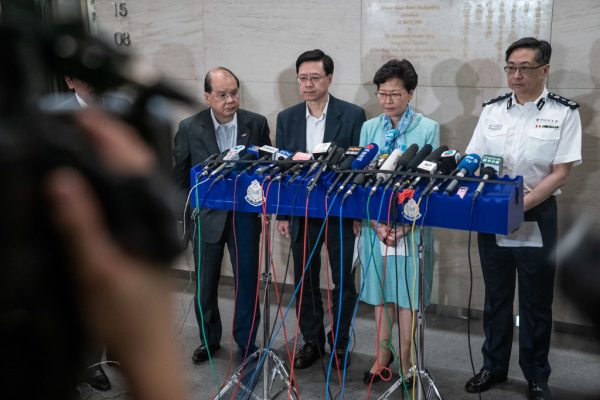 Pro-democracy Hong Kong lawmaker Eddie Chu Hoi Dick, writing on his Facebook page at around 10 p.m. local time on July 1, said that Lam had refused to meet with lawmakers from the pan-democratic camp for an urgent meeting.
Prior to Chu's statement, CHRF and 24 lawmakers from the pan-democratic camp issued an emergency joint statement.
"Pan-democratic legislators have requested to meet with Lam today to seek a solution in this political crisis. But the request of dialogue has been rejected by Lam. We cannot be angrier at her rejection to the request, which proves her 'willingness to listen' to be the ugliest political lie," the joint statement stated.
The statement reiterated CHRF's five longstanding demands, including complete withdrawal of the extradition bill and Lam's resignation.
Democratic Party lawmaker Andrew Wan, writing on his Facebook page after the conclusion of Lam's press conference, said that Lam is also responsible for the violence at LegCo. He said that her response over the past month has "added fuel to the fire" instead of "cooling down the public sentiment [about the bill]."
Wan questioned why Lam had the time in the early hours of July 2 to call a press conference, but said earlier on July 1 that she did not have time to meet with pan-democratic lawmakers as tensions were building outside LegCo.
Similar to CHRF's demands, Wan said that the extradition bill must be withdrawn from debate and voting by the pro-Beijing majority legislative council and Lam must step down.
Anson Chan, the city's former Chief Secretary, also told local media on July 2 that Lam and her team shouldered some responsibility for the violence on July 1.
"It is a culmination of several years of injustice: a legislative council that is not performing its function, a government that listens only to the pro-Beijing party and ignores the rest of Hong Kong people, and Hong Kong youngsters, particularly following the 79-day siege in [the] 2014 umbrella and achieving absolutely nothing, feeling an increasing sense of anger, futility, and frustration," she said. "The government needs to address this."
—
Update: July 2, 6:10 a.m. HKT
Hong Kong Leader Condemns Protesters Who Stormed Legislature
Hong Kong Chief Executive has condemned the "extremely violent" storming of the legislature building by protesters on the night of July 1.
"[The protesters' actions] seriously affect the core values of Hong Kong's rule of law," Lam said at a press conference held in the early hours of July 2. "This is something that we should seriously condemn."
She also said the incident would be thoroughly investigated.
Update: July 2, 4:00 a.m. HKT
Hong Kong leader Carrie Lam will convene a press conference at 4 a.m. local time to address the protesters storming the legislature building last night.
The presser will be live-streamed here.
Update: July 2, 12:48 a.m. HKT
Multiple rounds of tear gas were fired toward protesters as a large number of police officers made their way toward the Legislative Council building around midnight.
Footage of the scene shows police wearing helmets and riot shields. Smoke emerged near the road, as many protesters began to flee when the police approached. A small number of protesters holding umbrellas continued to stay in the area.
Earlier the Hong Kong Police Force stated in a tweet and a Facebook post that they severely condemned the protesters' storming of the legislature building and will begin to evacuate the area.
"The LegCo Building was violently attacked and forced to enter illegally … The police will conduct sweeping in a short period of time and will take reasonable force. The police also appeal for unrelated protestors to leave the vicinity," according to the statement.
Labour Party legislator Fernando Cheung said he believes the police intentionally let the protesters continue smashing the glass doors and break into the building so that the protesters could be seen as a violent group. A group of protesters had started congregating around the building at roughly 1 p.m., charging at the building with road signs, corrugated iron sheets, and pieces of scaffolding.
"This is a trap. The protesters…who were storming Legco could have been dispersed easily by the police," Cheung said, according to RTHK. "They were not a large number, we're talking about probably a few hundred people, and those who were actually taking action were even smaller in number, and yet the police did not do anything."
"They wanted this to happen. They wanted the public to see this," Cheung added.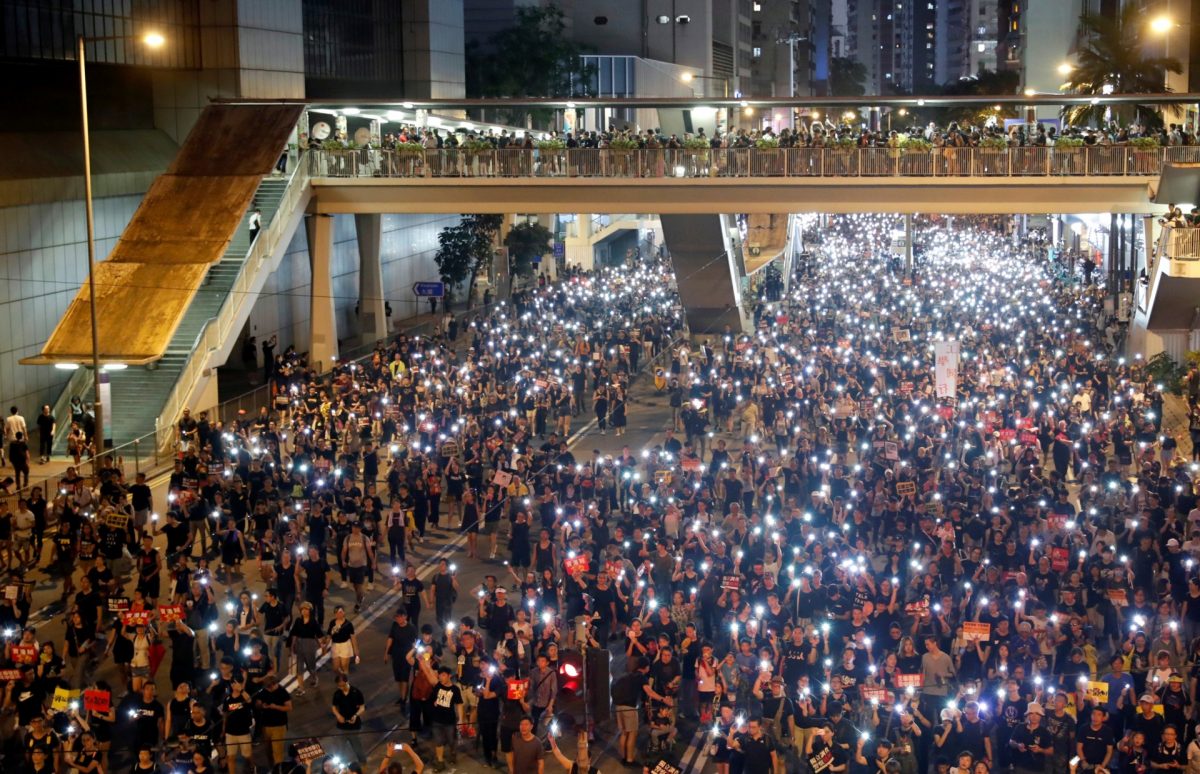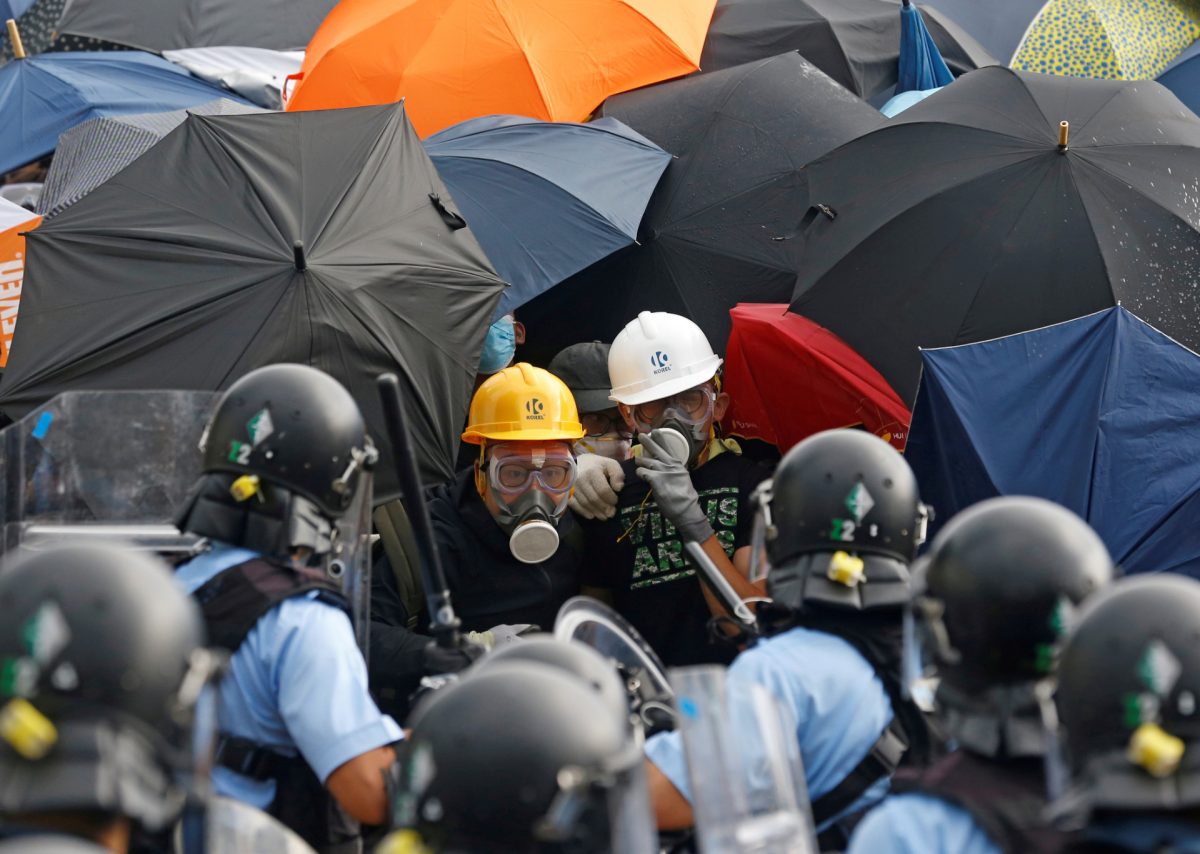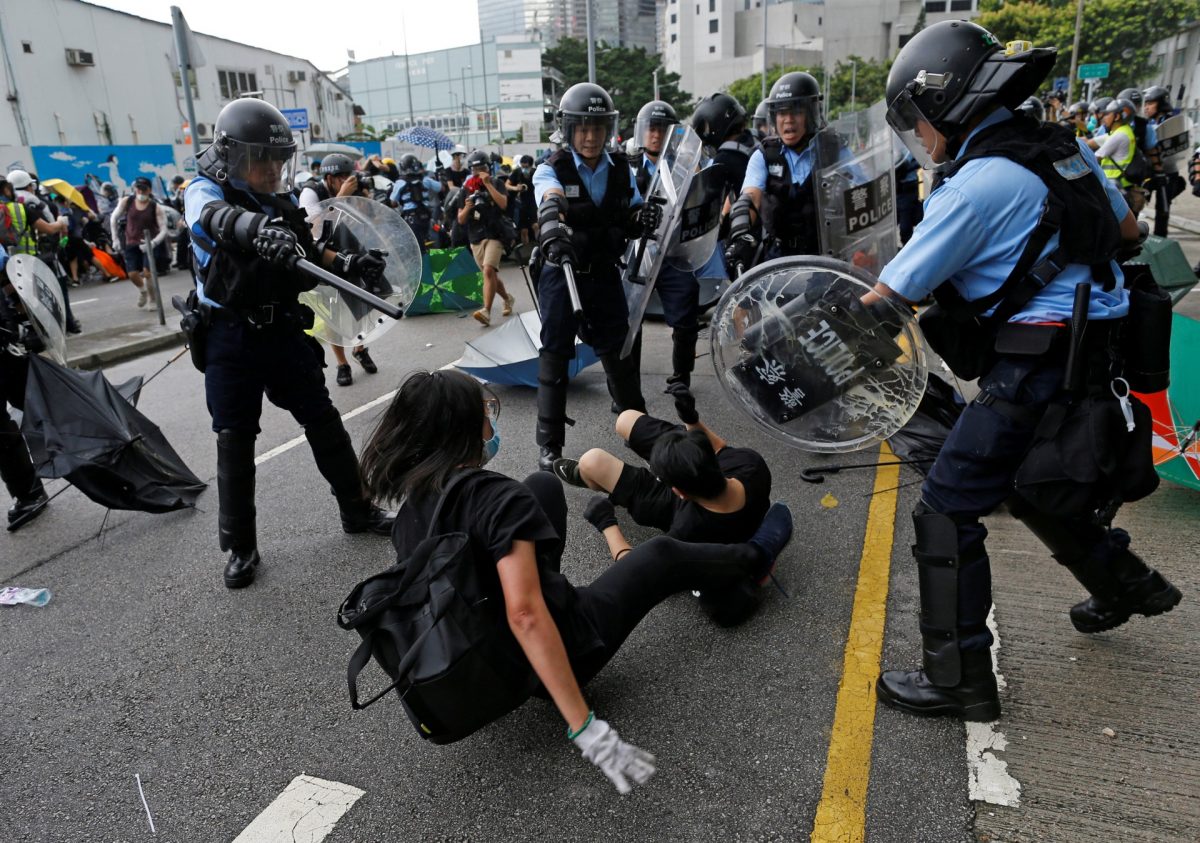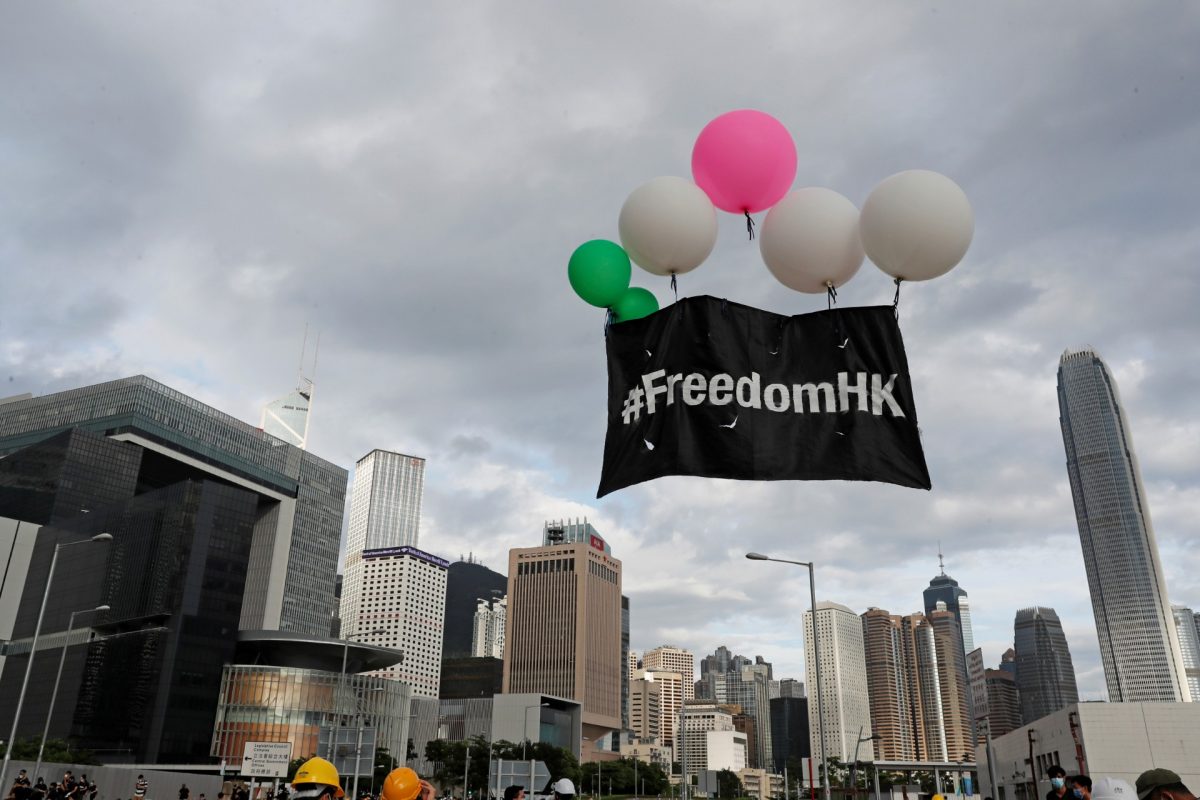 —-
Update: July 1, 11:40 p.m. HKT
Hong Kong Police Warns Protesters It Will Start Clearing Crowds at Legislature Building
In a video published on the Hong Kong police force's official Facebook page at 10:21 p.m. local time, it announced that the protesters who broke into the legislature building were "rioters" that deserved the "most severe condemnation." An unnamed police spokesman spoke in the video, saying that officers were to shortly arrive at the scene and start "clearing the field."
"If there is any obstruction or resistance, the police will employ appropriate forces," the spokesman said. He urged protesters to swiftly leave the area around the legislature building.
Organizers of Hong Kong's annual march on July 1 said that over 550,000 people took part, breaking the record in 2014 when 510,000 Hongkongers came out to demand universal suffrage in electing the city's top official.
The Hong Kong Public Opinion Research Institute (HKPORI) gave different estimates. It said at least 374,000 was marching through the Arsenal Street during the peak.
A spokesperson for the Hong Kong government has responded with strong words to a group of protesters who broke into the legislature building by smashing glass doors earlier in the evening.
"Some radical protesters stormed the Legislative Council Complex with extreme violence. These protesters seriously jeopardized the safety of police officers and members of the public. Such violent acts are unacceptable to society," according to a statement.
"Hong Kong is a society that respects the rule of law, and has never tolerated violence. Protesters who resort to violence must stop their acts immediately," the unnamed spokesperson said in an earlier statement, adding that the police will "take appropriate enforcement action to protect public order and safety." The government had sent out a red alert asking everyone to leave the building.
The city's Hospital Authority said so far 43 people have been injured in clashes with the police. 37 have since been discharged from the hospital. At least two are still being treated.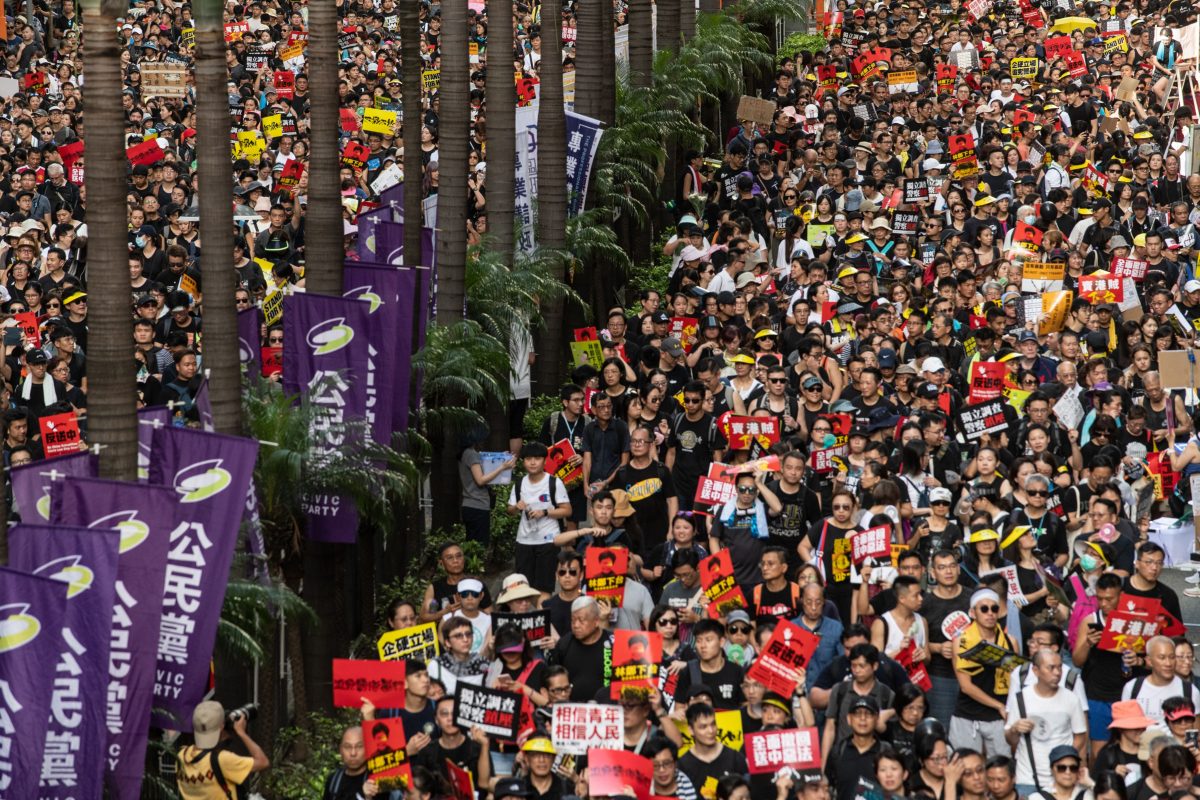 Crowds of people, many of them dressed in black, began to fill Victoria Park shortly before 3 p.m. local time.
The march set out at around 3 p.m. Participants were shouting "Carrie Lam step down, Withdraw the evil law."
A Hongkonger surnamed Leung who is in the education sector told local media RTHK that he was joining the march with his wife and son. He said he had decided to come because he is worried about the impact of the bill on his rights.
He added that he also disagrees with how Hong Kong police had reacted with force against protesters on June 12.