UPDATE: June 18, 5:48 p.m. HKT
Hong Kong leader Carrie Lam made no mention of any withdrawal of the controversial extradition bill during a press conference that ended around 5 p.m. local time in Hong Kong on June 18.
When asked if she would step down, Lam said she was committed to finishing the remaining three years of her term in office. 
Civil Human Rights Front, the organizer of two protests on June 9 and 16, questioned why Lam decided to call a press conference. She did not address any of their five demands, including withdrawal of the bill, Lam's resignation, and investigating who should be responsible for police shooting at protesters.
Twitter users also weighed in to the debate:
She is not handling this well – only arrogance and bureaucratic process is coming through – all she needs to say is the Bill is withdrawn and there was no Riot … #carrielamstandsdown #hongkong #ExtraditionBill https://t.co/6mhXOQHMhk

— Mark Ford-McNicol (@MarkFordMcNicol) June 18, 2019
It started off hopefully with a more genuine apology than before but now the Carrie Lam presser has become a train wreck.
No withdrawal of bill
No public inquiry into whether excessive police force
No retraction of the word rioters#HongKong #HongKongExtraditionLaw

— Peter Lewis – on the radio in Hong Kong (@MoneyTalkR3) June 18, 2019
Crowd outside Legco watch live feed of Carrie Lam press conference. She's apologised (again) and said she won't reintroduce the bill. Crowd not satisfied, want total withdrawal #HongKong #ExtraditionLaw #反送中 pic.twitter.com/5NEXIzAeu3

— Lianain Films (@LianainFilms) June 18, 2019
#HongKong leader #CarrieLam sidesteps question on whether she would set up a Commission of Inquiry to probe alleged police brutality last week, again telling protesters to complain through regular police complaints channel. #HongKongProtests #AntieELAB #Extraditionbill #HK pic.twitter.com/JtVF9rlP2t

— Damon Pang (@damon_pang) June 18, 2019

—
UPDATE: June 18, 2:17 p.m. HKT
Hong Kong Leader Carrie Lam Scheduled to Host Press Conference
RTHK reported that Hong Kong leader Carie Lam is preparing for a press conference this afternoon at 4 p.m. local time.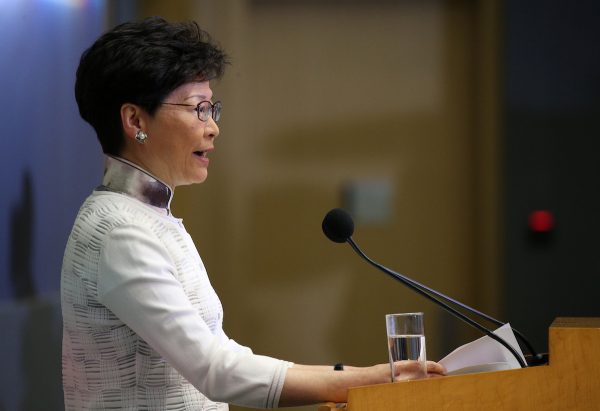 At 11:18 a.m local time, Hong Kong media RTHK reported that about 20 protestors were gathered in the demonstration zone outside of Hong Kong's Legislative Council (LegCo).
One of the protesters, a man surnamed Chui, said that he had boycott his public office job for two days to take part in the ongoing protests. He said that he will only stop protesting when the Hong Kong government responds to the five demands of the Civil Human Rights Front (CHRF). CHRF is an umbrella body of Hong Kong's pro-democracy groups. It organized the two mass protest marches on June 9 and 16.
According to CHRF's Facebook page, complete withdrawal of the proposed extradition bill and Lam's resignation are among their five demands.
Another protester, a woman surnamed Li, said that she had not left the demonstration zone since June 17. She added that the education center she works for has been closed since June 17 in support of its employees boycotting work to protest the proposed amendments to the Fugitive Offenders Ordinance.
—
UPDATE: June 18, 9:58 a.m. HKT
Debate of No Confidence Against Carrie Lam's Government Scheduled at Legislative Council
Civic Party lawmaker Dennis Kwok will move a motion of no confidence in the government headed by Hong Kong leader Carrie Lam at 11 a.m. local time on June 19, according to a press release from Hong Kong's Legislative Council (LegCo).
The motion will state: "That this Council has no confidence in the Fifth Term Government of the Hong Kong Special Administrative Region."
Lam was sworn in as the top leader of Hong Kong's fifth term government in July 2017.
It is not known if the motion will go through to a no confidence vote on June 19.
Lam survived the first no confidence vote against her in May this year, due to the backing of the pro-Beijing majority seated in the LegCo, according to Hong Kong Free Press. Currently, Hong Kong people do not vote directly for its top leader, the chief executive. Rather, an election committee, which consists of 1,200 select people—mostly business and political elites known to be loyal to Beijing—chooses the top leader.
In 2017, Lam received 777 votes from the 1,194-member election committee, which elevated her into the leadership position, defeating candidate John Tsang who, according to multiple public opinion polls, held more public support, Hong Kong Free Press reported. Tsang had been financial secretary from July 2007 to January 2017.
The vote was the result of a motion moved by Democratic Party lawmaker Andrew Wan, which said that the Hong Kong leader had misled the public and the international community about the proposed extradition bill.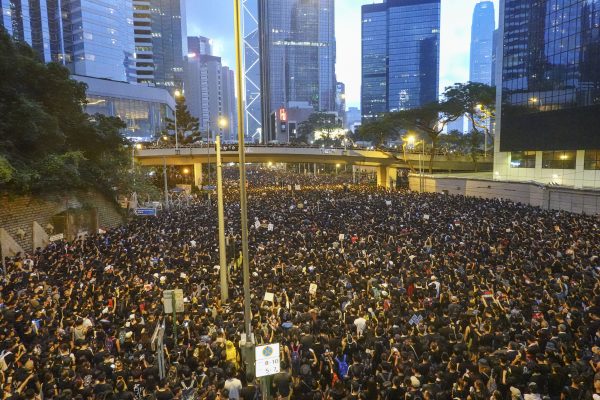 Lam said she was suspending progress of the government's controversial bill through the LegCo during a press conference on June 15 after strong public outcry saw 1.03 million Hong Kongers join protests on the streets on June 9. Another even larger protest march took place after Lam's suspension on June 16, when about 2 million participants took to the streets to call for the bill to be completely withdrawn.