The House Judiciary Committee is holding a hearing on Monday morning at which lawyers for Democrats and Republicans plan to make cases for and against the impeachment of President Donald Trump.
Early in the hearing, a person in the audience shouted at Judiciary Committee Chairman Jerrold Nadler (D-N.Y.) as he was delivering his opening statement.
"You're the one committing treason," he shouted at Nadler. "We voted for Donald Trump," he added. Nadler brought the gavel down several times before telling the audience that they're there to observe only.
The person said that Nadler and the Democrats are committing "treason toward this country" before he was ejected from the hearing room.
In his opening statement, Nadler said that "impeachment is a solemn, serious undertaking" before adding that it exists to address threats to democracy. "We surely agree … including especially the president of the United States to use his office for private gain," he also told the hearing.
Ranking member Doug Collins (R-Ga.) said, "Where is the impeachable offense?" He added that Democrats are the ones who are interfering with elections.
"This is just a fatal distraction on a president that they don't like," Collins said of Democrats' tactics. "The entire case" for impeachment is "based on presumption," Collins remarked.
Daniel Goldman, the Judiciary Committee lawyer for the Democrats, and Stephen R. Castor, the Judiciary Committee lawyer for the Republicans, are presenting evidence. Reports stated that a different Republican lawyer will be present.
The president's team declined the invitation on Monday and called on House Democrats to immediately end the inquiry.
"House Democrats have wasted enough of America's time with this charade," White House Counsel Pat Cipollone wrote to Nadler last week minutes before the Judiciary Committee's deadline. "You should end this inquiry now and not waste even more time with additional hearings."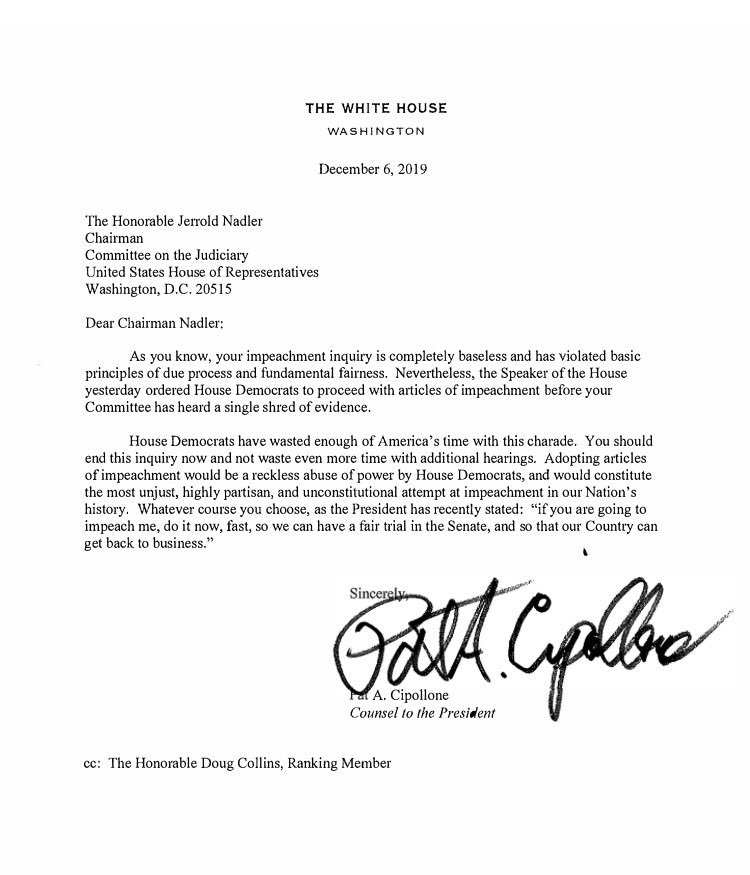 He added that "adopting articles of impeachment" would be an abuse of power by the Democratic House majority and would be the "most unjust, highly partisan, and unconstitutional attempt at impeachment" in U.S. history.
Republicans accuse Democrats of conducting a politically motivated witch hunt aimed at ousting Trump using an unfair impeachment process. Asked if it would be in the White House's interest to take part in Monday's hearing, House Republican Leader Kevin McCarthy (R-Calif.) said, "Not if it isn't a fair process."
Trump has indicated that he wants to get the hearings over with quickly so the Senate can hold the trial.
"Therefore I say, if you are going to impeach me, do it now, fast, so we can have a fair trial in the Senate and so that our Country can get back to business," Trump wrote on Twitter Thursday. "We will have Schiff, the Bidens, Pelosi and many more testify, and will reveal, for the first time, how corrupt our system really is."