Former U.S. Ambassador to Ukraine Marie Yovanovitch appeared Friday morning in the House's second public impeachment hearing.
The House Intelligence Committee hearing, led by Chairman Adam Schiff (D-Calif.) and ranking member Devin Nunes (R-Calif.), starts at 9 a.m.
The White House also released a transcript of Trump's first phone call with Ukrainian President Volodymyr Zelensky, after Trump said he would do so several days ago.
The phone call came before the July 25 conversation when he asked Zelensky to look into former Vice President Joe Biden and his son's business dealings in Ukraine. Hunter Biden sat on the board of energy company Burisma Holdings.
The call resulted in the whistleblower complaint that led to the House-led impeachment inquiry
"I'd like to invite you to the White House. We'll have a lot of things to talk about, but we're with you all the way," Trump said, according to the transcript.
"I will be releasing the transcript of the first, and therefore more important, phone call with the Ukrainian President before week's end!" Trump tweeted early on Tuesday morning.
Nunes referenced the phone call during the start of the hearing: "Now the American people know the first call" Trump had with Zelensky.
Before that, Nunes said the impeachment case isn't based on information from people who directly spoke to the president.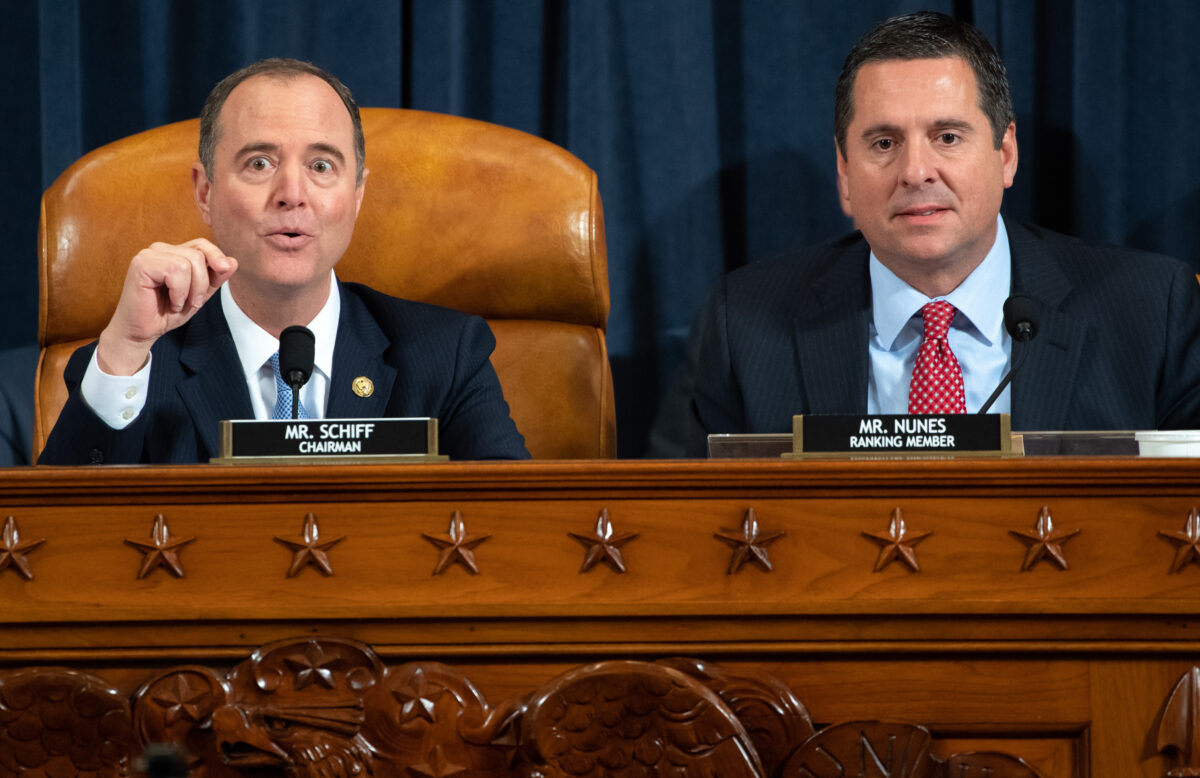 "They saw us sit through hours of hearsay testimony about conversations that two diplomats who had never spoken to the president heard second-hand, third-hand, and fourth-hand from other people. In other words, rumors," he remarked.
The first public hearing was on Wednesday. Nunes said that before the hearings, there were a number of closed-door hearings led by Schiff.
"I'm glad that on Wednesday, after the Democrats staged six weeks of secret depositions in the basement of the Capitol—like some kind of strange cult—the American people finally got to see this farce for themselves," Nunes said.
Meanwhile, Schiff referenced the phone call, saying that he wants the White House to release "thousands and thousands" of other State Department documents.
Yovanovitch, Schiff alleged, was seen as a roadblock to Trump's policies in Ukraine and was pushed out as a result.
"For that, she was smeared and cast aside. The powers of the presidency are immense, but they are not absolute and cannot be used for a corrupt purpose. The American people expect their President to use the authority they grant him in the service of the nation, not to destroy others to advance his personal or political interests," he said during the hearing.
Yovanovitch is the only person testifying during Friday's hearing.