Lithuanian President Gitanas Nausėda said on Nov. 28 that NATO needs to adjust its stance towards Belarus, whose military is becoming more integrated with Russian armed forces.
Nausėda told a news conference with NATO Secretary General Jens Stoltenberg and European Commission President Ursula von der Leyen in Vilnius, Lithuania, that he has been worried by the "total military integration" of Belarus into Russian military structures.
"This brings new challenges to NATO, and NATO should accordingly adapt its plans, strategy, and tactic, to be ready to respond," Nausėda said after a meeting with the top EU executive and NATO secretary. The meeting was also joined by the Prime Minister of Lithuania Ingrida Šimonytė.
Nausėda also said that Belarus would keep testing the unity of the west by exploiting the thousands of "vulnerable" illegal immigrants who have arrived on the European Union's eastern frontiers.
"We can have no doubts that Lukashenko's regime and the powers that support it will continue to test the western world's unity and their ability to react to and repel hybrid attacks," he stated. "We are also in contact with partner countries that may be used for transit."
Stoltenberg said at the press conference that "NATO recently deployed a team of experts to Lithuania to share information, analysis, and experience in countering hybrid threats."
The EU says the crisis was engineered by Belarusian leader Alexander Lukashenko and is part of a "hybrid war" that Minsk is waging in retaliation for EU sanctions imposed after a crackdown on protests against his disputed re-election last year.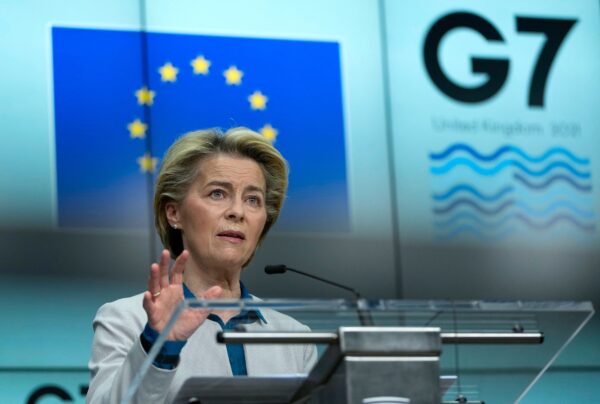 Von der Leyen said Lithuania had been responding in a "humane and firm way" to the crisis and that the European Union continued to support it.
She said 200 million euros ($226.3 million) in EU funds would be given to Latvia, Lithuania, and Poland for border control this year and next.
The EU is also focused on the repatriation of immigrants who try to illegally cross the EU border from Belarus. Von der Leyen commended Iraq for its repatriation efforts. About 75 percent of the illegal immigrants trapped at the Belarusian border come from Iraq. Von der Leyen told reporters that Iraq immediately responded to the crisis by repatriating its citizens via aircraft.
There are also some plans to revise the Schengen code before the end of the year in order to deal with the illegal immigration crisis on the EU eastern border, von der Leyen said at the press conferences with Latvian Prime Minister Krišjānis Kariņš.
"We are working on the possibility to give the member states the option to have more flexibility to care for people on our territory—the EU territory—to have proper procedures … to give, in such a critical crisis situation, the possibility to have registration points and to have more flexibility to properly act and to react," she said.
The Schengen area is a visa-free zone consisting of 26 European countries—both EU members and non-EU states—which allow for the free and unrestricted movement of people across their internal borders.
Russian Troops Near Border With Ukraine
Lithuanian president also expressed his country's concern about "the Russian military build-up near Ukraine," according to a statement.
"This poses new challenges to NATO's collective security. NATO should adjust its plans, strategy, and tactics accordingly and be fully prepared to respond," Nausėda said in the statement.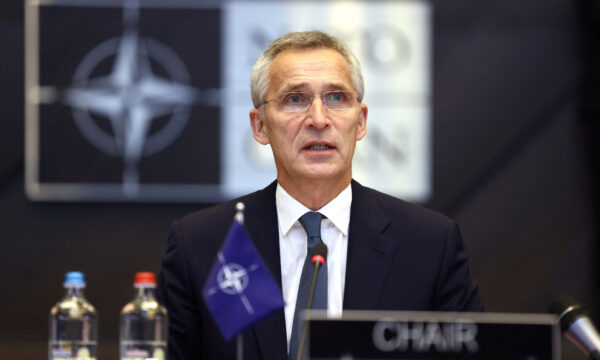 Stoltenberg said at the press conference that "Russia's unexplained and unjustified military build-up near Ukraine's border " is "very concerning," due to many reasons.
We see tens of thousands of combat-ready troops and heavy weapons amassed near the Ukrainian border, he added.
"It is also concerning because it is unprovoked and unexplained," the NATO secretary said. "We call on Russia to be transparent, reduce tensions, and de-escalate."
"We also send the message to Moscow about that. If they decide to use force, then, of course, there will be consequences. And we have demonstrated our will and our capability to impose costs and consequences on Russia before," he continued.
Although Stoltenberg did not elaborate on the specific measures that would be taken, he cited some consequences in the form of the heavy economic and financial sanctions that NATO allies and the EU imposed on Russia in 2014 after its illegal annexation of Crimea.
Since then, NATO has also increased its military presence in the air, land, and sea in the Baltic region (Lithuania, Latvia, Estonia) and in Poland, which includes air policing, Stoltenberg said.
NATO foreign ministers will meet in Latvia on Tuesday with Russia and Belarus, and the situation with NATO partners Ukraine and Georgia is on the agenda.
Reuters contributed to this report.