Senate Judiciary Committee Chairman Lindsey Graham (R-S.C.) said the confirmation of Amy Coney Barrett to the Supreme Court could reach the floor of the Senate by the end of October.
Graham predicted that the initial hearings on her confirmation would start Oct. 12, which "would be 16 days for the nomination and 24 of the 42 Supreme Court justices who have had hearings were done within 16 days." The presidential election is Nov. 3.
Referring to the number of days that it took previous Supreme Court justices to be confirmed, he said, "Kennedy—14, Stevens—10, Powell—12, Rehnquist—12, Blackmon—14, Chief Justice Burger 11."
"So, 16 days from now, we will start the hearings on October 12. Monday will be introduction, opening statements, a statement by the nominee, Tuesday and Wednesday will be question days, and Thursday, we will begin the mark-up process," he told Fox News on Saturday.
The South Carolina Republican said he doesn't expect a similar confirmation process to Justice Brett Kavanaugh, where allegations surfaced that he engaged in sexual misconduct when he was in high school and college.
He predicted that the final vote on Barrett's confirmation could occur on Oct. 26.
"I hope to get her out of the committee by the 26th of October," he said. "That will allow us to follow the normal rules of the committee, and that would be up to Mitch McConnell what to do after that. But we'll start on the 12th. We'll have four days of hearings, then we'll hold over the nomination for a week, consistent with the rules of the Judiciary Committee. And hopefully, we'll come to the floor around the 26th, and that will be up to Mitch McConnell," the Senate majority leader.
Barrett was nominated by President Donald Trump on Saturday, coming more than a week after the late Justice Ruth Bader Ginsburg's death at age 87.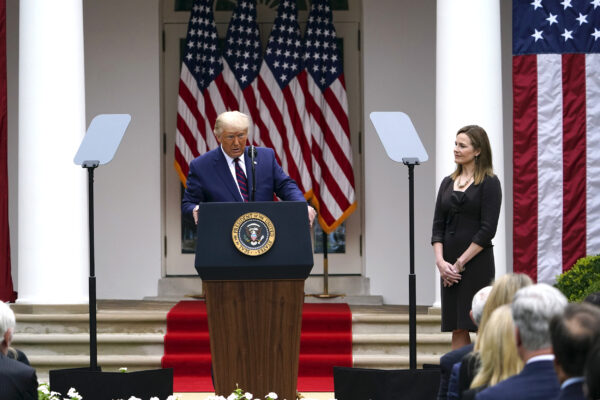 Democrats have accused Republicans of hypocrisy for going ahead with Barrett's confirmation during an election year. In 2016, following Justice Antonin Scalia's death, the Republican-led Senate did not attempt to confirm Merrick Garland.
But last week, McConnell repeated his own comments from February 2016: "The Senate has not filled a vacancy arising in an election year when there was a divided government since 1888, almost 130 years ago," meaning a Senate controlled by the party opposite to that of the president has not replaced a Supreme Court seat in a presidential election year for nearly 130 years.
His counterpart, Senate Minority Leader Chuck Schumer (D-N.Y.), in a series of attacks on the GOP and Barrett, said that her being appointed to the court would spell the end of the Affordable Health Care Act, colloquially known as Obamacare.
"A vote for Judge Amy Coney Barrett is a vote to eliminate health care for millions of Americans and to end protections for Americans with pre-existing conditions in the middle the COVID-19 pandemic. Democrats are fighting for Americans' health care," he wrote Sunday.