After photos of several gigantic steers went viral, university researchers say they might have the world's smallest cow.
Two steer, Knickers and Dozer, were taller than most people and each weighs more than a car. But Lil' Bill weighs just about 9 pounds and is about the same size as a cat.
The calf was taken to the Mississippi State University College of Veterinary Medicine, who said the animal is about a 10th of what other calves weigh at its age.
"Occasionally, we get a case that has us scratching our heads a bit. Lil' Bill is one of those cases! He was born weighing a little over one-tenth of what newborn calves typically weigh. Stay tuned for more updates on Lil' Bill," the college wrote on Facebook.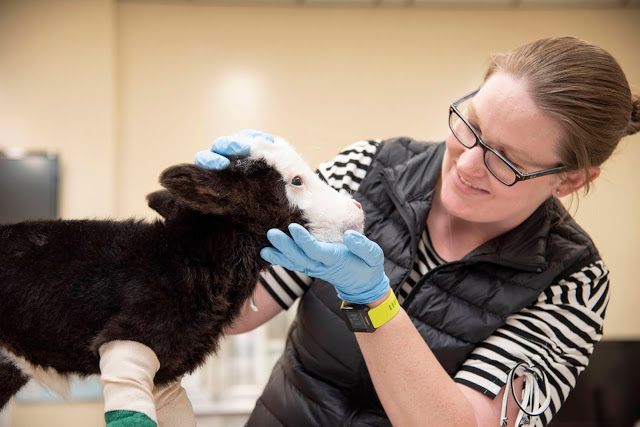 Vets have yet to determine why the calf is so small, but they're working to find out.
"Rest assured that Lil Bill is still receiving incredible care and lots of love! We are working on a story that will give you all an idea of why he's so small, what we're doing for him, and what his prognosis is, so keep your eyes peeled!" the university stated.
Gretchen Grisset, a doctor at the university, said the calf was struggling to breathe due to underdeveloped lungs. "The calf's owners really wanted us to save him, and I think they really wanted to keep him, but he was in really tough shape with a lot of respiratory issues when he came to us," Grissett said on the university website.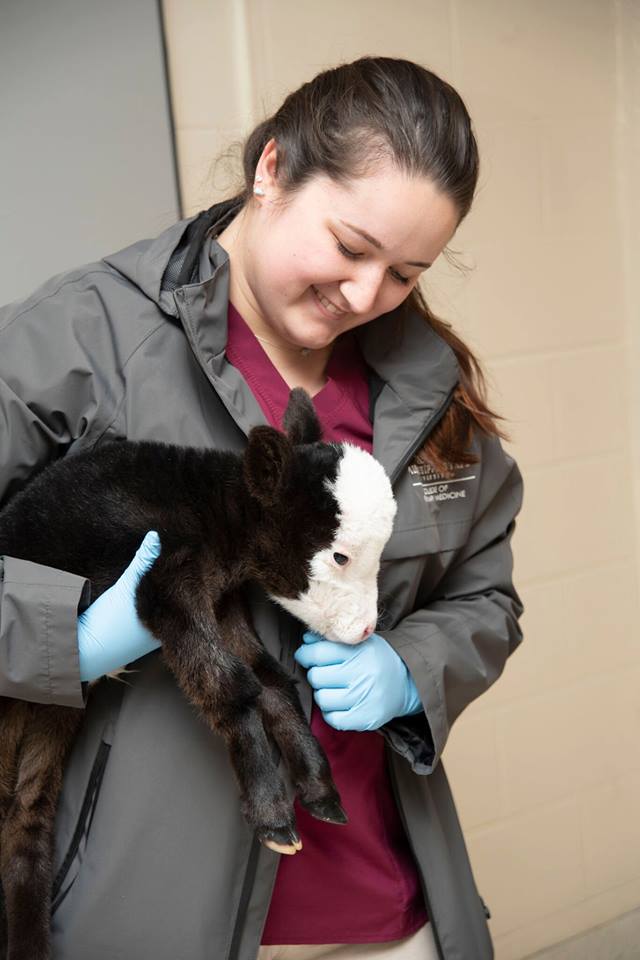 Calves normally weigh between 50 and 80 pounds at birth depending on the breed.
"With that said, it's obvious that Lil' Bill, weighing just 7.9 pounds when he was first brought in, is far from the norm. Dr. Grissett and her team have ordered extensive DNA tests, believing that the calf may have some form of dwarfism, in addition to being premature," said the university's website.
Grisset said the team is carefully monitoring the animal.
"Right now, Lil' Bill's bones are not fully developed so we have his legs splinted to provide adequate support. Allowing too much activity on his joints could lead to long-term orthopedic issues for this little guy," she said. "Many of the issues we are facing with him are, in fact, very similar to those experienced with premature babies. It often takes them months to grow and become as strong as they should have been at birth, and they commonly face development delays and other such problems— if they're fortunate enough to survive."
Grissett said the cow is getting bigger and stronger while behaving like other calves.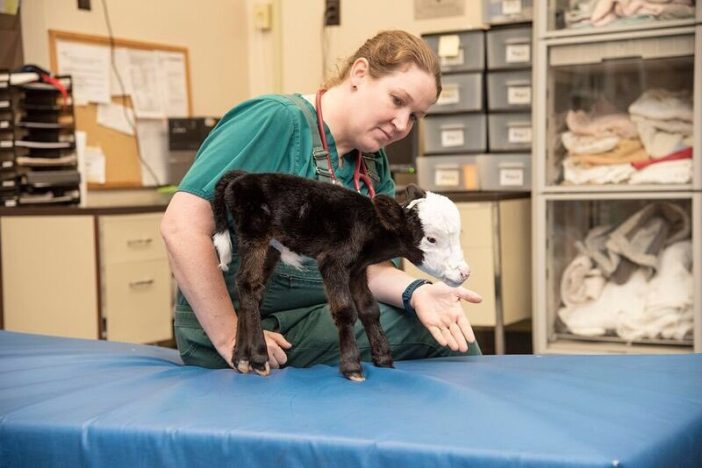 "Other than sleeping a lot, which is normal for preemies, Lil' Bill behaves much like most 5-week-old calves," she said. "Once awake, he trots around looking for attention, often head-butting team members to demand more milk!"
"I'm feeling much more confident that he will make it, but we definitely still have some hurdles to jump over for him to make a full recovery," she added. "We'll know much more when we have the results of the genetic testing and the other detailed lab work we completed."
The university's website said Lil' Bill was delivered on Oct. 27, and vets believe it is about one month premature.
"Most of the time, calves more than three to four weeks premature, don't have a great chance of survival," she continued. "Lil' Bill has beat the odds by making it past his one-month mark. He certainly has the will to survive. Our goal is to make sure he has the very best opportunity to do so!"
The animal has garnered tens of thousands of "likes" and shares on Facebook.
Some people asked the university to create a separate page for the calf.
One person wrote, "Lil Bill is adorable! Hope he is a healthy little man and makes it."
"Move aside micro pigs, micro cows have arrived!" added another.
A Canadian man has insisted that his steer is among the largest in the world and even larger than Knickers, the steer from Australia that went viral earlier this week due to its large size.
Karl Schoenrock, who runs Kismet Creek Farm, a sanctuary for animals near Winnipeg, Manitoba, said Dozer is about an inch taller than Knickers.
RAISING THE STEAKS: Knickers, an Australian steer who stands at 6'4", gained internet fame this week. But Dozer, a Canadian Holstein Friesian, clocks in at 6'5"… https://t.co/Tev9oeCs2x pic.twitter.com/YEb0M8xUXt

— ABC News (@ABC) December 2, 2018
Knickers was measured at 6 feet, 4 inches tall and Dozer reportedly is measured at 6 feet, 5 inches tall. Both are Holstein cows, according to the Daily Mail. Schoenrock recently measured the animal and found Dozer was 6 feet, 5 inches tall. In comparison, former Chicago Bulls superstar Michael Jordan is 6 feet, 6 inches tall, and current Houston Rockets star James Harden is 6 feet, 5 inches tall.
On average, Holsteins weigh about 1,500 pounds and are 4 feet 10 inches tall at the shoulder.
The Holsteins breed is known for being quite tall, according to an industry website about the animals. "Holsteins are most quickly recognized by their distinctive color markings and outstanding milk production. Holsteins are large cattle with color patterns of black and white or red and white," it says.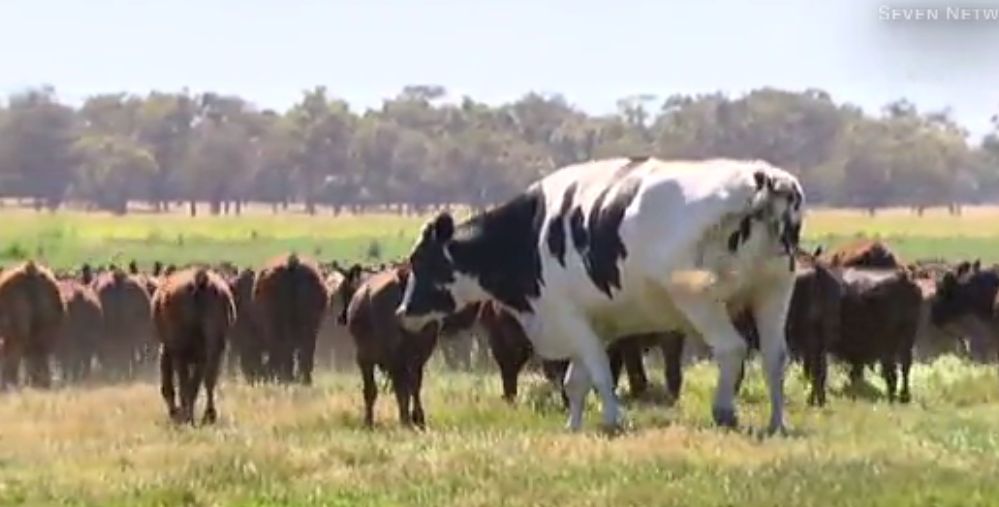 Knickers's Massive Appetite
Every day, Knickers eats 70 pounds of natural green pasture and cereal grain, his owner, Geoff Pearson, said.
"He was always a standout who stood above the rest. We kept him on because we thought he had potential to be a big steer but never imagined he'd grow to be this huge," Pearson told the Daily Mail. "It's quite daunting being up close to him, he's far bigger than any other steer I've had. But he's very placid, not aggressive, just inquisitive."