This week, six named storms were churning at the same time in the Atlantic and Eastern Pacific regions, tying a record.
According to the Weather Channel, there were six named storms as of Tuesday. Four of the tropical cyclones formed Tuesday, including Imelda, which was a tropical storm before it was downgraded as well as Jerry, Tropical Storm Mario, and Tropical Storm Lorena.
As of Thursday, Sept. 19, Hurricane Humberto was still spinning in the Atlantic, and Tropical Storm Kiko is moving away from the Americas.
Jerry was upgraded to hurricane status on Thursday, according to the National Hurricane Center. Lorena is predicted to strengthen into a hurricane within the next day. Hurricane watches were issued for Baja California, Mexico.
Anyone want a tropical storm? They are forming like roaches out there! 6 at once in both basins combined is thought to tie a modern NHC record , with two other disturbances adding the cherries on top of a crazy busy day! pic.twitter.com/yIi9PHIKSn

— Eric Blake 🌀 (@EricBlake12) September 17, 2019
The Weather Channel said the number tied the record of combined named storms in the two areas.
National Hurricane Center forecaster Eric Blake wrote that the combined number might be a modern record.
"They are forming like roaches out there," Blake tweeted on Tuesday.
September is the peak month for hurricane and tropical storm activity in the Atlantic basin.
"In September, ocean temperatures are nearly at their yearly peak, and shearing winds that can rip apart tropical storms and hurricanes are typically at their lowest," the Weather Channel reported.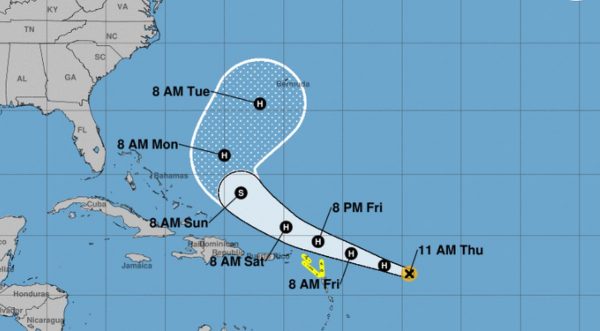 It added that "there have been as many as five active Atlantic tropical cyclones at once, which occurred Sept. 10-12, 1971. No more than two of those were hurricane strength at any one time."
Four simultaneous hurricanes were recorded on Aug. 22, 1893, and Sept. 26 and Sept. 27, 1998, the Weather Channel said.
Imelda Hits Texas
Dangerous flash floods inundated parts of southeastern Texas on Thursday as Tropical Depression Imelda dumped the last of its rains, with the National Hurricane Center predicting rain totals up to 35 inches in some coastal areas, Reuters reported.
Three days of rains in the Houston area stranded motorists on flooded roads, confined people to their homes and prompted the evacuation of at least one hospital, according to media reports, local officials and social media posts.
Millions of people in and around Houston and nearby western Louisiana remained under flash flood watches on Thursday as the National Weather Service predicted a final 4 to 10 inches (10 to 25 cm) of rainfall before petering out.
Reuters contributed to this report.