Lifelong Playwright Debuts His First French Feature Film
September 18, 2014 2:42 pm Last Updated: September 19, 2014 5:08 pm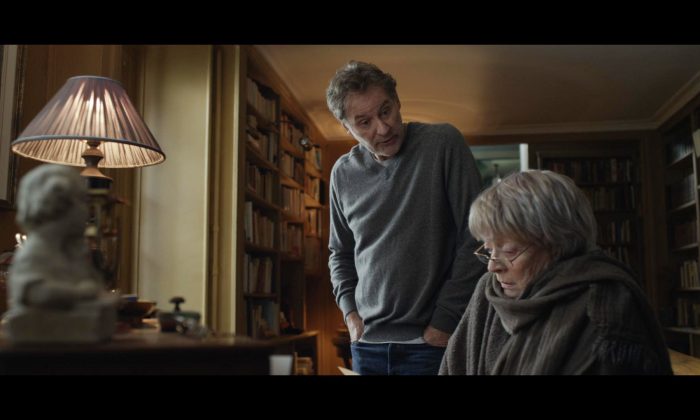 NEW YORK—Although playwright Israel Horovitz has written several documentary scripts including "The Strawberry Statement" which won the Jury Prize at the 1970 Cannes Film Festival, and written a script for a feature "Arthur! Arthur!" starring Al Pacino, he never thought he'd make his directorial debut after a lifetime of writing plays. 
"My Old Lady" is about a middle-aged, penniless British man who travels to France to claim his father's Paris estate. But when Mathias Gold (Kevin Kline) arrives in Paris, he finds an elderly lady (Maggie Smith) living in the house under a special French law that put the two head to head.
Horovitz has seen the play, "My Old Lady," performed in 20 different languages around the world.
When Horovitz watched the play acted out by actors and actresses in different languages, he started to daydream about setting the play in Paris. Horovitz says he spent almost half his life in Paris, but the atmosphere of the city was missing from the stage performances.
"You don't really feel Paris, and I started to write the play because I kind of wanted to write a love letter to Paris," Horovitz said during an interview in New York in late August.
As his 75th birthday was approaching, Horovitz wanted to take on a challenge and so his directorial debut began.
"I though it would be cool to be in Paris making a movie," he said.
Horovitz immediately thought of Kevin Kline as the lead, but feared that Kline would decline as the actor is also famously known as Kevin DeKline for his quickness in declining a lot of film roles.
"He can do comedy and he can do it [drama]," Horovitz said.
Many things came together for the film. After the script was entered into a local French competition, a committee helped Horovitz find an apartment big enough for the shoot. He then approached British actress Maggie Smith and she said yes right away.
Working with his actors was also a piece of cake and he describes the feeling on set of "My Old Lady" was like working with family. What helped was the extensive theatre experience that Kline, Smith, and Kristin Thomas had behind them.
"When you have great actors, it's like telling the Sun to give light. The Sun knows to give light," he said.
Although Horovitz said that starting a career in film was not his initial intention, he's thinking of working on two more of his plays, he says.
"Once this was screened, I started getting offers to direct movies," he said.
"My Old Lady" is playing in select theaters in New York: AMC Lincoln Sq., City Cinema 123, Chelsea 9, and Angelika.