COX'S BAZAR, Bangladesh—As she ran with her husband and children to the border of Bangladesh, Nur Halima looked at her family and realized with horror that someone was missing–her only son.
"I thought he had been killed," she said, recalling her horrifying ordeal of trying to cross the Burma–Bangladesh border with her family last year.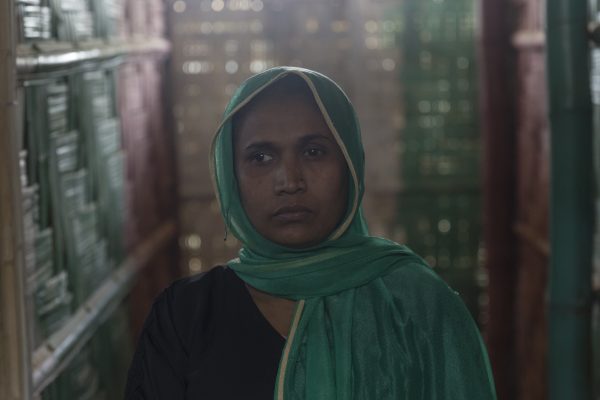 "We had been staying in the forest for 10 days, in the hills above Tula Toli [in Burma, also known as Myanmar], near the border, after the army burned our village. When we were in the forest, people were shouting that the military was killing people in Tula Toli. I saw thousands of men on the shore killing, shooting, and cutting with big knives."
In the fear and confusion, her son was left behind in the forest while they made a dash for the border.
Nur and her four daughters worried while her husband went back to look for their son. He found him a few hours later. "He was very scared so had gone to another hill. He was sitting like this," Nur said, miming being frozen with fear, her eyes wide open and arms crossed in front of her chest.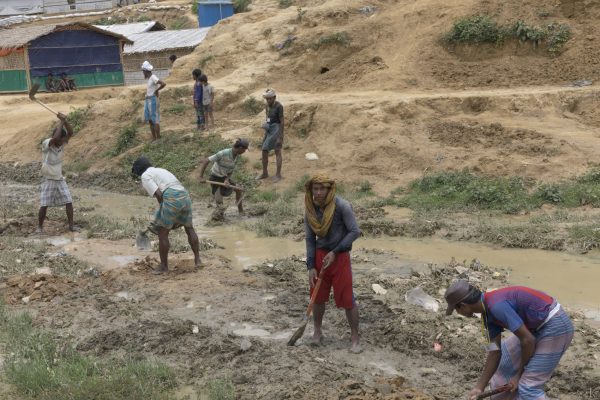 "When I saw him, I held him, and held all of my children together," she said, through tears. "It's a real thing what I'm telling you. Maybe you saw something like this on the news."
It's been a year since Burmese army operations led to the displacement of over 700,000 Rohingya, who have fled to neighboring Bangladesh in large numbers, creating the fastest-growing refugee crisis at the time. The army has been accused of brutal killings and even rape during the campaign. 
Violence in the region erupted in August 2017 when a group of Rohingya militants attacked police posts and a military base, and Burmese troops responded by sweeping through Rohingya villages.
New Struggle
For parents and grandparents in refugee camps in Cox's Bazar in southeast Bangladesh, however terrifying the border crossing was, they faced a new struggle once they arrived in the camps. The fear of child kidnapping and trafficking is ever-present, and babies are draped in necklaces with special talismans supposed to keep them safe from harm.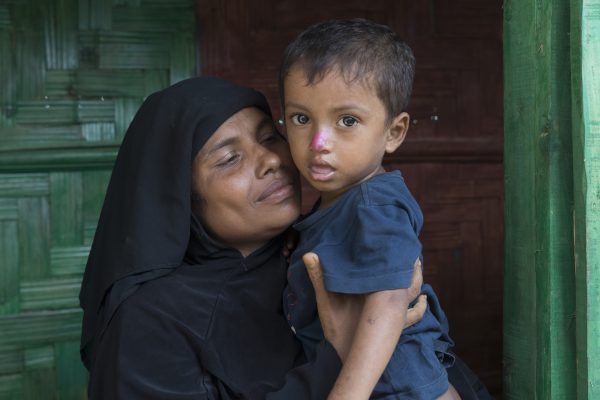 Mosana, 18, arrived in a Cox's Bazar camp nine months pregnant. Her baby is 7 months old now, and wears a black string around his neck.
"I bought the necklace from a local market and it's for his safety–it works with supernatural power," she said. Like many other mothers, she's fearful of what could happen to him in the camp.
When not worrying about predators, more basic issues such as landslides during monsoon season, the risk of drinking dirty water, and malnutrition are pressing.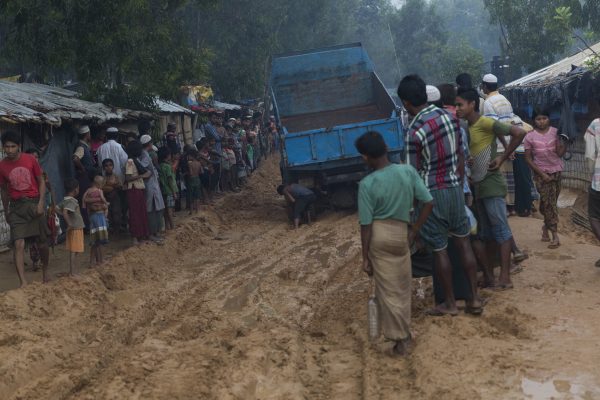 Tens of thousands of people have been relocated to higher ground in the camps since the rains started in May, and refugees complain of meager food rations of rice, lentils, and oil—not enough to satisfy growing children.
"Sometimes, we feed our children only once a day, because we don't have enough," said Nosimara, one of a group of friends who are all single mothers. They regularly forgo food so their children can eat.
"When we were in Myanmar, our children would go to school, and eat three times a day and have snacks. And when they don't get it, they cry a lot for food, so we beat them. We don't know what else to do," she added. 
Nosimara doesn't know how she finds the energy to chop wood to cook, care for her children, and fetch food rations and water, all single-handedly.
Nosimara's husband stayed in Burma, and she doesn't know what's happened to him—they have no way of communicating. Since the devastating violence, families are separated not only on different sides of the border, but also within the camps, putting an extra emotional strain on people in an already impossible situation.
'I Don't Want to Go Back'
The Cox's Bazar camps are huge, and the Kutupalong-Balukhali camp is now the world's biggest refugee camp, according to Red Cross data, with 600,000 residents, which makes life even harder.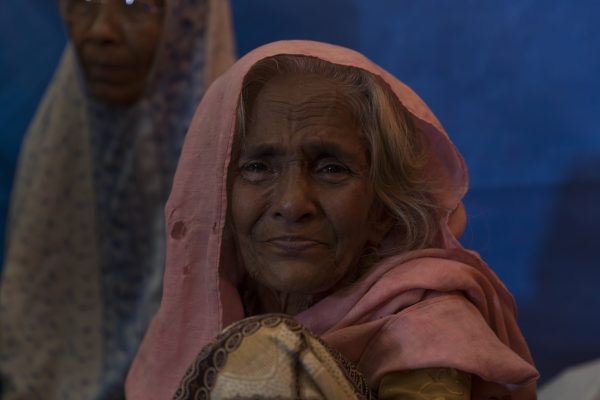 People like Romida, who is 80 years old, experience the difficulty of getting around the muddy hills and long dirt paths most acutely.
"They killed my son—I saw them cut his neck in front of me—and I have three grandchildren, but they live with their mother. I am alone here and I have no husband. It's very terrible for me here," she said, tears running down her face.
When she arrived from Burma seven months ago, her grandchildren were already living in another camp, and she was given her plot of dirt to build a hut in. Romida is unable to walk that far, so her only option is to try to catch a lift, which is difficult as she has no funds to pay. She adjusts her pink headscarf and wipes her eyes.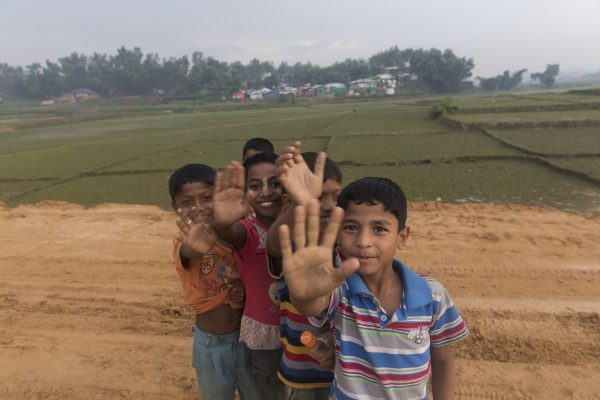 Nobody knows with any certainty what will happen next, and the refugees in the camp are fearful.
"I feel very afraid," said Nur, who is grateful to be living at least with all of her children together.
"My eldest daughter says: 'Mama, I don't want to go back to Myanmar again, I would rather die in Bangladesh.'" She sighed. "I don't know what will happen."