Liberal Leader Justin Trudeau and Conservative Leader Erin O'Toole traded barbs on the issue of COVID-19 vaccination at separate press conferences on Nov. 8.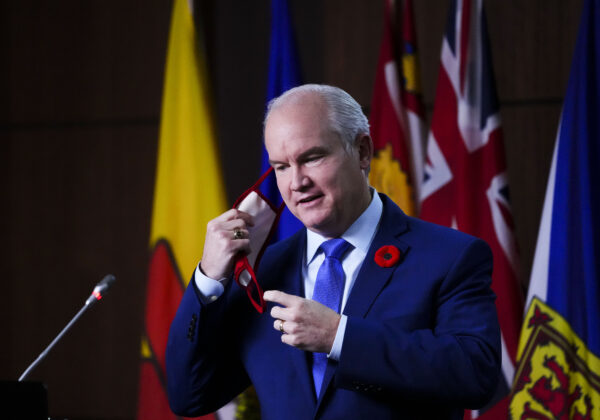 Trudeau criticized the Tories on the issue of COVID-19 vaccinations at the Liberal caucus meeting on Nov. 8, as a number of Conservatives voiced opposition to the Board of Internal Economy's new rule that parliamentarians must be vaccinated to access the House of Commons precinct when they return to the new legislative session on Nov. 22.
"Even as Canadians are continuing to get vaccinated at record rates, the Conservatives are actually moving backward. More and more Conservatives are now stepping up to stand against vaccination, to stand against science," Trudeau told his caucus.
O'Toole fired back at a separate press conference on Nov. 8, saying that Trudeau has continued to "mislead people and divide" on the issue of vaccination.
O'Toole also told the press conference that remarks from Tory MP Marilyn Gladu in an interview on CTV's "Question Period" has "caused confusion with respect to the health and well-being of Canadians."
During the interview, which aired on Nov. 7, Gladu compared COVID-19 to polio, an infectious disease that wreaked havoc in the first half of the 20th century, saying that COVID-19 doesn't pose the same "frequency of risk" in terms of deaths or disabilities.
Gladu and roughly 15 to 30 Conservative MPs are also forming a "civil liberties caucus," which intends to defend constituents who may lose their jobs for choosing not to get vaccinated. The group also intends to bring together legal and medical experts to offer solutions to Canadians who are concerned that the vaccine mandates will infringe on their civil liberties.
Trudeau Reiterates Campaign Promises
Trudeau called the first Liberal caucus meeting since the federal election over a month ago, while the NDP was also holding a separate meeting to discuss whether to enter into a coalition deal with the Liberals.
Speaking to his caucus, Trudeau reiterated his election campaign goals, including plans for a nation-wide $10-a-day childcare program, expanding measures to reach net-zero emissions by 2050, and reconciliation with indigenous people.
"We will be there to work with anyone who wants to work with us to deliver concretely the best things for Canadians' lives: to finish COVID, to fight climate change, to ensure daycare spaces, to deal with the housing crisis, to deal with all the other challenges that Canadians are facing," Trudeau said.
O'Toole: Liberal-NDP Coalition to Hurt Economy
O'Toole kicked off his press conference with warnings of the potential impacts of a Liberal-NDP coalition, which he described as "billions of dollars of new spending to buy Jagmeet Singh's silence."
"Canadians can't afford this coalition," O'Toole said, arguing that the Liberal-NDP coalition would be "a disaster" for the Canadian economy, as they would push policies that would continue to raise costs for "every day essentials," including gas, groceries, and housing prices.
"A Liberal-NDP coalition would shut down Canadian energy and resource sectors, eliminating thousands of jobs, dividing the country, and making Canada a poorer and less relevant nation," O'Toole said.
He also noted that adopting policies that reject Canada's energy sector, which he said is clean, ethical, and environmentally conscious, Canada will be forced to rely on energy providers from foreign countries that may not uphold these values.
"The Liberal-NDP coalition will increase Canada's reliance on countries with horrific human rights records and records that are poor on the environment and other important issues," O'Toole said.