Lhota Promises Incentives for Big Companies to Stay in NYC
September 26, 2013 8:47 pm Last Updated: October 1, 2013 10:00 am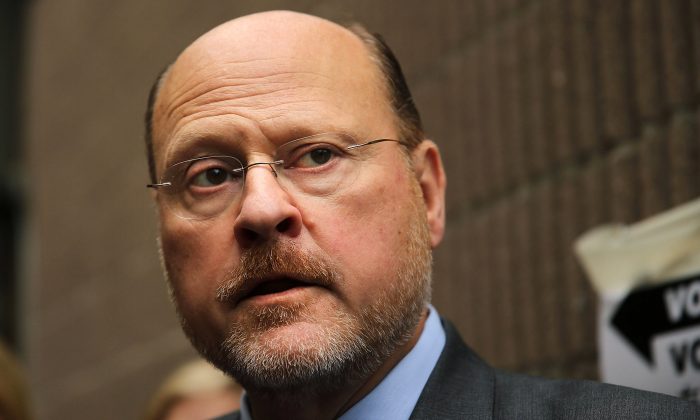 NEW YORK—Republican candidate for mayor Joe Lhota said he would create jobs by incentivizing large companies to stay in the city. Marc Lamont Hill at Huffington Post Live interviewed him on Sept. 26. Lhota said he would create jobs by enlarging the economy as a whole.
He cited the recent example of a deal Mayor Bloomberg and Gov. Cuomo cut with online grocer Fresh Direct to keep the company from moving to New Jersey. The company has agreed to build a new facility in South Bronx, where it will not pay property taxes for 25 years. (Its current location is in Queens).
As part of the deal Fresh Direct must also create 1,000 more jobs over the next decade and in exchange will receive $18.9 million in benefits. Another $25 million in incentives will go toward construction of the new facility.
On Sept. 19, Bill de Blasio criticized the deal, saying a large company like Fresh Direct would never have gotten such subsidies if he were mayor. De Blasio has said he would put more focus on helping small and immigrant-owned business rather than large companies like Fresh Direct.
Lhota said he would provide incentives to keep big companies from leaving New York, but that such deals would be conditional on job creation and company performance. Such contracts, said Lhota, would have a "callback provision" such that companies that failed to create the jobs they promised would have to return the monetary incentives.
During the interview Lhota also said he would push to improve all schools, saying there should be no underperforming schools. He said success of schools "begins and ends with the teacher" and he would borrow the charter school requirement of three to five hours of professional training per week for teachers and require it in public schools.
Lhota said more senior teachers could instruct the less experienced and give them help in learning to teach the curriculum even better. He is a supporter of unions, but he said schools need the power to get rid of a "teacher who does something wrong."
De Blasio promised he would create 100 new community schools in his first term, provide resources for better principals, and create universal pre-kindergarten (pre-k) for every child in the city.
Epoch Times staff Kristen Meriwether contributed to this report.