The Lexus RX 350 is the highly successful luxury SUV/Crossover produced at Toyota Motor Manufacturing Canada's (TMMC) South Plant in Cambridge, Ontario. This state-of-the-art facility was specifically constructed for RX production, making it the first plant outside of Japan to ever manufacture a Lexus.
The first RX 330 came off that line in 2003. Today, Lexus RX 350 is Canada's best-selling luxury SUV selling more than 8,000 units annually.

While the 2017 model year is the newest and sportiest version of the original luxury crossover, let's address the 800-pound gorilla in the room. I do not understand the fascination Lexus designers have with the ever-increasing spindle grille at the front of this and all other Lexus automobiles. It is huge. It is unsightly. It looks like the maw of the alien in the Hollywood movie, "Predator".
OK, that aside, on balance, the RX 350 is a capable, comfortable, and relatively quiet (winter tires notwithstanding) five-passenger crossover with an interior that leans toward superior.
It's All About the Standard Equipment
The version we drove was the top end decked out with an additional F Sport Series 3 option package that padded the price by a further $13,450. This included a 15-speaker Mark Levinson Surround Sound audio system; panoramic glass roof, designated F Sport badging, scuff plates, 20-inch alloy wheels, shift knob, premium leather sport seats; a long list of built-in safety tech that requires a consult with the owner's manual; and, more sensors and cameras that you could possibly count—and then there's more!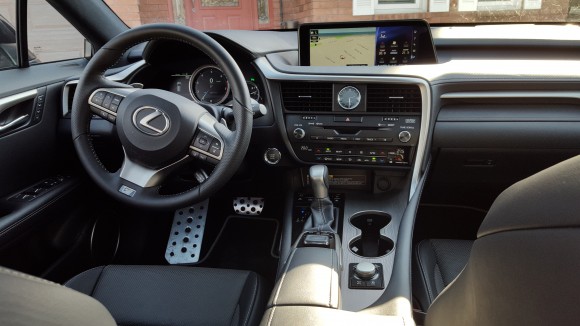 After a "face lift" in 2016, the fourth-generation RX350 rolls into 2017 with minor tweaks to its standard and optional equipment. Optional last year rain-sensing wipers and the Lexus Safety System+ are now standard with the latter adding a pre-collision warning system, automatic high-beams, automated emergency braking, adaptive cruise control, lane-departure alert, and lane-keeping assist to the RX's already lengthy list of safety technology.
As the most popular model in Lexus's lineup since introduced to an eager market in the late 90's, what you get in the RX—no matter how it's configured—is, arguably one of the most refined and relaxing luxury crossovers on the market. In the time we spent with this SUV, regardless of the conditions of the road and the weather, we never experienced anything but an extremely pleasant drive. With the AWD, winter tires, traction and vehicle stability control systems, this vehicle handles snow, ice, slush, and yes, even mud and dry pavement with aplomb. It never left us wanting.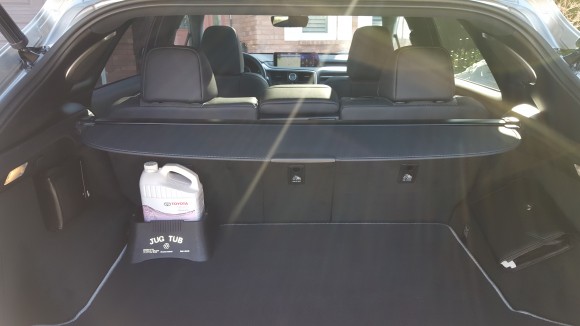 But How Does it Drive?
Each RX is fitted with a Drive Mode Select system: this provides a choice of settings, each of which seamlessly and flawlessly modifies the engine and chassis to some degree. Don't ask me to explain—I'm not an engineer, but with each selection made, sitting in the driver's seat the differences could be appreciated. The "Sport S" setting (standard on the F Sport and available on RXs equipped with the adaptive variable suspension system) offers a higher level of performance with more acceleration and slightly quicker engine response. The all-out "Sport S+" setting combines the engine enhancements of Sport S while firming the feel of the electric power steering and stiffening the suspension for flatter, stiffer cornering.
In short, for 2017, Lexus engineers have not over reached. Do not expect the more aggressive ride of a Mercedes-Benz AMG crossover or a BMW X5 xDrive with M Performance: this RX is not those cars. It does, however, hold up well on its own merits. In full-on performance mode, the vehicle feels different—better than before: more controlled, less aggressive, less "edgy", and to the driver, more engaging.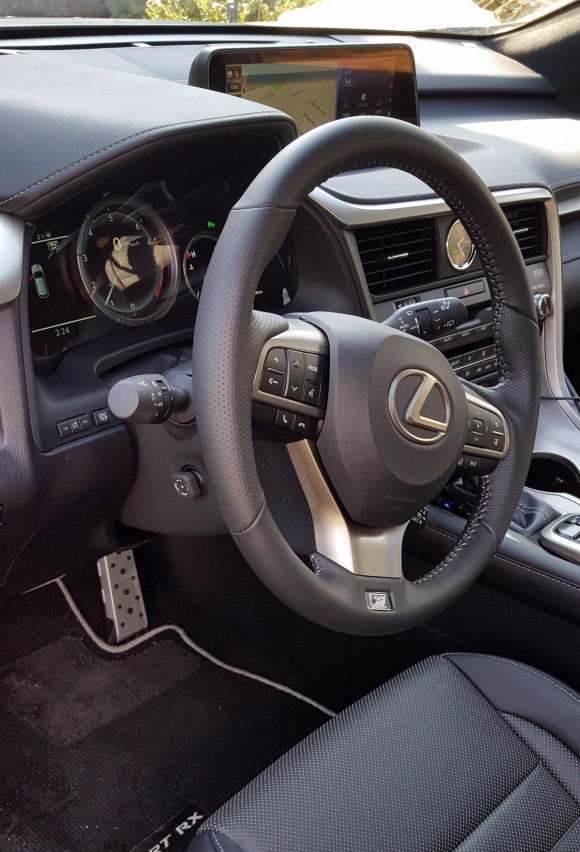 Inside and Out—It's the Total Package
The interior is pretty much what you might expect from Lexus: practical and comfortable. Amidst all the buttons on the dash and steering wheel, figuring things out was not too difficult. I wish that the same could be said for the remote touch joystick that operates the infotainment system. It is distracting and difficult to use. Without physically going into the vehicle settings, it is hypersensitive, like an overly caffeinated squirrel. To say that it is "touchy' would be an understatement. While driving, the last thing anyone needs is to use it and become instantly frustrated and aggravated by its lack of accuracy, forcing the user to pull over, shift to park and take control from the soft shoulder. Why a more conventional rotary dial knob was not used is a question for the interior design team.
Interior materials feel good, almost reassuring to the touch. The seats are comfortable and with the F Sport version (up front), they "embrace" a little better. Lexus lowered the driver's seat height by 0.75 inch, seeking and achieving a sportier, more carlike posture for the driver. Unlike many crossovers, getting in and out is easy. The rear seats can accommodate passengers of nearly any size without difficulty. Door trim and the overall dashboard look similar to Lexus sports sedans and the cabin is, generally, neat, practical, and uncluttered.
Safe to say that overall, the 2017 Lexus RX 350 is a vehicle that will likely please the owner regardless of its usage—,as a family hauler, a daily commuter, or a weekend warrior. While nothing extreme, it is a capable and very acceptable choice.
2017 Lexus RX 350 F Sport (Series 3)
BODY STYLE: Luxury SUV/Crossover.
DRIVE METHOD: Front-engine, active torque control all-wheel drive (AWD) with variable torque split and electronic differential lock.
ENGINE: 3.5 L six-cylinder engine, DOHC, 24-valve engine 295 horsepower, 268 lb.-ft. of torque.
CARGO CAPACITY: 1,329 litres maximum.
FUEL ECONOMY: 12.2 L/100 km highway/8.9L/100km city. For the week we drove this vehicle, we averaged 10.1 L/100 km with over 500 kilometres driven in town and on highways.
PRICE: $71,421.25*.
*Includes freight and PDI. HST extra.
David Taylor is an independent automotive lifestyle writer, producer, and editor based in Barrie, Ontario who is fascinated by innovation and technology which enhance the overall driving experience. He's also a member of the Automobile Journalists Association of Canada (AJAC). Follow him on Twitter @Omemeeozzie or on Instagram @hugoscaroftheweek.