With the inquiry into the government's use of the Emergencies Act due to table its final report in the coming weeks, a legal advocacy group sent a letter to the inquiry's commissioner asking that the Trudeau government not receive an advanced copy as ordered before it is made public.
The Institute for Freedom and Justice (IFJ)'s letter to Commissioner Paul Rouleau, the justice chairing the Public Order Emergency Commission (POEC), notes that the Emergencies Act specifically requires the public inquiry to provide a report to each house of Parliament within 360 days after the revocation of the declaration of emergency.
The Trudeau government invoked the powers of the Emergencies Act, formerly the War Measures Act, on Feb. 14, 2022, to end the three-week Freedom Convoy protest in Ottawa.
It was revoked on Feb. 23, 2022, and the POEC needs to submit its final report to the Parliament by Feb. 20, 2023.
The IFJ letter notes that the Trudeau government has directed the commissioner to submit a copy of its report to the government by Feb. 6, which the IFJ objects to.
"Although a provision was later inserted in the Order (on the recommendation of the Prime Minister), that the Governor in Council should receive a report in advance of the Houses of Parliament, the Act makes no such express requirement," states the IFJ.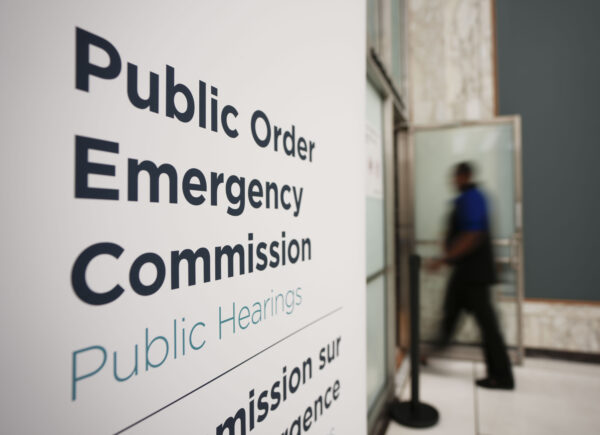 The IFJ letter asks the commissioner to confirm that the report submitted to the Governor in Council (GIC) "will be identical" to the report provided to the houses of Parliament.
Submitting an advance report to the GIC, and therefore cabinet, "carries a high-risk of criticism concerning the transparency and integrity of the Public Inquiry process," wrote the IFJ.
"This may result in a loss of confidence by Canadians in the fairness of the Commission and may mire the final part of the Public Inquiry in controversy," said the letter.
The Epoch Times contacted the IFJ for comment but didn't hear back by press time.
The organization requested that the commissioner, in preparing the report in accordance with the order by the GIC for "not later than Feb. 6, 2023," also provide the report to the Houses of Parliament on the same day, simultaneously. This would also mean it would be made public at the same time.
The POEC did not respond by press time to a request for comment, but according to the Toronto Sun, a spokesperson said the report is still being prepared by Rouleau, with no information on a public release date.
During the inquiry, the federal government invoked legal privilege and would not provide details on the legal opinion used to justify the use of the Emergencies Act.