Lessons of the Holocaust: Making 'Never again' a Reality
April 10, 2010 4:10 am Last Updated: October 1, 2015 8:25 pm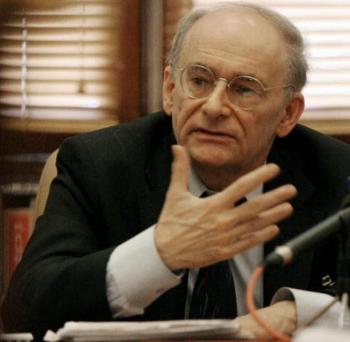 On the eve of Holocaust Memorial Day on April 11, Canadian international human rights lawyer David Matas, a Nobel Prize nominee, explains what the lessons of the Holocaust mean to him, and how he believes they should be realized.

"To say 'Never again' is easy. To make it happen is not so easy," David Matas once wrote. David Matas, a Jewish international human rights lawyer from Canada and a Nobel Prize nominee, has devoted enormous efforts toward realizing the lessons of the Holocaust.
Matas was born in Winnipeg, Manitoba in 1943, a year when the Nazi extermination mechanism was in full operation. At an early age, he said he realized how lucky he was to be alive.
Around the age of 8, he learned about the Holocaust for the first time, and he knew right away that he wanted to do something about it, but he didn't know what.
Much later, as he became involved in law, he saw what he could do to realize the ambition he had formed at a young age.
The lessons Matas said he draws from the Holocaust are the need to bring war criminals to justice, the need to protect refugees, the need to ban hate speech, and the need to never accept in silence gross violations of human rights, wherever they occur.
On these four fronts, Matas has been very active.
"The Holocaust would not have happened if there had been at the time an effective universal system in place to bring mass murderers to justice; if refugees fleeing persecution had been offered protection; if laws had worked effectively to ban the propagation of hatred; and if people everywhere had protested gross violations of human rights anywhere as soon as they occurred," he wrote in an introduction to his book Bloody Words: Hate and Free Speech.
While Matas is known as a Nazi hunter, it is not revenge that he seeks. "Crimes generate other crimes if there's impunity," he says.
"The reality is that after the Holocaust we saw one genocide after the other—the Cambodian, the Rwandan, the Serbian, and Bosnian and so on," Matas told The Epoch Times. He believes that these serial genocides were the result of prematurely shutting down the Nuremberg trials that tried Nazi war criminals after World War II.
"As long as we provide impunity to mass killers, there will continue to be mass killings," he says.
In a book he wrote with Susan Charendoff called Justice Delayed, published in 1987, Canada is described as a "paradise for war criminals." Many Nazi criminals have escaped to Canada and evaded punishment. Matas believes that by giving immunity to those criminals, Canada may share some of the responsibility for genocides that followed the Holocaust.
Matas and others like him have had some success in their struggle. Today there are stronger laws as well as some successful prosecution cases.
"But it's just not enough" said Matas. He explains that the system isn't working very well, procedures are being dragged out, and there are definitely rare cases that succeed.
In the world overall, Matas believes there have been changes in the right direction. "There are a lot more efforts to prosecute international criminals," he said, giving as examples the international courts for Rwanda, former Yugoslavia, as well as the International Criminal Court.
Fighting genocide
To Matas, one of the important lessons of the Holocaust is that "people everywhere have to combat violations anywhere, and particularly in a case of genocide."
Matas explains that in such cases there's little the people at the scenes of the crimes can do to improve the situation. "They are dominated, they are endangered, they are helpless", he says. "People like myself at least are able to speak up without any risk."
"I've seen a lot of changes over the decades," he said, citing the campaign against apartheid in South Africa, the collapse of the Iron Curtain, and military dictatorships in Latin America that have become democracies. Matas was involved in actions to improve human rights in all of these cases.
Matas' most recent efforts to make 'never again' a reality, and what earned him the Nobel nomination, is his work to combat the killing of Falun Gong for their organs in China.
Last November, he and former Canadian and Secretary of State David Kilgour co-authored a book of findings from their investigations called Bloody Harvest: The Killing of Falun Gong for their Organs.
"There is an all too prevalent sense that human rights violations are so massive, and so far away, that nothing can be done about them," Matas said in a speech for the International Society for Human Rights in Switzerland in January. "It is the voice of individuals around the world which is most likely to lead to respect for human rights."