Legislate Protection for Alberta's Free-Roaming Horses, Says Group
June 17, 2010 4:01 am Last Updated: June 30, 2010 1:22 am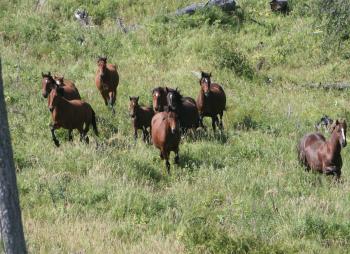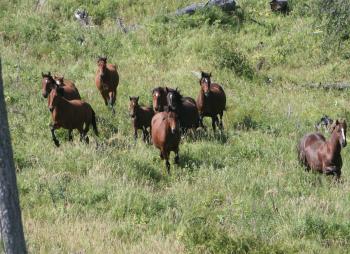 EDMONTON—How long does an animal live and reproduce in the wild before it can be termed wild?
This question is being debated in Alberta, where an organization dedicated to the conservation and humane treatment of the province's free-roaming horses wants the animals given a special designation.
"They are not truly wildlife in one point, but they are not livestock either," says Bob Henderson, president of the Wild Horses of Alberta Society (WHOAS).
"They're wild, free-roaming horses and we should recognize them and acknowledge them the way the United States has, as part of our heritage and part of our Western culture."
WHOAS has sent DNA samples of the horses to the Equine Genetics Lab at the University of Texas to determine if the horses have developed into a distinct breed because of their isolation.
If the horses are afforded a distinct identification, Henderson believes WHOAS can lobby more effectively for better and more enforceable laws to properly protect the horses, which roam in the foothills west of Rocky Mountain House and Sundre, as well as south of there to the Alberta-U.S. border.
Alberta's free-roaming horses tend to be viewed as pests as they represent no financial value, Henderson says. They have also been blamed for eating cattle graze, a claim he says is unproven, leading to the mentality that they should be eradicated.

This mentality could have contributed to the fatal shootings or suspicious deaths of close to 30 free-roaming horses over the past decade.
In January, three adults and a youth were arrested in connection to the shooting of a horse sometime last year.
"The evidence we have points certainly to the one case and we're still investigating and gathering evidence with respect to all the other shootings," says Corporal David Heaslip, a livestock investigator for the RCMP.
There could be different reasons behind the shootings, says Heaslip. Some people are just "trigger-happy" and think that because they have a gun they should shoot something. Others might think the horses are encroaching upon grazing land, or want to use them as bait for wolves.
Horses' origins
Before becoming extinct thousands of years ago, wild horse species once roamed throughout North America. Today, the horses found on this continent are descended from those brought by Spanish soldiers and explorers in the 16th century.

Dave Ealey, a spokesperson for Alberta Sustainable Resource Development (SRD), says some of the horses brought over to the Western Hemisphere were released and became free-roaming and established patterns of behaviour to survive separate from their former owners.
"There have been maps prepared of the gradual movement north of the introduction of horses into First Nations culture about 300 or so years ago," says Ealey.
According to SRD, most of these horses were brought into the province in the early 1900s to be used for logging and mining operations; once the operations ended, the horses were turned loose.
The active component of the release of domesticated horses which sustained these free-roaming herds led to the province determining them to be feral animals, Ealey says.