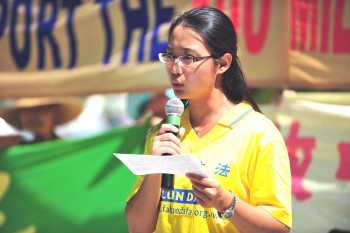 Zhao Chunhong, an appellant who is two months pregnant, took courageous action on China's "Legal Day" on December 4—she threw flyers and hanged a banner with the words "Lawless and Reckless" on a major road pedestrian crossing bridge close to China's Central TV Station Building in Beijing. Zhao was arrested immediately and took away by police from her local area. The Epoch Times managed to have a phone interview with Ms. Zhao while she was under house arrest.
Zhao started her appeals in 2007 after a local court denied her the right to retrieve all her investments from a mine company in Qinglong County, Qinghuangdao City in Hebei Province. She invested all her savings plus money she borrowed from her parents, relatives and friends in the company, but local county cadres embezzled her money, according to Zhao.
Zhao said she had repeatedly attempted to commit suicide to protest the injustice. She attempted to drink pesticide during the court hearing to protest the verdict on October 9, 2007, and was detained for disturbing court order.
Again on May 26, 2008, she attempted suicide after many fruitless appeals in the central regime departments.

"I know I am walking on a road with no return, as it is almost impossible to solve my problem through appeal. But I just cannot tolerate those corrupt officials who do whatever they want. I will fight it, and I will come back to Beijing again," said Zhao at the end of the interview.