A series of internal Chinese government documents on biosafety guidelines for research labs has revealed that Beijing issued guidelines on how to study the CCP virus and knew of its potential to spread among humans at least weeks before disclosing such risks with the public.
The CCP (Chinese Communist Party) virus, commonly known as the novel coronavirus, emerged in the central Chinese city of Wuhan in late 2019 and quickly spread across the country.
In early January, Chinese authorities initially instructed a genomics company to stop testing virus samples, and delayed informing the public that they mapped out the virus's entire genome, according to media reports.
Authorities also downplayed the virus's risk of spreading—until Jan. 20, when China's top respiratory expert Zhong Nanshan publicly announced that the virus could be transmitted between humans.
New internal documents provided to The Epoch Times have revealed more about the extent of China's coverup: officials knew of the virus's hazards weeks before Jan. 20, and prohibited labs from disclosing any research conducted on the virus.
'Major Sudden Outbreak'
On Jan. 3, China's National Health Commission issued a document to all regional health commissions and top-level biosafety labs in the country "that may deal with pathogenic microorganisms that are infectious among people." The document was marked "not to be disclosed."

It set out guidelines to strengthen the management of biological samples and research activities with regard to "the prevention and control of a major sudden outbreak of infectious diseases." However, the document did not specify the disease.
The document was issued just days after Wuhan authorities publicly confirmed the CCP virus outbreak on Dec. 31.
The document elaborated that such biological samples included blood samples, respiratory fluids, urine, and feces from patients.
Agencies under the supervision of provincial-level health commissions were "prohibited from providing biological samples, pathogens, and culture samples to any other institutes or individuals."
Furthermore, it stated that during the spread of infectious diseases, agencies and individuals were not allowed to publish papers or information about their research without approval.
In another classified document on lab biosafety issued on Jan. 14, the health commission of Changping district in the capital Beijing stated that it was passing on guidelines from the Beijing municipal health commission in connection to "the prevention and control of a major sudden outbreak of infectious diseases."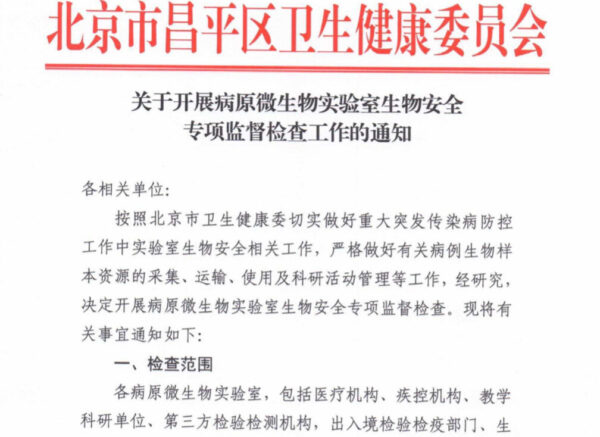 The Beijing commission asked the city's pathogenic microbiology labs, including those in health institutes, disease control institutes, third-party testing institutes, government customs departments, and companies that study pathogenic microorganisms, to conduct self-evaluations on Jan. 15 and 16, before health officials will begin random inspections of these facilities from Jan. 17 until 20.
Addressing the CCP Virus
During this time, Wuhan officials maintained that the CCP virus's risk of human-to-human transmission was low.
On Jan. 16, China's National Health Commission issued an internal notice, "Novel Coronavirus Laboratory Biosafety Guidelines," addressed to regional health commissions and disease prevention and control centers about how to study the CCP virus.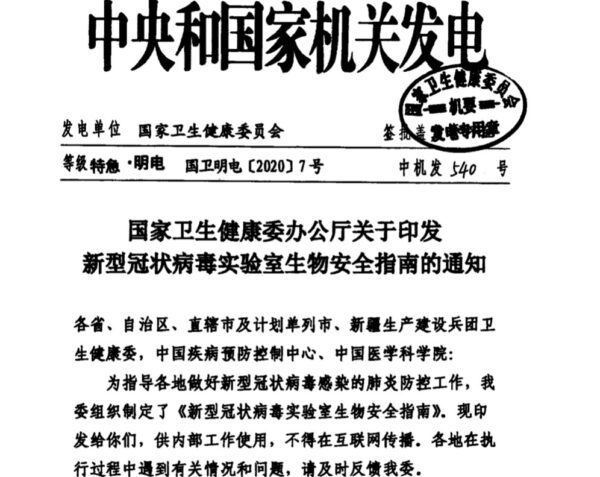 The Jan. 16 document was marked "not to be disclosed" and "internal use only; cannot be distributed on the internet."
The guidelines showed that Chinese health officials were aware that the CCP virus had high risks. For example, lab researchers were instructed to adopt protective equipment in accordance with any level-three biosafety laboratories while handling uncultured samples (uncultured only contains the microorganism, as opposed to a cultured sample, where pathogen is placed in a lab culture so that it can grow).
Level three is the second-highest classification for labs studying dangerous pathogens, with level four being the highest.
Also, staff must be trained and equipped with protective gear to handle waste coming from these labs.
Finally, the guidelines stated that certain scientific procedures in studying the CCP virus, including "separation, cultivation, titration, purification, and obtaining nucleic acids," must be performed at level-three biosafety laboratories.
These guidelines were made public on Jan. 23, three days after Zhong's public statement.
The Epoch Times also obtained an internal document issued by the Beijing Hospitals Authority on Jan. 16. Pointing to the aforementioned guidelines, the hospital authority said it would carry out an inspection of 22 local hospitals for six days until Jan. 21, to ensure lab biosafety.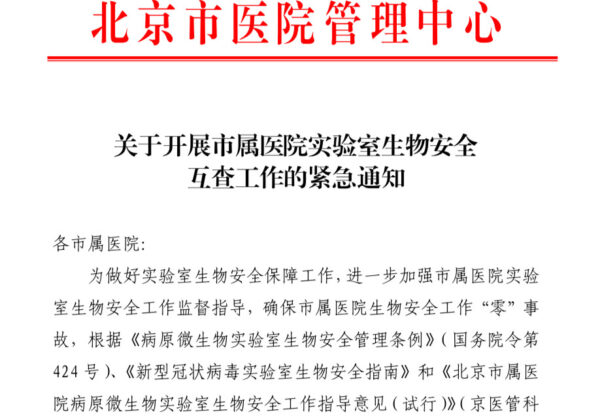 These documents—along with documents reported by The Epoch Times on April 30—showed that Beijing concealed the virus's ability to spread among humans. Health authorities issued a notice on Jan. 15 instructing local hospitals and facilities on how to respond to a new form of pneumonia spreading among patients.
The Associated Press uncovered similar findings—that Beijing knew of the virus's transmissibility for days before conceding it on Jan. 20—in a recent report also based on the Chinese regime's internal memos.