Recent rumors about layoffs at some of China's biggest internet and technology companies have added to Chinese citizens' anxieties about the economy.
On Maimai, an online Chinese career-networking platform akin to LinkedIn, a user who claimed to be an employee at Sina Weibo posted that the Twitter-like social-media platform will soon lay off 10 percent of its staff.
Chinese media soon reported about the possibility of layoffs, seeking confirmation from Sina Weibo itself. The company didn't respond, but curiously, posts on Weibo about the rumors were deleted.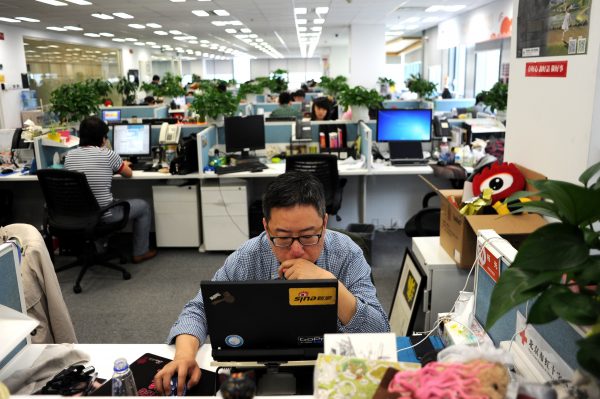 Earlier in the month, users of anonymous staffers at Zhihu.com, a website similar to Quora, also left social-media messages or told news portals that some teams at the company were being dismissed, such as operations and advertising sales.
Smartisan, a tech company that manufactures smartphones and develops mobile software, initially denied reports of layoffs that circulated around November. But, several days later, the company told the state-run newspaper Securities Daily that the company "was in fact in a crisis."
Meanwhile, a manager at Mobike, a bike sharing company, confirmed with Chinese online tech news site, All Weather TMT, that about 30 percent, or 300 employees, at the firm had been let go, according to a Dec. 25 report on the website.
One after another, internet rumors swirled that China's biggest internet giants, Baidu (similar to Wikipedia), Tencent, JD.com (an online e-commerce platform), and Alibaba all had to let employees go.
The speculation became so intense that state-run media, the Beijing Daily, ran an article Nov. 29 clearing up the discussion, noting that the big four companies—commonly referred to by their combined first initials, BATJ, all denied the rumors.
Despite the rebuttals, recent data don't paint a rosy picture. According to business news site Caixin, from April to September, recruitment ads posted on a popular Chinese job listings site, 51job.com, fell to 83,000 from 2.85 million.
Another popular job-listing service, Zhaopin.com, reported that in the third quarter, the number of ads for positions in the IT and internet industries fell 51 percent year-on-year. For two consecutive quarters, demand within the IT industry has experienced negative growth.
The latest round of bad news follows reports in October that major tech companies such as Huawei, Alibaba, and JD.com had begun hiring fewer new employees and halted social recruitment programs.
Other job areas have also experienced large-scale unemployment.
In November, the Ministry of Agriculture announced that 7.4 million migrant workers had returned to their home villages after working in major Chinese cities. They often work blue-collar or low-skill jobs. Chinese authorities claimed that the workers had retired, but because of desperation to earn more for their families in the countryside, they are more likely to have lost their jobs.
China has long considered unemployment a taboo topic—as it hints at social instability.
A number of indicators has shown that China's economy is slowing, such as a plunging stock market, slowing consumer demand, and falling industrial profits.
NetEase, a Chinese news portal, reported in October that in the first half of this year, slightly more than 5 million companies closed and more than 2 million people became unemployed. During the same period, chairmen at 453 publicly listed companies have resigned or were fired. The article was soon deleted by Chinese censors.